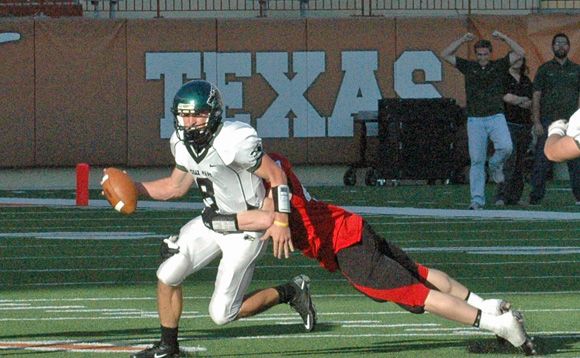 Revenge - Cedar Park 2010- Ch. 16
The teams battled back and forth as if the state title lay in the balance throughout the final quarter, with Cedar Park delivering heavy blows and Lake Travis covering up, holding on for dear life.
With four minutes left, Cedar Park had a chance, and began a march into the wind against a Lake Travis defense that had spent most of the day on the field.
The Timberwolves marched from deep within their territory across midfield methodically. Lake Travis' defense made a key stop, and finally Cedar Park faced a tough decision on fourth down from the Cavaliers' 30-yard line. They needed eight yards for a first down, and a field goal – into the wind – from 47 yards would be no gimme. Faced with the same choice that Highland Park coach Randy Allen had to make three Decembers earlier on a windy championship Saturday in Waco, Ross made the only real choice he could – to try for the first down. Curl dropped back to pass, and Dylan Bittles got away from his blocker, working a stunt with teammate Shaq Marable, to make the biggest sack of his life.
"We ended up beating them, but offensively we didn't play well," Carter said later. "Defensively I was proud of how we played. We played pretty good considering they had the ball on our side of the field a lot. We came up with the big play, Dylan Bittles getting the sack on fourth and eight. Coach Ross decided to go for it instead of kicking a really long field goal into the wind."
Zach Streuling, looking back on the game a year later, said the moment the defense sealed that win is something he'll never forget.
"That was the best feeling ever with the one point win," he said. "Sitting on the sideline, our defense had over 80 plays that game, so we were exhausted. Knowing that we'd come out and done everything that we could to win, that was one of the best feelings ever."