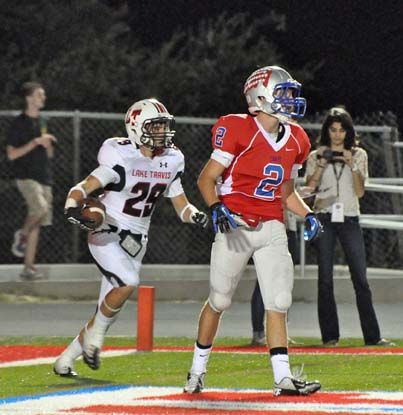 15-5A playoff spots secured
Week 9's results answered almost every playoff question those following District 15-5A could muster.
Del Valle locked up the district's fourth playoff spot by dispatching Austin High 44-3. The Cardinals join Bowie in the 5A, Division I playoffs. The teams meet Friday night to wrap up the regular season, and the winner gets the district's top seed in the bracket.
Lake Travis and Westlake settled the Division 2 seeding with the Cavaliers' thrilling 14-11 comeback win. The Cavaliers will play their first 5A playoff game against Pflugerville. Westlake will meet Hendrickson in the bi-district round.
District 15-5A standings
Dist Overall PF PA
Lake Travis* 6-0 9-1 334 136
Westlake# 4-1 5-4 257 137
Bowie^ 3-2 5-4 206 198
Del Valle^ 3-2 4-5 240 164
Austin High 2-3 3-6 242 298
Akins 0-5 1-8 117 359
Anderson 0-6 0-9 117 336
*-District champion, Division 2
#-Division 2
^-Division 1
Games last week:
Lake Travis 14, Westlake 11; Bowie 38, Anderson 10; Del Valle 44, Austin High 3
This week's games:
Anderson at Akins; Westlake at Austin High; Del Valle at Bowie