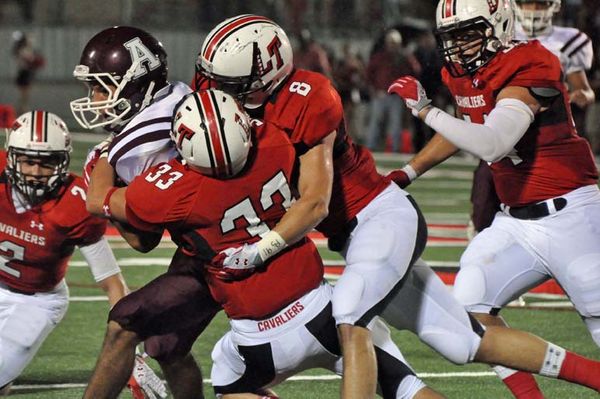 Around District 15-5A
The race to secure the four District 15-5A playoff spots officially began last weekend.
Lake Travis, Westlake and Del Valle all took the first steps, defeating Austin High, Bowie and Akins, respectively. Anderson had the opening week bye. Here's how teams fared in the rain-soaked, lightning-delayed opening week.
Lake Travis 14, Austin High 7
Whether it was the weather or grittier play from the Maroons, but Lake Travis struggled in earning its first 5A district game. The Cavaliers, despite their injuries, turned in a solid defensive effort, and they needed it. Austin High's only touchdown came after it blocked a Lake Travis punt to earn a short field, but the Maroons didn't muster much more offense. Lake Travis' defense surrendered just 228 yards. The defensive effort gave the Cavaliers' offense time to do just enough to earn a win. When quarterback Baker Mayfield left in the second quarter with a bruised knee, Nic Medina shook off an interception and led the Cavaliers to a tying score, Shaun Nixon's 23-yard run. Mayfield returned in the second half and eventually took the Cavaliers on a fourth-quarter march that ended with a 15-yard pass to Tyler Payne.
Del Valle 35, Akins 3
Del Valle took the first step toward what appears to be the final playoff spot with a 35-3 win over Akins. The Cardinals got three touchdowns and 185 yards from top rusher Josh Cleveland to overwhelm the Eagles. Del Valle opened up a 28-0 lead and surrendered just 75 yards of offense to Akins. The two teams combined to complete just nine passes.
Westlake 38, Bowie 7
Westlake posted the most convincing win of the week with a 38-7 beating of Bowie. The Chaps had limped into the game with three consecutive losses but got well quickly, dominating on both sides of the ball.
The Chaps gained nearly 500 yards on the rainy night while holding Bowie to just 133 yards, according to the Westlake Picayune. Jordan Severt found Brandon Box behind the defense for an early score, but the Chaps didn't really get things cranked up until the second half. Westlake led 10-7 at the half before pulling away. Severt finished with two touchdown passes and 244 yards. The Chaps used a committee of backs to rush for another 249 yards.
District Standings
Team Dist Overall Points For Points Allowed
Lake Travis 1-0 4-1 166 81
Westlake 1-0 2-3 100 104
Del Valle 1-0 2-3 127 82
Anderson 0-0 0-0 35 101
Bowie 0-1 2-3 79 143
Austin High 0-1 1-4 115 169
Akins 0-1 1-4 82 145
Last Week's Scores
Lake Travis 14, Austin High 7
Westlake 38, Bowie 7
Del Valle 35, Akins 3
This week's games
Westlake at Akins (Thursday)
Del Valle at Anderson
Lake Travis at Bowie
See our facebook page for district power rankings.