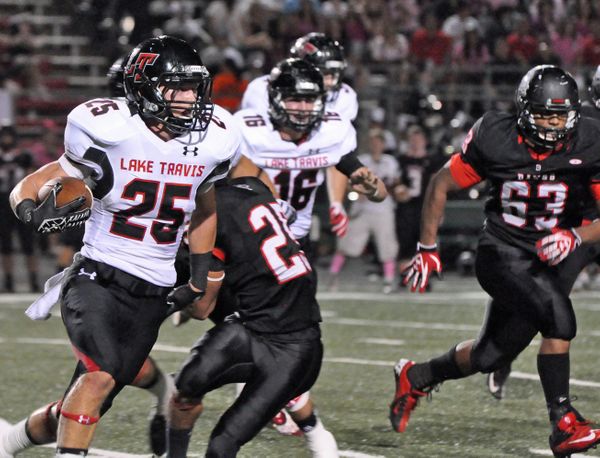 Breaking down Bowie win
For the full game recap, click here for what I wrote for the Lake Travis View.
Other thoughts following Lake Travis' 24-14 win:
For what seems like the first time this year, Lake Travis didn't appear to lose a player to injury. Though many Cavaliers watched from the sidelines in just their jerseys, none of their teammates left the game. Lake Travis played without six players who figured to play key roles this season: offensive linemen Hunter Siddons, Jake Adams and Ryan Dolmanet, receiver Zach Austin, and defensive linemen Spencer Staples and Brandon Quinterro.
Lake Travis protected the ball and made it through a game without a turnover for the first time in 2012. The ball protection made Hunter Streuling's late interception that much more telling. Streuling made his first interception of the season at the game's biggest moment, stepping in front of a Dontae Harris pass and returning it deep into Bowie territory. Shaun Nixon scored an insurance touchdown on the ensuing drive.
Both teams committed some big penalties at bad moments. Officials flagged Lake Travis seven times, two of which wiped out big gains from Nixon. He lost what would have been an 18-yard gain in the second quarter and a 38-yard gain in the third. Three of the penalties came against the defense, one of which set up Bowie's go-ahead touchdown. With coaches screaming at the defensive line to watch the ball as Bowie went to punt on fourth-and-one from its own 29, the Cavaliers jumped offsides, giving the Dawgs a first down. Two plays later Steve Johnson busted loose for a 59-yard touchdown. In the second half, Lake Travis had Bowie backed up at its own 18-yard line and had stopped Johnson for a loss of three. But a facemask got Bowie out of a potential second-and-28-situation. Making matters worse, Lake Travis earned a late hit flag on the next play. Other than field position, the flags didn't cost the Cavaliers any points. Bowie also committed some big penalties. A first half offsides flag led to Nixon's first touchdown run. A third quarter roughing the passer call came after the Dawgs had sacked Baker Mayfield on successive plays to force what would have been a third-and-33. Late in the game, the Dawgs committed a 15-yard pass interference penalty, setting up Nixon's final touchdown. Bowie committed 10 penalties for 85 yards.
Lake Travis didn't put up an impressive offensive performance, but one area where the Cavaliers excelled came in the return game. Bowie kicked off three times in the game. The Cavaliers averaged 36 yards on three returns and even got extra yardage when one came with a late hit. Zach Joiner returned two kicks and Nixon the third. To boot, Streuling's 49-yard interception return also gave the Cavaliers a short field.
Mayfield earned all-state honors on the diamond last spring for the Cavalier baseball team, and though he played first base, he looked like a pitcher Friday night. His best three passes came after halftime. He threw a fastball for a strike to Joiner against man coverage for a 32-yard gain and followed that up with another perfectly timed strike to Preston Dupre on a hot read against a Bowie blitz. Dupre read the play and ran all the way to the 1-yard line. In the fourth quarter, Mayfield lofted a change-up that Tyler Payne hauled in for a 35-yard gain to help set up the go-ahead field goal.
Despite having decent field position, Lake Travis elected to eschew field goal tries until Marcotte's kick in the fourth quarter when presented opportunities. Lake Travis converted once and failed once late in the first half, with the failed attempt coming in lieu of a 34-yard field goal try. In the fourth quarter, the Cavaliers went for it on fourth-and-six instead of trying another 34-yard field goal with a 17-14 lead. The Cavaliers got their first down when Bowie was flagged for pass interference in the end zone. Nixon scored on the next play.