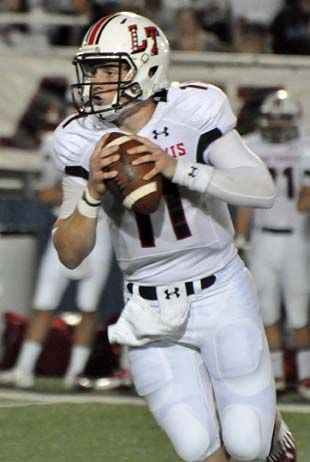 Bye gives Lake Travis extra time to prep for playoffs
The appetizer that is the high school football regular season has been served, the dishes cleared. The main course is upon us, starting with this weekend's first course, more formally known as the Bi-District round.
Lake Travis enters Bi-District play riding a six-game winning streak, rested and refreshed if not fully healthy. The Cavaliers had their bye week last week, which gave the team a chance to recover from the emotional 14-11 comeback win over new arch-rival Westlake to claim the 15-5A championship on Nov. 1. Lake Travis can now begin its quest for a sixth consecutive title – and first at the 5A level – by focusing on Pflugerville.
The Panthers enter the game 7-3, 4-2 in 16-5A with losses to Hendrickson and Westwood. Pflugerville finished third overall in 16-5A. Led by running back Adrian Dilworth, Pflugerville likes to run the ball. He's gained nearly 1,100 yards with 16 touchdowns on the season and is one of four backs with at least 200 yards. When the Panthers pass, Blain Kruemcke has completed just 50 percent of his passes for 936 yards and 10 touchdowns. He's thrown just five interceptions.
Lake Travis' statistics aren't as gaudy as in years past. The Cavaliers average 372 yards per game and 33 points on offense, led by Baker Mayfield's passing. The senior has completed 65 percent of his passes for 2,318 yards with 22 touchdowns and two interceptions. Mayfield's main weapons have changed over the season. Top rusher Shaun Nixon, a junior with 670 yards and 10 touchdowns rushing and 429 yards receiving with three touchdowns on 32 catches, hasn't played since very early in the team's eighth game, against Anderson. Senior Zach Austin hasn't played since the third week after torching early opponents for 428 yards and seven touchdowns on just 17 catches.
While the Cavaliers hope Nixon can return after a month's rest and rehab on a sprained knee, Austin won't return. Dominic Packer picked up the bulk of Nixon's rushing attempts, gaining more than 100 yards in two of the final three games. Grant Foster has emerged as a receiving threat with back-to-back 100 yard games, including the Westlake game, where he scored both Lake Travis touchdowns, including the 97-yard winner. Zach Joiner, Preston Dupre, Tyler Payne and Romey Kelso also figure in the passing game.
Pflugerville and Lake Travis have three common opponents: Westwood, Austin High and Bowie. Lake Travis beat Austin High 14-7, Bowie 24-14 and Westwood 28-24. Pflugerville beat Austin High 34-14, Bowie 42-14 and lost to Westwood 10-7. But, as an old athletic director once said, "All comparative scores show is that a game was played."
Lake Travis coach Hank Carter said essentially the same thing last week about the film he'd already seen of Pflugerville.
"We've gotten a little bit of film on them in trade because we both played Bowie and Austin High," he said, "but you can't go too much off of that because you don't know how they've changed from early in the season."
Carter also knows that Pflugerville won't rely much on Lake Travis' early films. Injuries have made Lake Travis' early game tapes virtually useless.
Lake Travis spent last week working mostly on getting better and not so much on prepping for the Panthers. With a lineup that changed by the week, the Cavaliers struggled to gain much late season momentum, despite winning their final six games. Carter thought that being able to focus on themselves would serve his players well.
"[It was] a week where we'll spend a lot of time worrying about Lake Travis and trying to do some things to get better," he said. "We'll do some stuff where we go against each other quite a bit. Any time we go good on good in practice, it's good and competitive and we get a lot of good work out of that."