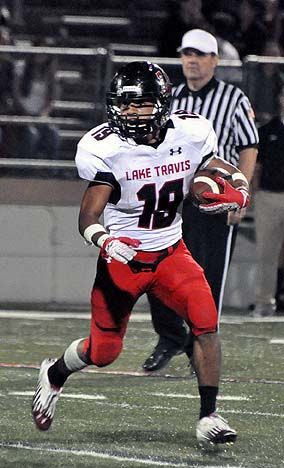 Cavaliers gear up for Cleveland, Cards
As he watched video of last week's Del Valle loss at Westlake, Hank Carter couldn't help but think the game should have turned out differently.
Not that the Lake Travis head coach thinks the Cardinals should have upset the Chaps, but he said the Cardinals had their chances in the 31-9 loss. A touchdown instead of a turnover in the red zone might have made things more interesting, and he's made it a point to tell his team that the Cardinals are dangerous.
"They should have scored more points," Carter said of the Cardinals, who made a number of big runs before Westlake could adjust. "They had some opportunities in the passing game, and they had a turnover at the goal line. They are a dangerous team."
Josh Cleveland, the Cardinals' senior running back, leads the area in rushing with 1,039 yards, though Westlake's tough defense held him to 91 yards. He's not the only capable, and speedy, runner in the backfield. Chris Campbell and Kelvin Foster have both also rushed for more than 200 yards, and Campbell averages more than nine yards per carry.
"They have some explosive speed on both offense and defense," Carter said this week. "They have three or four guys who can score [every time they touch the ball]."
That speed concerns Carter after he watched Anderson's Deryl Bunton rush for 108 yards against his defense, including 40 on the first play.
"I wasn't too happy with that first play," he said. "We had our bread and butter blitz called and they ran a stretch play away from it."
While Carter said the Cardinals had their chances in the passing game against Westlake, going to the air has been a last resort for them offensively. Denzel Feaster and Juan Padron have each thrown for a little more than 300 yards on the season and are completing less than 50 percent of their passes.
Defensively, the Cardinals will try and apply pressure by crowding the line of scrimmage and getting cozy with receivers. Carter said the Cardinals will try to employ a strategy similar to what Cedar Park has used in years past to get Lake Travis off its rhythm.
"They will crowd our receivers and we are going to have to make plays against some press coverage," Carter said.
The Cavaliers go into the game without a pair of offensive weapons. Junior running back Shaun Nixon will not dress after spraining his knee just two plays into the Anderson game, and junior receiver Tyler Payne injured an ankle in Tuesday's practice. Payne's status was uncertain as of Wednesday, but Carter said he wouldn't risk putting an injured player out there before he is ready. At any rate, he said the Cavaliers prepped to take on Del Valle with the players who practiced on Thursday.
That means Dominic Packer will start at running back along with Zach Joiner, and Romey Kelso figures to start at receiver along with Preston Dupre and Chayce Pannell. Both Packer and Kelso had career nights against Anderson.
"Unfortunately, we've had lots of practice getting players ready to step in when other guys go out," Carter said.
The coach wouldn't speculate when either Nixon or Payne, or any of the other Cavaliers who are in various stages of recovery from injuries ranging from ankles to concussions, would play next. When they're ready, they'll play, he said.
With next week's showdown against Westlake looming, the natural inclination may be to rest players this week in the hope that they'll be ready for the big game, but Carter and his assistant coaches want to make sure no one overlooks today in anticipation of next week.
"We better not look past Del Valle," he said. "The coaches are all working to avoid that. The kids haven't talked about the Westlake game. We have too much at hand to look past Del Valle. One hundred percent of our energy is going toward getting a win against Del Valle, and that's not just coach-speak."