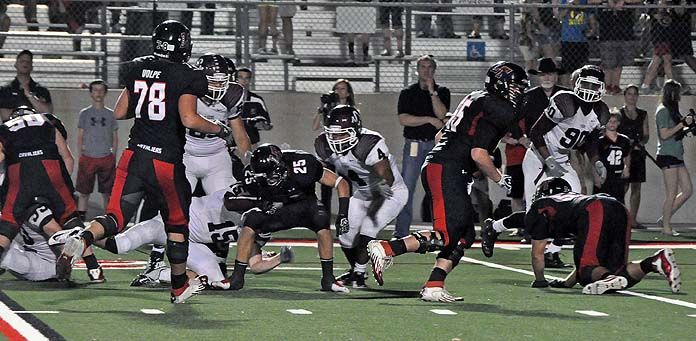 Cavs addressing costly fumbles, pesky penalties
No matter its standing in the state rankings (eighth in the latest AP poll), no matter its last result (a frustrating 30-28 loss at home to A&M Consolidated), no matter what the other teams on the schedule did last week, Lake Travis finds itself at square one – on equal footing with six other teams as District 15-5A play begins.
While the Cavaliers still remain the prohibitive if not overwhelming favorite to win District 15-5A, until Friday they remain one of seven teams with high hopes. The loss to A&M Consolidated didn't do anything to disrupt Lake Travis' season goals. It didn't derail any momentum. It did, however, highlight the things Lake Travis must work on to reach its ultimate 5A goal, the things the Cavaliers have already started working on.
"The sun came up on Saturday morning," head coach Hank Carter said Tuesday. "On Saturday we had the team up here practicing and working hard. We looked at the film [of the A&M Consolidated game]."
Through four games, the Cavaliers at times haven't played the part of the elite 5A program they hope to prove themselves after winning five consecutive titles at the 4A level. Far too often, Lake Travis has put itself behind the chains with unforced penalties or ill-timed fumbles. Much of the focus in the coming weeks will concern efficiency and protection.
"And with the fumbles, it's our experienced guys," Carter acknowledged. "We really need to work on our ball security and driving that home. The coaches need to do a better job of working on that. For whatever reason, we are putting the ball on the ground too much."
The Cavaliers finished non-district play minus-3 in turnover margin, and that entire deficit has come in the last two weeks against very solid, competitive 5A programs who also have playoff aspirations. In the last two games, Westwood converted two Lake Travis fumbles into 10 points and Consolidated turned three turnovers into 10 points.
In addition to the fumbles that foes have taken advantage of, Carter said the Cavaliers must also rectify their disturbing propensity for committing false starts. In four games, the Cavaliers have been flagged for jumping the gun 17 times, unofficially.
"The false starts, we can fix," he said, "but that's what happens when you get five guys playing together in a game who didn't practice together. It would be nice if we could get the same five linemen to practice together for three days a week. Your offensive line's communication and teamwork get better by playing together, and we just haven't had the consistency [in personnel] to progress."
Carter believes those penalties will slow down as the Cavaliers' often-makeshift offensive line gets healthy and can spend time practicing together. The Cavaliers, without making excuses, have played without at least two starting linemen for the last three games. Lake Travis played A&M Consolidated Friday without starters Hunter Siddons and Sean Peacock. Junior Ty Anderson, a starter in 2011 when healthy, hasn't been able to play yet either.
False starts are hardly the Cavaliers' only transgression. Unofficially, the Cavaliers average 10 penalties per game, at least one of which is a personal foul.
"It's focus," Carter said. "A&M Consolidated wasn't doing anything to draw us offsides, and neither will Austin High [this Friday]. We've just got to play a clean game."
To do that, Carter said, his team just needs more time in pads working together, no matter a game or practice setting.
"We just need to get more games and practices under our belts," he said. "We're having a lot of younger guys play, so they just need to play so they can gain the confidence that comes with experience. A lot of our experienced guys are out. Our future looks very bright, but those guys have to grow up faster than we wanted."