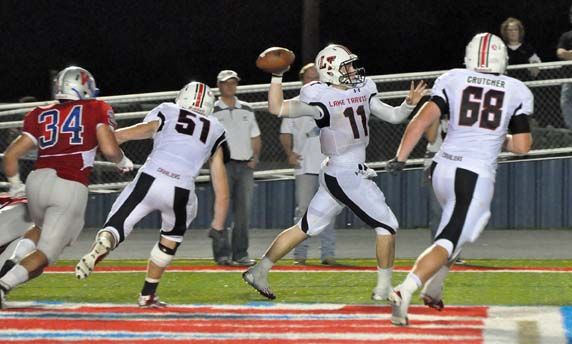 Cavs get off deck, deliver stunning knockout blow
As he received a congratulatory embrace from his school district's superintendent on the field following Lake Travis' dramatic 14-11 win over Westlake, head coach Hank Carter smiled and offered Brad Lancaster one bit of coaching wisdom.
"When you can throw the ball, you're never out of a game," he said. Then he hugged his superintendent a little harder.
Carter and the Lake Travis football family rejoiced in the win that clinched the District 15 championship in the school's first 5A season. The Cavaliers earned the title thanks to a stubborn, down-but-never-out defense and an improbable touchdown from the shadows of their own goal post.
Two plays after the Lake Travis defense denied Westlake's attempt to ice the game by stuffing Alex Chavez for no gain on fourth down at the Lake Travis 5-yard-line with 4:06 left, Baker Mayfield caught the Chaps in a coverage he thought he could exploit by throwing to sophomore receiver Grant Foster.
"The coverage really did set up for that play," Mayfield said. "The safety rolled up, so we were going to get Grant the ball."
From his own 3-yard-line following a penalty, Mayfield sent Foster deep down the Lake Travis sideline, then rolled to his left to avoid heavy pressure in his own end zone. Throwing off balance, he lofted a pass that Foster ran under, having beaten his defender. Foster didn't stop running until he crossed the goal line, 97 yards from where he started. The play turned out to be the winner.
Foster saw the same thing his quarterback did.
"When I saw that coverage, I knew I wanted the ball," he said. "When Baker scrambled, we kind of improvised a little bit. There also had to have been a blown coverage."
After the game, Carter said the protection Mayfield got from the offensive line proved key, and his background as a defensive coach told him it's impossible for a defensive back to cover a receiver as long as the Chaps needed to cover Foster on the play.
"The one thing we tell our players is that you can't give the quarterback too much time to throw," Carter said. "Once Baker got loose on the play, there is no defense that can cover a receiver for that long."
Westlake drove across midfield as time wound down and looked to give Michael Barden, who'd made three field goals earlier in the game, a chance to tie. But Brandon Quinterro trapped Westlake quarterback Jordan Severt in the backfield, forcing a seven-yard loss, and the Chaps had to settle for a 49-yard try. After Carter called time out twice in an attempt to ice the kicker, Barden came up well short and the Cavaliers celebrated as if they'd won the state championship, not just the district title.
Many will question Allman's decision with four minutes left to eschew a field goal that would have given his team a 14-7 cushion, but those who watched the first 44 minutes of the game could see the rationale. Westlake's offense had dominated the game, with its defense doing its part as well. To that point in the game, the Chaps had run 67 plays to Lake Travis' 38 and had only allowed the Cavaliers 148 yards of offense. Allman's confidence in the way his defense had played to that point made him feel comfortable that Lake Travis wouldn't pull a rabbit out of its hat in the unlikely event that the Cavaliers came up with a stop. But they did.
"We held tough when it mattered," Lake Travis linebacker Luke Hutton said. "We wanted to give the offense a shot and we did that. Hats off to Westlake, they controlled the ball and did what they wanted to do. But we buckled down."
Overall, Westlake gained 393 yards on 76 offensive plays. Lake Travis managed 237 yards on just 42 snaps.
While he understood the decision, Carter fell back on his post-game comment to Lancaster, that a team who can pass is never out of a game. In boxing parlance, Allman's gamble showed a puncher his chin, and Mayfield and Foster connected.
Lake Travis (9-1, 6-0) earns the district's top seed in the 5A, Division 2 playoffs. The Cavaliers' likely bi-district opponent is Pflugerville. Westlake (5-4, 4-1) also advances to the Division 2 playoffs with a likely first round opponent in Hendrickson. With an opening round win, Lake Travis could find itself in a second round matchup with defending 5A, Division 2 champion Spring Dekaney. Westlake can earn a rematch with A&M Consolidated if it can get by Hendrickson. Lake Travis and Westlake could possibly meet again in the regional championship round.