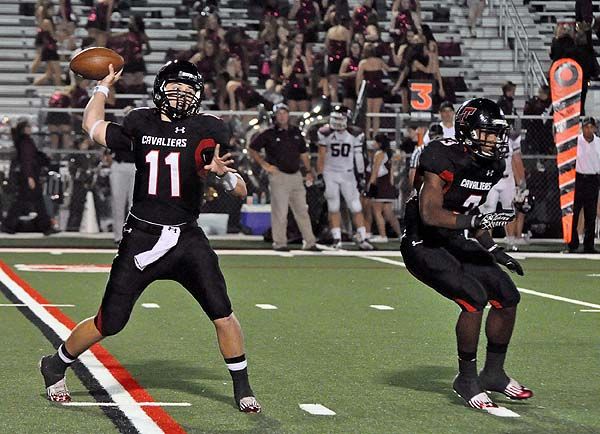 Cavs hoping for repeat performance against Anderson
As anticipated, Lake Travis dominated Akins Friday night, jumping out to a 52-0 halftime lead on the way to a 59-14 win.
The Lake Travis View has the details.
This week, Cavaliers' head coach Hank Carter said he liked what he saw from his team against the overmatched Eagles.
"I'm really happy with the way our offensive line played," Carter said. "Coaches Spano, Lambert and Collins have been trying to get the same five guys to play together, and the group we put out Friday played admirably."
It wasn't the same group that played the week before, or at least it didn't end that way. Junior Elliott de Laat, starting due to injury, caught the bug himself, leaving after injuring an ankle. Carter said he didn't know whether de Laat would be ready to play this week against Anderson or if he'd return instead against Del Valle a week from Friday.
For the fourth time this season, the Cavaliers scored the first time they touched the ball. Baker Mayfield guided the team to scores on of the possesions he played. Chayce Pannell got re-involved with the offense after not seeing the ball for two weeks. He caught a long pass from Mayfield and turned the game's opening play into a 60-yard score. Dominic Packer made some big plays as well, leading the team in rushing and also returning a punt 80 yards for a score.
"Pannell made some good plays," Carter said. "Packer did some things. Overall, we played really well in the first half."
The starting defense kept Akins from doing much of anything. The Eagles gained just 72 yards on the night, punted nine times and turned the ball over twice. Their two second-half scores came against Lake Travis' reserves, many of whom had been promoted from the junior varsity prior to the game.
While there weren't many concerns, Carter pointed out just two. His starting offense, which is still trying to recover from the rash of injuries – to leading receiver Zach Austin and the offensive line in particular – to establish its rhythm and consistency, played less than a half. The second team punt unit had a punt blocked to set up an Akins score. Regardless of who's on the field, Carter wants the execution to remain clean, and he wasn't happy with the blocked punt.
"We tell our guys how it is," he said. "We haven't had a game where we've put it all together yet. It's about us, not about who we play. If we play well, we tell the team they played well. [Against Akins] the first half was great, the rest of it was a little sloppier."
Lake Travis looks to improve on the sloppiness against Anderson, which has struggled mightily. The Trojans' most competitive game was their first, in the Taco Shack Bowl against 4A McCallum. Deryl Bunton ripped off a 97-yard touchdown run to give his team a halftime lead, but McCallum eventually wore the undermanned Trojans down and won 16-10. Despite the Trojans' record, Carter knows – and wants his team to know – that Anderson has talented players, just not many of them.
"Anderson has good players on offense and good players on defense," he said. "They are similar to us, but [they don't have as many players]."
Depth will become a problem for the Trojans, and many expect that Lake Travis will continue to gain momentum offensively. In his limited action last week, Mayfield guided the offense to success – not just with points but with the process.
"Baker got the ball out of his hand as quick as he has all year," Carter said of the quarterback, who tossed three touchdown passes and now has 18 touchdowns and just one interceptions on the season.
The Cavaliers will continue to work on their offensive line play. Only senior Drake Rowland has started every game. Fellow game one starters Tanner Volpe, Ryan Dolmanet, Hunter Siddons and Jake Adams are out, though Carter said Volpe may be healthy enough to play. Sean Peacock, de Laat and Ty Anderson, the junior who hasn't played since the beginning of his sophomore season, are out as well. Carter said that backup defensive end David Mackie, a 220-pound junior, would practice at offensive tackle this week and possibly see time in the game. And Mackie may not be the only newcomer to get a chance this week.
"We'll probably pull up more kids [from the junior varsity]," Carter added.
The Cavaliers hope to accomplish enough early that they can give Mayfield and workhorse Shaun Nixon more time to rest. Both have been playing through nagging injuries. But it's a fine line, as Carter mentioned earlier. He wants to make sure that Mayfield and receivers Zach Joiner, Preston Dupre, Tyler Payne and Pannell have more reps together.
Anderson may not provide that stern a test, but Carter knows that his offense needs to get back on track if the Cavaliers are going to beat Westlake and go on what Lake Travis faithful hope will be another lengthy playoff run.