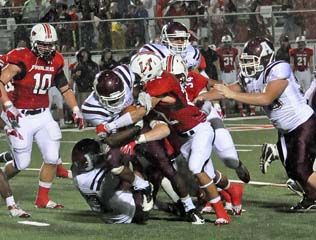 Cavs look to grow against Bowie
As it prepares for tonight's District 15-5A test against perennial playoff team Bowie, Lake Travis has gone back to the drawing board, so to speak.
Without making excuses for sloppy play and tighter-than-expected games, including a rare regular season loss, the Cavaliers have spent as much time lately getting younger players up to speed as they have game-planning and fine-tuning a usually potent offense.
"It really feels a lot like Spring practice," head coach Hank Carter said this week.
Carter's Cavaliers have spent the last two weeks getting more than a handful of sophomores used to the speed and physicality of the varsity game. While several sophomores made the varsity at the outset of the season – rover James Bailey has started from the outset and receiver Grant Foster has been in the mix as a receiver and defensive back, but lately they've been joined by classmates who figured to develop on the junior varsity team.
The results have been predictable, both from what football pundits might expect from a team having to rely on youth and from what Lake Travis has come to expect of its players. Pundits expect youngsters to suffer through growing pains as they adjust to varsity football, and surely the newest crop of Cavaliers have felt them. But, Carter said, the young players have stepped up and met the challenge, turning in some solid play and memorable moments, especially defensively.
"Outside of three alignment things, our defense was really good [against Austin High]," Carter said. "They never could relax, and that made it a playoff-type atmosphere. We went with the attitude we couldn't let them score."
Austin High's only touchdown came on a short drive following a blocked punt. For the rest of the night, the Cavalier defense stood its ground, forcing two turnovers and keeping the Maroons from mounting another threatening drive.
Two sophomores joined the varsity for last week's district opener against Austin High and played every snap at key positions. John Brewer filled in for Hagen Patterson at linebacker and held his own, making a half-dozen tackles. Garrett Stotts stepped in and played the entire game at center. More youngsters, including Foster and Feno Pearson, played expanded roles.
If Lake Travis is going to live up to its high-scoring reputation, the young players must continue to develop, and Carter has every reason to believe they will. In time.
"We just need practices and games," he said last week. "Our young players need to play to get the confidence that comes from experience. We're learning every week. We're having to use some inexperienced guys, so the older guys just need to play better."
While they get that experience, Lake Travis will lean even more on its experienced leaders, whether those players are 100 percent healthy or not.
"We ask a lot of all of our players, but we ask the most of our experienced guys," he explained. "And we need our best players to play even better right now, even if they are a little wounded."
Among the walking wounded are quarterback Baker Mayfield and running back Shaun Nixon, the two key cogs to the offense. But they often depend on those in front of them – an offensive line that has yet to play two games in tact – to provide time and lanes. That group's – whichever four linemen join senior Drake Rowland in a given game -- development will further the Cavaliers' cause.
When the line has played well, the Cavaliers have been able to play with the tempo that offensive coordinator David Collins wants: snap the ball within 10 seconds of previous play. And Lake Travis with a full head of steam has been difficult to stop. Even against Austin High, the Cavaliers put together a pair of lightning-quick scores – their only scores of the game. The quick-strike presence has been hit and miss, though. For every two-play, 80 yard drive in a key moment – as evidenced against A&M Consolidated – there have been three-and-outs forced when a snap goes awry or protection breaks down.
"It takes time for the offensive line to get into rhythm," Carter said. "The line will get better. We just need to connect when we have the opportunity to make plays."
Like a team looking for signs of improvement early in spring practice, Lake Travis will look to take the next step against Bowie, who will try to play keep-away with a ground attack led by Steve Johnson and quarterback Austin Escenburg, though Dontae Harris also figures into the mix as a quarterback/defensive back. Bowie enters 2-3 and reeling after a district-opening 38-7 loss at Westlake. The Westlake defense devastated Bowie's rushing attack, allowing the Dawgs only 25 yards.
The Cavaliers will lean on their defense to do the same and bet that the offense can rediscover itself against a Bowie defense that, while athletic, has allowed 143 points in five games.