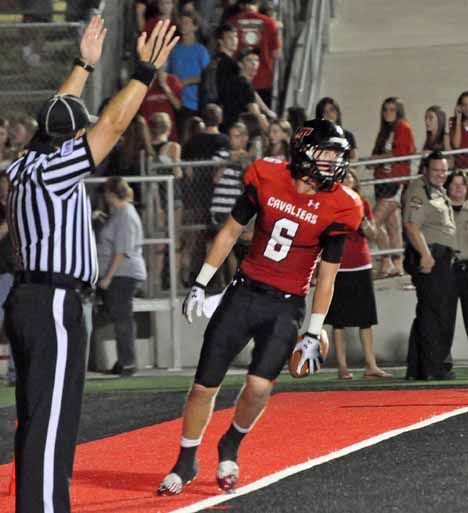 District reaches midway point
District 15-5A's week that was saw a return to form and some feathers ruffled as one team tried to max out its point differential in an already-decided contest.
With scores on its first seven possessions against Akins, Lake Travis looked like itself again. Are the Cavaliers back following the 59-14 win? Time will tell as they continue to gel with a young offensive line that has seen no fewer than nine different starters. A tenth different lineman will start this week against Anderson, so the offense is still a work in progress, but coaches were pleased with (what little) they saw from the starting offense as it rolled to a 52-0 halftime lead.
Every district has its own tiebreaker guidelines should teams finished with identical records following the regular season. In 15-5A, one is point differential. If a tie can't be broken by head-to-head results, officials will look at point differential between tied teams. To discourage coaches from running up the score, the maximum differential a school can claim in any game is 17.
As time ran out in the Bowie-Austin High game Friday, the Dawgs led 35-21 but were driving in the closing seconds. In field goal range, coach Jeff Ables called time out and sent his kicker out for a last-second attempt that would max out the differential against the Maroons. Some Austin High coaches didn't agree with Ables' decision, and staff members traded words before officials and authorities stepped in and sent them on to their respective corners. Regardless of final margin, the win gave Bowie the lead in the race for the final playoff spot. Lake Travis, Del Valle and Westlake remain unbeaten in district play. The win was Bowie's first.
Westlake controlled Anderson 47-3 to remain on Lake Travis' heels. The Chaps have been crisp and dominating since district play began. Remember they had limped through their non-district schedule, losing at Temple, at home to third-ranked Steele and at A&M Consolidated, which could claim the inside track to the 15-5A title with wins over the Chaps and Cavaliers. Westlake could get a chance at revenge as the teams could meet in the Area round of the playoffs if scenarios hold.
District standings
Team-District record-Overall Record-Points For-Points Against
Lake Travis 3-0 6-1 249 109
Westlake 3-0 4-3 215 114
Del Valle 2-0 3-3 181 99
Bowie 1-2 3-4 128 188
Austin High 0-2 1-5 136 198
Akins 0-3 1-6 103 272
Anderson 0-2 0-6 55 202
Last week:
Lake Travis 59, Akins 14; Westlake 47, Anderson 3; Bowie 38, Austin High 21
This week:
Lake Travis at Anderson, Westlake at Del Valle, Austin High at Akins