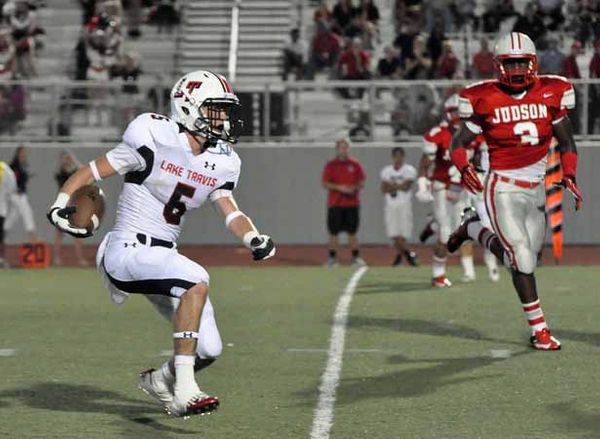 Injuries testing Cavaliers' depth
As the season kicked off several weeks ago, Lake Travis head coach Hank Carter liked the way his two-deep roster looked.
Injuries back in the spring and summer had paved the way for younger players to get valuable first-team reps at practice and even in a preseason scrimmage. And even when senior defensive tackle Spencer Staples hurt his knee in the scrimmage, Carter felt optimistic about his lineup.
Then, the regular season started, and injuries came along with it. Now, as the Cavaliers prepare for their final non-district test against A&M Consolidated on Sept. 21, depth has become a huge question.
"All our depth is on the field," Carter said Sept. 18.
By the time Baker Mayfield took a knee to close out a hard-fought 28-24 win over Westwood last Friday, the Cavaliers limped into the locker room having suffered a trio of key injuries. Offensive tackle Jake Adams suffered an ankle sprain that may sideline him for the rest of the regular season. Defensive end Michael Islava got knocked out of the game in the second half. And senior receiver Zach Austin, who had been Lake Travis' most productive player through the first three games, tore his ACL on the final drive and will miss the rest of the season.
They join the list of injured that already includes Staples, who should be ready to play in the middle of the season, junior offensive lineman Ty Anderson, who's leg issue may or may not heal enough for him to play and senior offensive lineman Hunter Siddons, who's out indefinitely with an unspecified injury.
While Austin's loss may be the most noteworthy, Carter said that the injuries along the offensive front have been the most troublesome to overcome.
"We're missing a bunch on the offensive line," Carter said. "Only one or two of the guys we expected to play a lot [are healthy]. We've got to play three or four guys who we thought would be betting more time to develop."
Instead, they'll have to develop on the fly as the Cavaliers try to figure out how they'll replace the catches, yards, touchdowns and presence that Austin provided over 19 games. The first step to moving on, the coach said, is coming to grips with reality.
"It takes some time for that to sink in," Carter said of the players. "On one play, he's unbeatable and on the next play he's down and gone. It's really tough for us because he was going to get a Division I scholarship – maybe not Texas or A&M – if his year had continued [like it started]."
Through three games, Austin had made 17 catches for 428 yards and seven touchdowns. His yardage represents nearly 50 percent of the Cavaliers' passing yardage in 2012. Last year he 72 catches for 1,340 yards and 16 touchdowns.
The Cavaliers have been down this road before, replacing a star receiver early in the season. In 2010, the Cavaliers lost all-state receiver Conner Floyd in the opener to a broken leg. After surgery and rehab, he returned to play in the team's last three playoff games. That the two top receivers suffered serious injuries is about all the two instances have in common.
"The one thing we told Conner back then was, 'Hey, at least it's not your ACL,'" Carter recalled.
Players don't come back from ACL injuries as quickly as they can from broken bones. Plus, that team had then-junior Griffin Gilbert to rely on as another primary receiver. The 2012 Cavaliers have yet to find a consistent receiving threat to complement Austin and running backs Shaun Nixon and Zach Joiner. Preston Dupre has been solid through three games, and no doubt Mayfield will look his way more often. Tyler Payne saw significant playing time in the spring when Austin suffered a different injury early in spring workouts, and though he caught a touchdown pass against Canyon, he didn't factor much into Friday's game at Westwood.
So the task of replacing Austin will be taller. The coach, though, said the team won't ask one person to be someone they aren't. Look for the Cavaliers to take a committee approach to rebuilding their receiving corps.
"We don't need someone to try and be Superman," he said. "We've lost players before, either to injury or graduation. We're not going score the same way, but we will find a way to score lots of points. We've got a great plan for moving some guys up [from junior varsity] and moving guys around."
And though he describes the injuries that have befallen the Cavaliers and patiently outlines what he, his fellow coaches and the players themselves must do to overcome them, Carter makes no excuse about his team's current situation, nor does he expect anyone's sympathies.
"I would like for us to be a little healthier on offense, but there are lots of teams who are worse off than we are," he said. "We're equipped to deal with it. And we will. We will find a way to win and it will feel great."