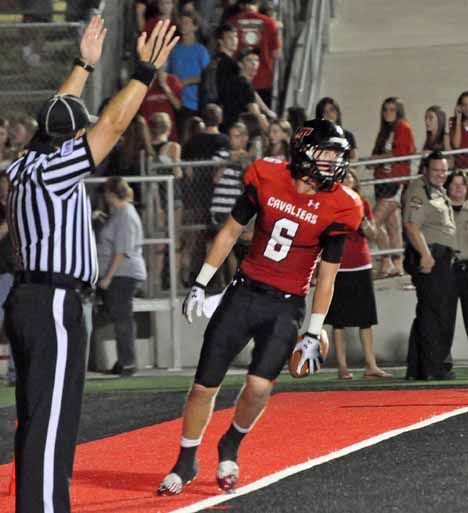 Lake Travis – A&M Consolidated notes
Tonight's game marks the first meeting between the Tigers and Cavaliers.
A&M Consolidated enters the game 2-1, fresh off a big win over Lake Travis rival Westlake, 35-17. The Chaps led the Tigers 17-14 heading into the fourth quarter, but the Tigers closed on a 21-0 run to earn the win. Quarterback Jaylen Cheshire came up big in the game, passing for 245 yards and two scores, finding nine different receivers among his 18 completions. His favorite target is emerging threat Josh Stewart, a 6-foot-5 senior who torched Westlake for 131 yards on six catches, including both of Cheshire's touchdowns.
While Consolidated used to feature a ground-and-pound style of offense, they've upgraded to a more open spread attack under former Cypress Falls coach David Raffield. But the Tigers don't ignore the run. Running back Xavier Jones had 143 yards on 16 carries against Westlake, including a 94-yard scamper. On the season he averages just more than 100 yards per game and nearly eight yards per carry.
Defensively, the Tigers lean on all-state defensive end Christian Lacouture, who'll also line up in a variety of spots. Jimmy Gilbert brings experience to the linebacking corps. The rest of the Tiger defense is new.
A&M Consolidated's first two games included an opening win over Copperas Cove and a 34-27 loss to Midway, who Lake Travis defeated in last year's 4A, Division I championship game.
The Tigers are Texas Football's preseason favorite finish third in District 14-5A, which includes the Woodlands and Lufkin. By enrollment and prediction, A&M Consolidated would be a Division II playoff team, as would Lake Travis. The teams could potentially meet as opponents in Region II.
All eyes on LT's receivers
With Zach Austin's season-ending injury, Lake Travis has spent the week rebuilding its passing attack. Austin had been quarterback Baker Mayfield's favorite target, with a team-high 17 receptions for 428 yards through three games. Mayfield completed 57 passes for 927 yards in the first three games, and Austin's output makes up a little less than 33 percent of the completions but just less than 50% of the yardage.
When Austin went out on the team's final drive against Westwood, Mayfield leaned heavily on junior Shaun Nixon. The running back caught three passes (in five attempts) and took two handoffs in the nine plays the Cavaliers ran en route to the winning score following Austin's injury.
To keep defenses from ganging up on Nixon and fellow running back Zach Joiner, the Cavaliers need to develop two or three more reliable options in the passing game. Preston Dupre has been the team's third-leading receiver with 11 catches for 169 yards and a score. He's made some key catches, both in the opener at Converse Judson and Friday at Westwood. Tyler Payne had five receptions in the first two games but didn't figure much in the game against Westwood. He saw some valuable playing time in the spring when Austin suffered a different injury and missed almost all of the practice season, and he'll need to rely on that experience to step up.
And if there's a position where Lake Travis has lots of depth, be it unproven, it's receiver. The program is crawling with receivers, and early in the week head coach Hank Carter said the coaches could move some players up from junior varsity or over from defensive back to keep the offense moving. Tucker Moore, Troy Stevenson and Grant Foster could see time in the receiver rotation, as could junior Chayce Pannell, one of several additions to the current varsity roster.
Superintendent's Alma Mater
Dr. Brad Lancaster has been on the job as Lake Travis ISD's superintendent of schools for nine months now, and in that short tenure he's had personal – so to speak – relationships with two of the Cavaliers' football opponents.
Lancaster joined LTISD from the Midway ISD, outside of Waco. The high school in Lancaster's former district – Waco Midway – reached the state championship game last year and squared off with Lancaster's current district school – Lake Travis. Friday morning he recalled that he was in a no-lose situation and remembers getting a text from a former colleague kidding him about being the most popular guy on the field prior to the game.
Tonight, Lancaster will again be popular before his new school's game. For the first time in his academic administrative career, Lancaster's current school will play his alma mater on the gridiron. While attending a special recognition in the Lake Travis Athletic Booster Club's Spirit Shack, he acknowledged that he grew up in College Station and graduated from A&M Consolidated.
For the second time in his tenure, no matter how the game he watches comes out, he'll be smiling.