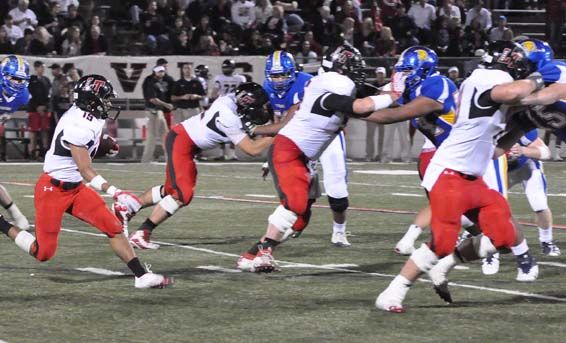 Lake Travis-Anderson extra points
Getting his kicks
Kevin Marcotte may want his coach to pick House Park as Lake Travis' playoff stadium of choice.
The senior kicker had his best night – and the best day of any Lake Travis kicker – against Anderson. He tried four field goals and made them all, including a 50-yarder that shouldn't have been that long.
"I didn't think they'd send me out there for that one," he said aftwerwards.
Midway through the third quarter, Lake Travis faced a fourth down at the Anderson 32-yard line. Kickers typically have the ball placed down seven yards behind the line of scrimmage, but in his rush to get set up, Marcotte made a slight miscalculation.
"I was a little hurried, and I counted it wrong. It really should have been a 49-yarder."
Not that it mattered. Holder Zach Joiner took the snap and got the ball placed perfectly, and Marcotte drilled it.
"But it felt good off my foot and I saw it go through."
Marcotte also converted twice from 31 yards out and once from 46 yards out.
"I'm proud of Marcotte and the field goal team, but making four field goals in a game is kind of a double-edged sword," head coach Hank Carter said. "It's great for that group, but maybe not so great for our offense because we couldn't finish those drives."
The crutch crew
Two of Lake Travis' injured stars came out to watch Friday's game at House Park. Stashed safely away from the sidelines next to/under a tree off to the east of the stadium's north end zone, defensive tackle Spencer Staples and wide receiver Zach Austin watched the game.
Austin underwent surgery to repair the ligaments he tore in the season's third game last week and hopes to begin his rehabilitation soon. Staples tore his ACL in the final preseason scrimmage and tried to play against Austin High but left after damaging the other ligaments. His surgery is getting closer.
They will have a reluctant spectator with them Friday for the season's last [regular season] home game. Junior running back, ranked by many recruiting services as the top running back in the state's class of 2014, injured his knee early in the game and spent the rest of it on the sideline on crutches wearing a brace. This week Carter said Nixon wouldn't play against Del Valle. It's all he knows for sure.
"He sprained his MCL," Carter said, "so it will all depend on how he responds to the rehab. But it's not a season-ending type of injury."
Nixon leads Lake Travis with 630 yards and 10 touchdowns rushing and 429 yards and three touchdowns receiving on 32 catches. Austin remains Lake Travis' second leading receiver with 428 yards on 17 catches and seven touchdowns, which still lead the team.
Next men up
After Friday's game senior Zach Joiner, whom Carter refers to more and more as this team's Colin Lagasse, said the Cavaliers need to get over the injuries and figure out who's going to make the plays that need to be made.
"In the heat of the moment, you're pretty upset to see one of your stud players go down," he said in a story written for the Lake Travis View. "We just have to find people to step up and make the plays that Shaun makes."
That Joiner recognized and summarized the situation succinctly didn't surprise Carter.
"Joiner is a smart guy, and he really stepped in to do some things," Carter said. "Unfortunately, we've had a lot of practice stepping up when guys go out with injury."
Against Anderson, Joiner stepped up, as did two of his offensive teammates. Joiner had two big runs, including a 38-yard third quarter touchdown, and caught five passes to finish with 115 yards of offense. Juniors Romey Kelso and Dominic Packer also enjoyed career nights.
Packer picked up the slack in the rushing game, gaining 113 yards on 12 carries with a 40-yard touchdown. His yardage would have been better had a 57-yard touchdown run not been negated due to a penalty. He's now scored three touchdowns in the last two weeks, including an 80-yard punt return against Akins.
"He's really good in space, and when the ball is in his hands, he's explosive," Carter said of the running back. "We knew what we had in him, but it was just a matter of getting him into the game, and when you're playing behind a Shaun Nixon, sometimes that is tough."
Kelso, listed as a running back, caught three passes out of the backfield, the second of which he took 76 yards for a touchdown. He flared to the left, caught a screen pass and used his blockers to get to the sideline, where he outran the Anderson defense for his first touchdown. He also had two other catches that resulted in first downs and finished with 105 yards total.
Even cornerback Brock Kenyon helped out on offense, stepping in to make a pair of catches, the first of his varsity career.
The skill players weren't the only ones who stepped up. The offensive line has been a revolving door of players that's been spinning since the spring. With projected full-time starters Ryan Dolmanet, Jake Adams and Hunter Siddons and spot-starters Elliott de Laat and Sean Peacock also out, the Cavaliers have now started 10 different offensive linemen and played as many as 13 this season.
Against Anderson, the starting line-up included two players who started the season-opener, one season-long varsity reserve, one promoted from the junior varsity and one converted from defensive end last week. Tanner Volpe returned from an ankle injured against Bowie to start alongside ironman Drake Rowland. Garrett Stotts, promoted to the varsity against Austin High, held down the center spot. Gus Crutcher joined the starting lineup at guard. And David Mackie went from pursuing opposing quarterbacks as part of the defensive end rotation to protecting his own, starting at left tackle to block Baker Mayfield's blind side. They got support from senior Zach Dillion and junior Austin Bewley throughout the game.
While the unit gave up a first quarter sack, they kept Mayfield mostly clean and provided plenty of room for Packer and Joiner to run the ball. The Cavaliers gained 481 yards of offense against Anderson.
The group should be getting a little healthier as Friday's home finale with Del Valle approaches. Volpe returned at tackle against Anderson and showed no ill effects of an ankle injured against Bowie. Carter expects that de Laat will return against Del Valle to play tackle. Carter is optimistic that Adams will return for the playoffs, which begin Nov. 16, for sure though he hasn't ruled out Adams' playing against Westlake next week.