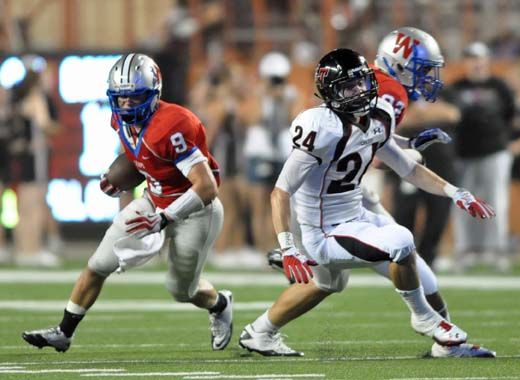 Lake Travis & Westlake: Once more, with consequences
For six seasons, the two most celebrated football programs in Central Texas have met very early in the season, serving as a non-district appetizer to the meal that is the high school football season.
Now as Lake Travis and Westlake prepare to meet, the schools begin a new chapter of their budding rivalry. Not that their season-opening games didn't have meaning.
"Every game is really important," Lake Travis head coach Hank Carter said this week, "whether it's the first game or the last game."
Tonight's meeting marks the District 15-5A showdown. While the Cavaliers and Chaparrals are post-season-bound, this meeting still has plenty at stake. Both teams sport undefeated district records, and to the victor will go the spoils of a district championship and playoff seeding if both end up as expected in the Division 2 bracket, not to mention an apparent leg up in the race for individual awards.
"It means a lot more, that's for sure," said Lake Travis junior linebacker Luke Hutton. "It's for the district championship, for whatever awards, and that's a big deal for this game. But, they are both big games. I know that we can't wait and that we will play as hard as we can and let the chips fall where they may."
"There are [playoff] ramifications, and individual player awards that will likely be decided," Carter said. "But it was a big game in week zero and it's a big game now. It's a lot of fun for everyone on both sides."
When the teams lock horns tonight at Chaparral Stadium, the hosts will be looking to erase four years of often painful losses. After dropping the first two games in the series, Lake Travis has built a four-year streak with wins of 38-17, 42-21, 32-21 and 35-7, the last two wins opening the 2010 and 2011 seasons in Texas' Royal-Memorial Stadium.
Carter and his players understand they'll get a very good Westlake team's best shot tonight.
"They are a good team, young in spots but very talented," Carter said. "They are well-coached, they line up correctly and they play hard until the whistle. We will have to make some plays in tight spots."
Westlake will rely on a balanced offense led by junior quarterback Jordan Severt. While he isn't passing for miles of yards, Severt is taking care of the ball, having thrown for 16 touchdowns with only six interceptions in his first year.
"From what we've seen, they throw it better this year than they have since 2009, when [Tanner] Price was the quarterback," Carter said.
Brandon Box has been his favorite target, catching 33 passes for 622 yards and seven scores. The Chaps will work several running backs to try and establish the running game behind an offensive line anchored by 6-foot-8 senior Judge Finely. Five different Chaps have rushing touchdowns this season, and six have rushed for more than 100 yards, led by Ben Slaughter's 625.
"They have some really big offensive linemen, and the one tackle is really big," Carter said of Finley. "Their size doesn't matter that much to us. What matters is where we set the line of scrimmage, whether it's on their side of the ball or ours."
Carter said the Cavaliers will continue to use their speed to combat Westlake's size, but it will still be key for tackles Zach Davies and Brandon Quinterro to hold things up at the point of attack. The duo combined for 21 tackles and two sacks against Del Valle last week.
"Our scheme is built on playing smaller guys because we're going to move," Carter said. "But we need to be smart and react to what [Westlake] will do."
In the end, Carter said the key will be ball security. As is often the case, the team that doesn't turn the ball over will win.
"That's been an issue for us," Carter admits. "We're working on shoring that up."
Lake Travis will enter the game a little healthier than it has been of late, though the Cavaliers are still far from full strength. Jake Adams may play on the offensive line, and Michael Islava continues to improve after some midseason injuries. But Carter didn't know if junior running back Shaun Nixon would be available. He missed the Del Valle game after injuring his knee against Anderson.
Regardless of offensive cast, Carter likes the way the unit performed in the 31-6 win over Del Valle and hopes to see more of the same against Westlake. Against the Cardinals, Baker Mayfield passed for 303 yards and two scores, both to Grant Foster, who enjoyed his best receiving day with 114 yards on six catches. Romey Kelso had a career best 10 catches, and Dominic Packer rushed for two scores and 73 yards in his first start.
"If we can do what we did Friday…" Carter said.
Against Del Valle, offensive coordinator David Collins mixed the run and the pass, and he moved Mayfield around in the pocket and on designed rolls, never giving the Cardinals' defense a comfortable look at the quarterback. Carter's hoping for more of the same, with maybe a little more concentration on creating space for Packer and Zach Joiner in the running game to help combat the pressure he expects Westlake's defense to apply.
"The thing about applying pressure as a defense is that if teams can run, then pressure gets tricky," Carter explained. "If we can run it and mix [our playcalling] up, it will be harder to pressure us."
Kickoff is 7:30 at Westlake.
Series notes:
· Every year they've met, either Westlake or Lake Travis has gone on to play in its division's state championship game. The 5A Chaps lost to Southlake Carroll in 2006 and to Euless Trinity in 2009. Lake Travis has played for and won the 4A title in each of the last five seasons.
· In the early meetings, the game was known as the Chick-fil-A Great Lakes Showdown, with the local restaurants designing and providing a trophy that spent the year at the winning school. Darryl Zavody owns and operates the Chick-fil-A in Bee Cave. Alan Williams, ironically a Lake Travis ISD Trustee and parent of former Lake Travis football players, owns and operates the Chick-fil-A in the Village at Westlake.
· Dueling newspaper columns used to provide a spark to the rivalry. Both owned by Cox Newspapers but staffed independently, the sports editors of the neighboring Lake Travis View and Westlake Picayune papers would publish each other's column, which often poked fun at the other school or its fans and even ended up as bulletin board material. When then-Lake Travis coach Chad Morris got his hands on a column written by the Westlake Picayune's Thomas Jones and used it to motivate his team, then-Westlake coach Derek Long asked Jones why he'd write something that would work against the Chaps. When Jones told Long that the View's Max Thompson had written a similarly-toned column that could have been fuel to Westlake's fire, Long admitted famously, "Shoot, I guess I need to start reading the paper."