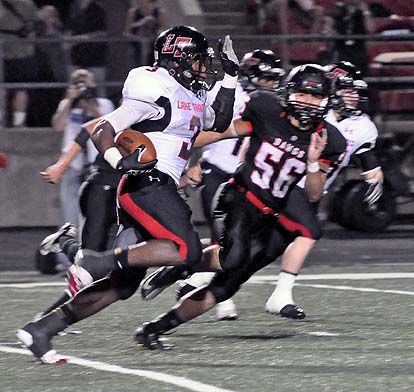 Nixon's return gives Cavs needed boost as playoffs arrive
The already-confident Lake Travis football team got an extra boost Monday as the season officially moved from regular season to playoffs.
"When No. 3 came in and suited up on Monday, that gave everyone a jolt of energy, it really did," head coach Hank Carter said Wednesday.
Junior running back Shaun Nixon wears No. 3. One of the state's top 2014 running backs, Nixon sprained a knee early in the Cavaliers' week 8 win over Anderson and hasn't played since. His return gives the Cavalier offense, which has been dealing with injury upon injury seemingly since week 0, a significant weapon back.
In seven full games and a snipped of an eighth, Nixon has rushed 670 yards and 10 touchdowns on 93 carries. He's also caught 32 passes for 439 yards and three more scores. Nixon rushed for a career-best 204 yards against A&M Consolidated and caught 10 passes for 123 yards and two scores against Westwood. Along with quarterback Baker Mayfield, Nixon is the most experienced, explosive weapon the Cavaliers have.
Nixon isn't the only offensive starter expected back.
"We've got a few guys coming back," Carter said. "I think Shaun is going to play. I think Sean Peacock is going to play. I think Jake Adams is going to play. So that helps."
Adams and Peacock both figure to return to the starting lineup along the offensive line.
Lake Travis brings the confidence of a five-time state champion with it to the playoffs, even if some of the names have changed from year-to-year. The Cavaliers, Carter said, also bring the confidence that comes from a season of winning close game after close game. While those used to seeing Lake Travis roll through the regular season scratch their heads and assume the worst reading scores of 14-7, 24-14 and 14-11, Carter takes a different approach.
"We've tried to talk about having to enjoy the regular season," he said. "There were some games where we didn't play our best and maybe we didn't have as many weapons out there, but we put too much time into it. When we go out and beat Bowie in a close game, we have to feel good about that.
"I think what can tend to happen is the losses hurt a whole lot more than the wins feel good, and we can't get into that. After you win a ball game, yeah, we have to address some things that need to be addressed, but we have to feel good. We get everybody's best shot. Whenever we get a win, it's huge. I've been feeling good about all of them."
Carter also feels good about the bye week that greeted his team after it escaped from Westlake with the 14-11 win. As well as Westlake played, Carter pointed out several things that his team didn't do well. To win in spite of that combination spoke volumes.
"There was a lot we didn't do well," he said. "We gave up a lot of yards. We let them keep the ball. They converted in the passing game early in the game. But, we gave up nine points defensively. At their place, that's pretty impressive. At the end of the day we gave up nine points to a really good football team in a hostile environment. I think we can take a lot out of that. And that's how a lot of our games have been."
Lake Travis won't see any friendly environments from here on out, even though most games will be played at neutral sites. The Cavaliers know that everyone will be coming for them, to be the team that finally ends the five-time champion's run. It's been like that all year, Carter said, again pointing to the game at Westlake, where the Chaps played with a fire fueled not only by the goal of a district championship but erasing four years of losses to their western rivals.
"We didn't play how we wanted against Westlake, but we moved the ball," he said. "We did some things good and when we really had to have it, we got a touchdown. That gives us confidence. That's about as dicey a situation as you can be in and we found a way to get out of it."
Lake Travis spent 10 weeks getting their opponents' best shot. Carter even pointed out that opposing punters kicked the ball farther in games against his team than they did on film from previous games. That won't change, beginning Friday in Georgetown against Pflugerville. But the Cavaliers won't worry about that. They just want to take the work they did on the practice field during the bye week and make it stick Friday.
"We've never had an off week at the end of the season like this, but it was nice to have a couple of weeks to work on things for the stretch run," he said. "It worked out good, and we got some guys back. For us, it probably couldn't have come at a better time. We just needed time to go back and really teach and that was the focus of last week. I feel like we accomplished a lot. We just need to take it to the field."