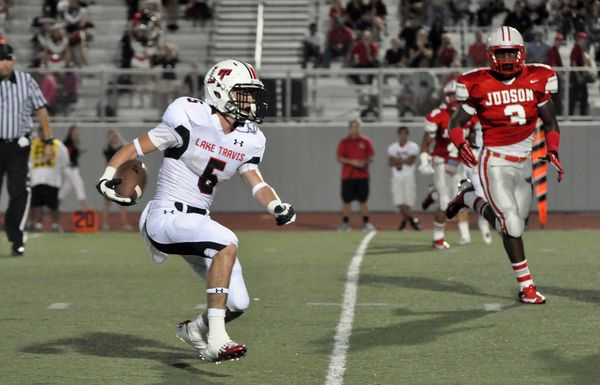 Rockets blasted: Cavs hit ground running (or throwing) in 47-13 win
Lake Travis sure took its time getting comfortable in its new 5A surroundings. A whole two minutes and five seconds.
Zach Austin scored the first of his four touchdowns Friday night on Lake Travis' first play from scrimmage, taking a pass from Baker Mayfield, breaking a Converse Judson tackle and striding into the end zone. The early score came after Hunter Streuling blocked a punt on Judson's first possession. Life as a 5A school could hardly have started better for the Cavaliers, who cruised to a 47-13 win.
"We'll take that start," head coach Hank Carter said after the game. "I'm proud of how our offense came out, firing on all cylinders. That doesn't happen a lot in the first game. We've had a lot of very good teams who didn't play that well in the first game."
The Cavaliers scored on their first four possessions, taking a 24-0 lead before Judson got on the board. Kevin Marcotte capped Lake Travis' second possession, a 40-yard, 9-play effort, with a 34-yard field goal. Shaun Nixon capped an 8-play, 54-yard drive with a 2-yard run out of the Wildcat formation. Nixon's score came one play after a scrambling Mayfield connected with Preston Dupre for 31 yards on fourth and eight. A 13-yard strike from Mayfield to Austin topped off a 63-yard drive early in the second quarter.
Lake Travis' only real first-half hiccup came after Nixon returned a Judson punt 29 yards to the Rockets' 25-yard line. On the next play, Mayfield's pass into the end zone fell into Judson hands, and the Rockets drove 80 yards, sparked by a 39-yard catch and run from Cameron Johnson. Jarveon Williams capped the drive with a two-yard run. Mayfield responded quickly, finding Austin on a post pattern for a 56-yard score to recapture any momentum Judson had gained.
As they did in the first half, the Cavaliers got out of the gates in the third quarter just as quickly. Nixon broke loose on a 44-yard run on the half's first play, and three plays later he got behind the defense and hauled in a 39-yard strike, giving Lake Travis a 37-7 lead. Marcotte added a 31-yard field goal, set up by a 72-yard completion from Mayfield to Austin, and the duo capped Lake Travis' scoring with a 39-yard score early in the fourth quarter.
Mayfield finished with 414 yards and five touchdowns through the air. Austin caught four of the touchdown passes and finished with 231 yards receiving on eight catches.
"Those guys are pretty good," Carter said with a smile about his pass-catching combo. "We can't cover them in practice, so I figured not too many other teams can cover them. Judson tried to take Shaun [Nixon] away, and Coach [David] Collins and Baker got the ball where it needed to go."
Nixon rushed for 82 yards and a touchdown and caught four passes for 52 yards and another touchdown as the Cavaliers amassed 563 yards of offense in the rout. Preston Dupre had five catches for 79 yards in his first varsity action.
Mayfield and Austin both credited film study with their success. Though head coach Mark Smith is new to Judson, Lake Travis had an idea of his schemes from his recent time at Kerrville Tivy. Mayfield said watching film of Tivy's defense paid off.
"We prepared to play against Tivy's defense, and we got pretty lucky that they came out in all of that old stuff," the quarterback said.
Austin scored on catches of 21, 13, 56 and 39 yards. His 231 yards were a career high, and the four touchdown catches match a school record.
"We knew what we were supposed to do," Austin said. "Some of the routes we had just came open. I try to perfect my craft, so I expect to be open."
Mayfield said he expected the Rockets to give Austin some extra attention, but double coverage never came, so he kept looking toward his favorite target, who picked up where he left off after a 73-catch, 1,260-yard season in 2011.
"On some of the plays I was surprised at how open he was," Mayfield said. "We thought they would double-team him, but they didn't."
The Cavaliers didn't set out to answer any doubters, but they did exactly that with their quick start.
"We wanted to send a message," Austin said. "People may not be giving us much respect now, but we will earn it by the end of the season."
Mayfield agreed, though his message wasn't as much about state-wide respect as it was about getting off to a good start.
"We planned on making a statement against a historically good program like Judson," he said after the game.
Carter said the Cavaliers set out to erase any doubts about how his five-time 4A champions would adjust to life at 5A, but he was smiling nonetheless after the game.
"This is step one," he said. "We have lots of things we can improve on. We want to get better next week."
Lake Travis entered the game ranked second in 5A, but that will likely change heading into Friday's home opener against New Braunfels Canyon. Southlake Carroll, the pre-season No. 1 team, lost 24-0 at Allen Friday night.