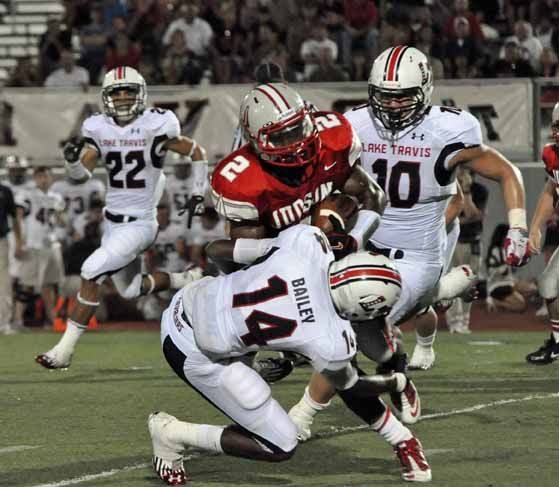 Wrapping up Judson
Taking one last look at Lake Travis' 47-13 win over Converse Judson to open the 2012 season.
* Bailey a beast
Sophomore James Bailey justified the coaches' decision to not only keep him with the varsity team but start him in a key role. Bailey, who played linebacker as a freshman, stepped into the rover spot and led the team in tackles at Judson.
"We thought it would end up this way but he did really well," head coach Hank Carter said. "He is a willing tackler and he does well in coverage."
Bailey finished his varsity debut with five solo tackles, four assists and a sack.
Bailey's emergence as the rover also confirmed the coach's decision to move junior Luke Hutton from rover, where he starred in 2011, to linebacker this year. Hutton made a tackle and assisted on eight others Friday night.
"They both played well in their new spots," Carter said.
* Other first-time starters step up
Lake Travis knew it would lean on a number of first-time starters Friday night at Judson, and those new starters more than held their own. Better still, Carter said, they held their own in unfamiliar positions, thanks to some early injury absences.
"Everyone has been very unselfish," Carter said. "We try to shuffle people around so that our best 11 healthy players are on the field no matter what position they normally play."
Case in point: junior Zach Davies. The newcomer figured he'd play defensive end this season, and he figured to be a starter opposite Connor Shannon after fall camp. But when returning starter Spencer Staples tweaked a knee in the scrimmage against Vandegrift, the Cavaliers suddenly had a void at tackle next to Brandon Quinterro. So Carter moved Davies inside, which also moved junior Michael Islava into the lineup at end. Playing against bigger players, Davies more than held his own at the point of attack, combining on seven tackles and even registering a sack and a half in his debut. Islava also had a sack to go along with his six total tackles.
"Davies had a great first night," Carter said. "Maybe he was a little anxious and he was playing a new position at the last minute, but he made plays. Islava played well also being thrust into a starting role."
Offensively, the Cavaliers moved some new faces into the lineup, and Carter said he'd never seen a Lake Travis team get off to as quick an offensive start. Three new starters joined the offensive line and kept a sturdy wall of protection up for quarterback Baker Mayfield, who passed for 410 yards and five touchdowns. Juniors Jake Adams and Tanner Volpe manned the tackles spots, and junior Ryan Dolmanet stepped into the center position and snapped the ball without issue. Sean Peacock, another moved over from the defensive line last week and was part of the rotation as well.
"Dolmanet really isn't a center, but he did well," Carter said. "That entire group played well, but they also need to continue to improve."
Paired with seniors Hunter Siddons and Drake Rowland, the line paved the way for a 567-yard offensive performance, and the Cavaliers still hope to get junior Ty Anderson back from a leg issue later this season.
Lost in the bright lights of Zach Austin's 227-yard, four touchdown receiving performance were the debuts of Preston Dupre and Tyler Payne and the return of Zach Joiner. Dupre and Payne combined for nine catches and 109 yards, including Dupre's early 31-yarder on fourth down. Joiner shook off a season-ending knee injury and a brief retirement from football to gain 66 yards on seven touches.
In all, Carter liked the way the opener played out. As good as Lake Travis looked, though, there are still areas that need to improve if the team wants to make a run at a sixth consecutive title. It was, after all, only the first week.
"We still made some silly first game mistakes," Carter said. "On defense our calls from the sideline came in a little bit late, and we missed some tackles that we don't need to miss. Offensively, we had too many false starts. We won and we did some good things, but we found some things that we need to do better. We got a lot better from our scrimmage against Vandegrift to the game, and I'm looking forward to see how much better we get from Judson to Canyon."