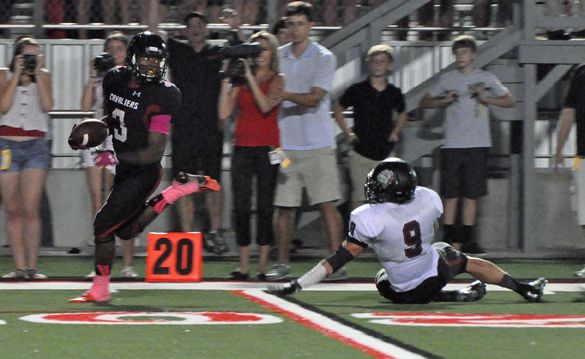 Cavaliers convincingly bounce Bowie from ranks of unbeaten
Football pundits around Central Texas tapped Friday's Bowie at Lake Travis battle as a game of the week, a chance for Bowie to all but wrap up the District 15-5A title and secure a spot in the 2013 playoffs.
Both could happen. The unbeaten Bulldogs just needed to duplicate their previous week's upset of Westlake.
Lake Travis had other ideas. Behind a suffocating defense sparked by junior James Bailey, the Cavaliers kept Bowie (5-1, 1-1) in the proverbial doghouse with a 43-0 domination. Lake Travis (4-1, 2-0) earned its first shutout since a 2011 blanking of Marble Falls.
The Cavaliers wasted little time taking control of the game. After a quick three and out on Bowie's first possession, Bailey partially blocked Connor Flanigan's punt and the Cavaliers took over at Bowie's 35-yard line. Four plays later, Dominic De Lira found Dominic Packer for an 18-yard score. When Bowie didn't match up on the conversion, De Lira whipped a pass to Grant Foster, who walked in for an 8-0 lead.
On Bowie's second possession, Austin Eschenburg found Steve Johnson for an 11-yard gain on third down, but Johnson lost the ball when Chris Roller tackled him, and Bailey recovered the fumble, setting Lake Travis up in Bowie territory again.
The Cavaliers made one of their few mistakes on the next play. Offensive coordinator David Collins dipped into his bag of tricks and dialed up a double-reverse pass. By the time Shaun Nixon flipped the ball back to De Lira, Foster was alone at the goal line but uncharacteristically dropped the sure touchdown.
The drop turned out to be a delayed sentence rather than a reprieve for the Dawgs. Lake Travis marched the 38 yards in eight more plays with Nixon scoring the first of his four touchdowns from a yard out.
Bailey ended Bowie's final first-quarter possession when he sacked Eschenburg on third down to force a punt. The Cavaliers capitalized by driving 66 yards in eight plays – six runs by Nixon – and scored on the first play of the second quarter.
Roller gave the Cavaliers a 29-0 lead when he corralled a deflected pass and returned the interception 45 yards for the Cavaliers' second defensive touchdown in three games.
At halftime, the Cavaliers had outgained the Bulldogs 249-52, allowed only two first downs and forced Eschenburg out of the game with an apparent shoulder injury suffered late in the half.
Things didn't get any better for Bowie after halftime, though Preston Wheeler managed to drive the Dawgs into field goal range by converting a fourth down with a pass to Mac McGarah. But Flanigan's field goal veered wide. The Cavaliers responded with a 70-yard march capped by Nixon's 1-yard run. His 40-yard scamper on third down got the Cavaliers into the red zone.
Lake Travis closed the scoring when De Lira found Nixon behind the Bowie defense for an 81-yard score.
Nixon finished with 189 yards rushing and another 91 receiving on the day before his birthday. Lake Travis outgained Bowie 470-130 and allowed just seven first downs. De Lira continued his solid play at quarterback, completing 17 of 27 passes for 217 yards and two scores. He didn't throw an interception for the third straight game after tossing three in his first two.
Lake Travis vs. Bowie
Pictures from Lake Travis' 43-0 win over Bowie on Oct. 4.