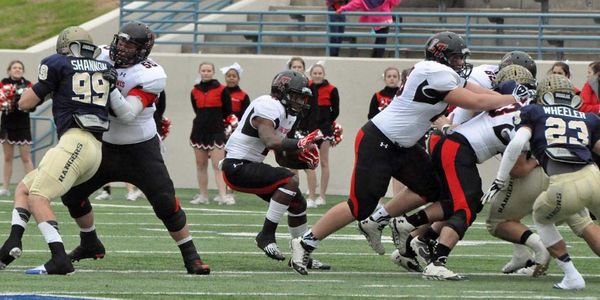 Cavaliers' line paving way for playoff run
With many an eye on Saturday's weather forecast, Lake Travis coach Hank Carter has at least one more reason to feel confident about his team's chances to beat A&M Consolidated and advance to the 5A, Division 2 semifinals.
His team's playing well having won 11 in a row. The Cavaliers' passing attack is operating efficiently with Dominic De Lira and Tyler Payne forming a dangerous duo. Texas A&M-bound running back Shaun Nixon is showing why he's one of the top running back recruits in the country with nearly 600 yards rushing in the playoffs. And the defense, save for last week's lackluster first half against Dallas Jesuit, has been a brick wall.
Consol's playing well, too. It enters the game riding a seven-game win streak and off a 45-35 win over Longview. The Tigers are averaging 47 points per game in the playoffs and average 317 yards passing and another 167 yards rushing. Among their playoff wins is a 41-16 win over Lake Travis' 15-5A rival Westlake.
"I think the team that we are playing is the most dynamic team left that we can face," Carter said this week. "They do what Baylor and Auburn do. They do a good job. They are explosive. I don't know that anybody in the state is playing quarterback better than their kid is right now."
Kobe Miller has passed for 3,637 yards this season with 33 touchdowns and eight interceptions. In three playoff wins, he's averaging 325 yards per game and completing 74 percent of his passes.
Kerry Thomas and Derrick Dick are his favorite targets. Both have surpassed the 1,000 yard plateau in receiving yards. Thomas has 92 catches for 1,331 yards and 15 scores. He's made 29 catches for 391 yards in the playoffs. Dick, who also returns kicks and will carry the ball from time to time, has 69 catches for 1,031 yards with 10 scores. He's topped 100 yards receiving in all three playoff games. Though they like to throw it, the Tigers can also run the ball. Brandon Jackson's rushed for 1,189 yards and 20 scores, including six in the playoffs, to lead the team.
"Their skill guys are the best group of skill kids we've played this year," Carter said.
He compares Dick to former Lake Travis great Andy Erickson.
"He's a little bit of a running back, little bit of receiver and he's a lot like Andy was," Carter said. "They're very good. They've got an excellent plan on offense. Their kids believe in what they do."
So why is Carter so confident?
Lake Travis' kids believe in what they do as well. The Cavaliers enter the game on an 11-game win streak. The Cavaliers have averaged 49.3 points per game in the playoffs, and Nixon's coming off the best game a Lake Travis running back has ever had. He torched Dallas Jesuit for 337 yards on 30 carries with five scores. On the season, Nixon's rushed for a career-high 1,491 yards and 21 scores.
The way Nixon got his yardage, taking advantage of lanes provided by the offensive line in addition to finding space with quick cuts, has Carter encouraged about his team's chances, especially if weather puts a damper on the passing game.
"When your offensive line is playing well, that travels every week," Carter said. "Your passing game, that involves timing and weather conditions can be a factor. But when your offensive line is playing well and your defensive line is playing well, that's there every night. We're excited about that and very proud of those kids."
For the second week in a row, Lake Travis' offensive line played without a starter and didn't miss a beat. Starting center Garrett Stotts missed the Atascocita game. Brent McCarty took his place and the offense scored 34 points in the first half en route to a 41-16 win. Starting tackle Jeffrey Gibbs missed last week's game with Jesuit. Senior guard Tanner Volpe moved into Gibbs' spot and junior Aiden Rourke stepped in at guard for Nixon's career day.
"That's two weeks in a row that we've had to play without a starter and we haven't missed a beat," Carter said. "It's almost like we have 7 or 8 guys who we can plug in for those five spots and not miss a beat and that's a great feeling to have. I'm very proud of those kids and Coach [Kyle] Spano and Coach [David] Costlow. Those guys have done a great job."
Carter looks back to last season, when injuries decimated the line and the Cavaliers fell in the playoff's opening round.
"From a year ago to now our offensive line is night and day," he said. "Volpe and [Sean] Peacock, the two guys who have been through it all, are playing with a lot of confidence. Sean is playing guard and pulling out there on a lot of those big runs and fitting up the linebacker in space. Volpe had to play tackle this week when he hadn't done it all year long and performed really well."
The line's improved play gives Carter some comfort heading into a game where conditions will be iffy at best. With a line playing well and a running back in his groove, Carter knows that the Cavaliers will be tough to stop if all they do is let Nixon run behind the line.
While prolific on offense, Consolidated has had its troubles on defense this season. Through 12 games, the Tigers have allowed 350 points, 29.1 per game. They allowed a season-high 45 points in their first playoff game – a 55-45 win over Kingwood – and have allowed more than 20 points eight times this season. By contrast, Lake Travis' defense has been stingy. The Cavaliers have allowed just 174 points in 12 games (14.5 ppg) and have allowed the opponent 20 points just four times. Jesuit scored 30 last week but got just six after halftime.
Carter sees the numbers but said they don't paint the whole picture about the Tigers' defense.
"Earlier on this year their defense was not their strong point but they are playing much better lately," he said. "Even though Longview scored 35 points on them, they got stops when they needed to and they are timely with turnovers and forcing things like that. They apply a lot of pressure and they'll bring it from everywhere."