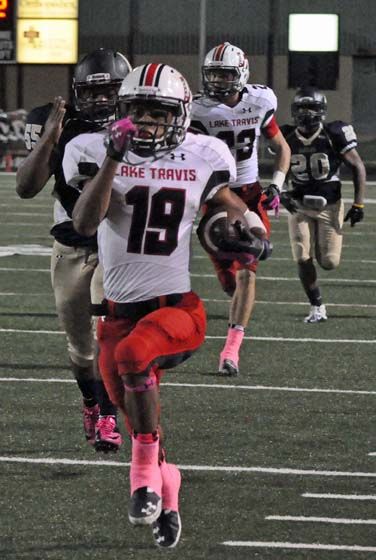 Cavaliers roll Akins despite four turnovers
With two significant scoring bursts, Lake Travis did more than enough to defeat Akins Thursday night at Burger Stadium. But four turnovers and a blocked punt kept the Cavaliers from thoroughly enjoying the 58-28 win.
Lake Travis (now 5-1, 3-0) scored the game's first 23 points and then responded to a Cavalier-aided Akins run with five unanswered touchdowns in the second and third quarters to open up a 58-12 lead. Akins turned three of Lake Travis' four turnovers into touchdowns and added a safety on a blocked punt to close the gap in the fourth quarter.
"There were plenty of things that we did well," Carter said, "but that was not a crisply played game by us."
As they've done in each of their previous District 15-5A games, Lake Travis got off to a fast start on both sides of the ball. Dylan Tracy kicked a 42-yard field goal on the game's opening possession, and the Lake Travis defense forced the first of four consecutive three-and-outs from Akins.
The Cavaliers scored three consecutive touchdowns. Shaun Nixon scored on a 3-yard run, Dominic De Lira hit Tyler Payne for a 62-yard score, and Nixon scored from 18 yards out. When Nixon returned an Akins punt 37 yards to the Eagles' 38, Lake Travis led 23-0 with 2:18 left in the quarter.
After a penalty, De Lira tried to connect with Dominic Packer, but the pass bounced off his hands and into the arms of Akins' Teddy Lowery, who returned it 61 yards for a touchdown. Packer's night went from bad to worse when he fumbled the ensuing kickoff. Akins converted that into a 13-yard scoring pass from Ryan Medrano to Marshall Trevino, cutting Lake Travis' lead to 23-12 entering the second quarter.
"The turnovers just can't happen," Carter said. "Give Akins credit. They did some good things and they played hard, but we turned the ball over way too much. And when we do that and put our defense out there on the 15-yard line, the defense needs to hold them to a field goal attempt and we didn't do that."
Akins had momentum until De Lira converted a third-and-14 from his own 27. He scrambled away from pressure and flicked a pass to Grant Foster, who carried it 56 yards to the Akins 17. On the next play De Lira hit Payne in the end zone.
Lake Travis' defense got into the act on Akins' next play. Zach Davies plucked the ball loose from Lowery and James Bailey scooped it up and raced 25 yards for a touchdown, extending Lake Travis' lead to 37-12. After another Akins punt, Packer atoned for his fumble by racing 71 yards for a score, and Nixon added a third score after Cameron Marsh recovered another Akins fumble.
Nixon capped Lake Travis' scoring with an 8-yard run midway through the third quarter, ending the night for Lake Travis' starters.
Akins scored twice against Lake Travis' reserves, including a 43-yard pass from Medrano to Trevino on the drive that followed a safety when the Eagles blocked De Lira's punt through Lake Travis' end zone.
Nixon finished with 119 yards on just 12 carries and four touchdowns. Packer caught three passes for 43 yards and added the 71-yard touchdown run. Payne caught four passes for 98 yards and two scores. De Lira completed nine of 17 passes for 213 yards.
Medrano completed eight of 20 passes for 136 yards and two scores to lead Akins.
In the end, Lake Travis did what it needed to do, but the four turnovers and some costly, unnecessary penalties will give the coaches plenty to work on this week.
"We have to expect more," Carter said. "At times, our effort wasn't what it needed to be, and we have to fix that. That's the difference. If you want to be a championship team, you can't play to the level of your competition. We need to be 100 percent in control of how we play, and we didn't do that at times last night. The players, the coaches, we all need to do better than that."
Lake Travis will be back in action next Friday when it welcomes Anderson for Homecoming.