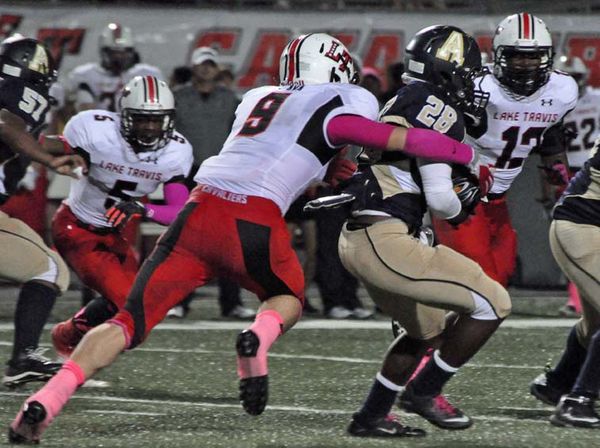 Cavs open playoffs with Westwood rematch
One year removed from a stunning Bi-District playoff loss following five consecutive perfect playoff runs, Lake Travis hasn't lingered over what happened last November.
Following a 9-1 regular season that included the District 15-5A title, Lake Travis couldn't overcome a feisty Pflugerville squad and dropped a 23-20 decision at Birkelbach Field in Georgetown. That upset loss ended Lake Travis' run of five consecutive state championships and 30 consecutive playoff wins, both state records.
Now, following an 8-1 regular season and another 15-5A title, the Cavaliers return to the playoffs. Things are different, this year, the Cavaliers say. No one dwells on what happened last year.
"I don't think about it at all," said senior defensive end Mike Islava. "I just think about this being my senior year, taking control and being a leader of the defensive line. We're thinking about making it as far as we can."
The Cavaliers also don't need last year's playoff loss to motivate them this season.
"We always feel motivation to go out and win," head coach Hank Carter said. "There's no guarantees. We told the kids when they came in for our scout team meeting on Monday morning that we need to play this game like it's the last football game you're ever going to play. We're in the tournament now. The winner goes on and the loser goes home."
Carter and Islava said these Cavaliers haven't addressed what happened last year and they don't plan to as kickoff approaches. The coach said the 2013 and 2012 teams – despite returning personnel – don't have circumstances in common.
"The team is so much different than it was last year at this time," Carter said. "I go back and look at our weekly staff meetings and the things that we talked to our players about and it was staying together because we had so many of our guys that were out. That's not the case this year."
While Lake Travis' playoff foe differs from last year, the Cavaliers know their opponent well. Lake Travis and Westwood (4-6 on the season) have played six times dating back to 2006, including earlier this season – a 53-16 Cavalier win.
"It's nice knowing that we've played them this year and were able to beat them," Carter said.
Lake Travis doesn't take anything for granted despite a convincing win the first time the teams met. That familiarity works both ways. Though they lost, Westwood no doubt saw things to improve upon for the second, high-stakes meeting with Lake Travis.
"Westwood is familiar with us," Carter said. "They have a good coaching staff, a Division I quarterback and a Division I offensive lineman. "They are a dangerous team offensively. They score a lot of points on just about everybody they play. We're going to have a big challenge before us. They had success against us last time we played them, especially in the first half. They moved the ball and scored a couple of touchdowns. We definitely know we're up against a tough test."
Lake Travis understands what Westwood likes to do. The Warriors feature the area's top passer in Houston-bound quarterback Bear Fenimore. Fenimore, who averages 298.6 yards per game, spent his freshman year at Lake Travis before moving. He's 0-2 against his former classmates, some who relish the chance to compete against him.
"I love playing Westwood," Islava said. "I love seeing Bear [Fenimore]. I love seeing him. He's a good guy. He's got a cannon. I love competition with Bear."
Lake Travis got the better of the season's earlier meeting thanks in large part to the pass rush. Led by Islava's hat trick, the Cavaliers sacked Fenimore six times and kept him from throwing a touchdown pass – the only game this season in which he didn't throw one. Islava said the Cavaliers will bring pressure again.
"We'll be coming," he said. "You just don't want him to stand in the pocket too long. He's a big guy, stands over all his linemen. You just don't want that guy to stand in the pocket too long or he'll find somebody open."
Carter knows Westwood's passing attack can cut teams up. In last week's must-win game against Pflugerville, Fenimore tossed a season-best five touchdown passes in a 49-35 win. Though they live and die by the pass, the Warriors will try to keep Lake Travis honest by mixing in the run.
"I feel like they'll spread it out into bunch and try and run it a few times to see how we react because they're a passing team," Islava said.
"At times they run it effectively, but it seems like they would rather throw it," Carter said. "They use a lot of different formations. They use quite a bit of motion to get their guys open. Their guys do a great job of catching the football. They do a great job of pass protecting."
While Lake Travis' defense kept Westwood in check – especially in the second half – of the first meeting, the same can't be said for Westwood's defense. Lake Travis exploded after halftime for 39 unanswered points and hasn't slowed down since. Shaun Nixon (119 yards, 4 TDs rushing) and Tyler Payne (115 yards, 2 TDs receiving) had big games for the Cavaliers the first time around, and Lake Travis figures to rely on both heavily early to help junior quarterback Dominic De Lira settle in to his first playoff game.
Nixon finished the regular season with 929 yards (103 per game) and 20 touchdowns on the ground. Payne led the team with 31 catches for 519 yards and eight touchdowns receiving. De Lira put up modest but consistent numbers in his first season, passing for 1,522 yards and 17 scores while completing 61 percent of his passes.
After averaging just 19.5 points per game in the first two games, the Cavaliers have averaged 49 points per game since, including four games with at least 51 points. The Warriors have struggled all season defensively, allowing 37 points per game. They enter the playoffs having allowed an average of 42.3 points per game in their last four games.
Islava said he expects the offense to continue its roll.
"There's no question about that," he said. "I believe in my quarterback and I think we'll do just fine Friday night."
Friday night's winner plays the winner of the Bi-district game featuring Lufkin (5-5) and Humble Atascocita (9-1).