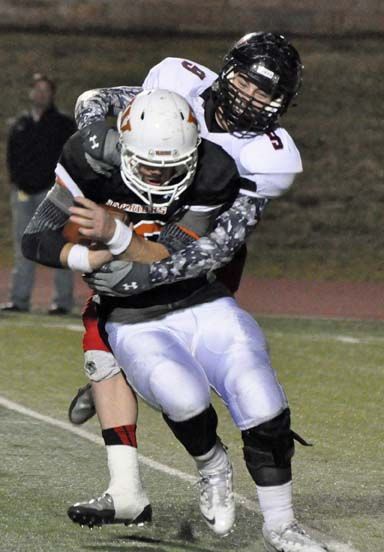 Cavs' sack attack takes fight out of Warriors
Lake Travis picked up its first 5A playoff win last Friday with a 52-7 domination of Westwood.
The Cavaliers defense battered Westwood's offensive line, sacking University of Houston-bound quarterback Bear Fenimore a dozen times and pressuring him countless others. Michael Islava led the onslaught with four sacks. Zach Davies added three and Tevin Paul had two.
"It's kind of funny," Lake Travis coach Hank Carter said. "Zach Davies had three sacks and he got outdone. You have two sacks out of the sophomore [Tevin Paul] and you get outdone by two guys."
Islava's best performance keyed a team dominance that saw Westwood's high-powered offense gain just 44 yards. Fenimore, who entered the game with 2,986 yards passing, threw for just 27 yards, completing six of 17 passes with two interceptions, both by Tanner Bush. In all, Westwood lost yardage on 19 of 48 offensive plays.
Westwood's vaunted passing attack, which puts little emphasis on running the football, worked against it Friday night.
"I think that any defensive end will tell you that when there isn't a big threat of a run, they are chomping at the bit," Carter said.
Islava said working the challenge of working against Division I caliber lineman Brendan Moore and Division I quarterback recruit (and freshman teammate at Lake Travis) Fenimore had Lake Travis excited about playing.
"Just seeing Bear sparks everybody up," Islava said. "I love seeing Bear. He's a great athlete. He's going to Houston. It's just great that you get to play against someone who's going D1."
The defensive effort overshadowed the Cavaliers' most impressive offensive outburst of the season. Led by Dominic De Lira's 259 yards passing and 100-yard rushing games from both Shaun Nixon and Michael Mullett, Lake Travis gained 582 yards of offense.
De Lira connected twice with Tyler Payne for touchdowns and ran for a third. Mullett, in extended playing time that allowed Nixon to rest a twisted ankle, scored twice and rushed for a career-best 150 yards. Nixon and Will Von Doersten also added rushing touchdowns.
"We have a lot of confidence in Mike," Carter said. "He's a physical runner. We're very, very proud of him and how he's stepped up. Also proud of the offensive line because they did a good job clearing the way for him. But that was pretty big to see that. It shows that we have some depth and that's important."
Mullett made the most of his first opportunity at extended playing time with the starting offensive line.
"I did not ever expect to have a playoff game [where I rushed for] over 100 yards with an all-Central Texas back in front of me, but, hey, you've got to make the most of your opportunities," he said. "The linemen were doing really good sealing the edge and blocking up the middle, and it opened up."
Nixon rushed just six times but gained 105 yards to surpass the 1,000 yard mark for the season. In 10 games he's now rushed for 1,034 yards and 22 touchdowns. He played on only three drives and called it a night early in the second quarter. Carter said Nixon could have played more if necessary, but Mullett's play made it a moot point and afforded Nixon extra rest.
"Shaun could have played more," Carter said. "We were in a situation where we felt like Mike was doing a great job, so we held Shaun out. Once Shaun got warmed up [against Westwood] you could see that he was fine."