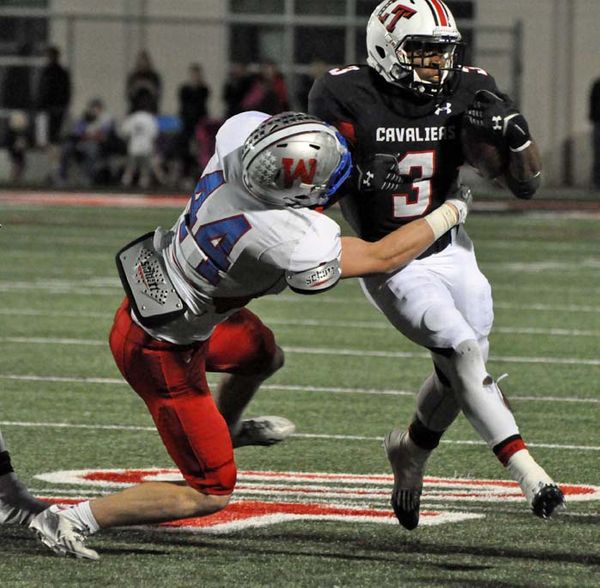 Confidence, offensive line sees Lake Travis through
Hank Carter has known for weeks now that there'd come a time when his team would face a huge fourth-quarter test. And that thought worried him a little.
Two weeks ago, as the Cavaliers prepped for a District 15-5A contest with Del Valle, Carter said the downside of dominating teams early meant Lake Travis' starters hadn't played much at all after halftime.
"That's the bad part to some of these blowout wins," Carter said on Oct. 22. "We need to get some games under our belt. To get into different situations so you have that experience to go back and lean on and talk about. We're missing out on some of that because we're only playing half the game [with our starters]. It's been a while since we've been on the field in the fourth quarter."
Carter learned a great deal Friday night. If his team's fourth-quarter, back-against-the-wall performance against Westlake can be an indication of how the Cavaliers will play in tight games when the playoffs begin next weekend, he can breathe a little bit easier.
"I am happy," he said. "We probably didn't handle the emotions of the game early on very well. It was nice to see us snap out of it and in the fourth quarter play fast and play aggressive and execute. That was good."
Senior running back Shaun Nixon echoed his coach's thoughts.
"They came out strong on us," he said. "It's Westlake and it's a rivalry game. We just had to come out with more intensity."
Facing its toughest test so far, Lake Travis jumped out to a 14-7 lead only to watch Westlake score 20 straight points to take a 27-14 lead into the fourth quarter. With an undisputed district championship on the line, the Cavaliers responded with their best fourth quarter of the season.
"Westlake did some things that were not foreign to us, but it doesn't mean that we're going to go out there and execute," Carter said. "Offensively we adjusted to some of the stuff they did and Coach [David] Collins put our kids in a good position to succeed in the fourth quarter."
The rally began with a 67-yard drive that took all of 1:40. Nixon, who'd been bottled up for the game's first three quarters, began to find room, rushing four times for 57 yards, setting up Dominic De Lira's 15-yard scoring pass to Tyler Payne.
Lake Travis' confidence surged from there. The defense forced a Westlake punt, and Lake Travis took over near midfield with 7:16 left. No one in black jerseys doubted how the game would play out.
"No, none whatsoever," Payne said on the field afterwards. "Everyone on that sideline knew that it was our time. We knew we were going to go put that in the end zone."
With momentum, the Cavaliers all but eschewed the pass and put the game in Nixon's hands.
"I already knew it was going to happen," Nixon said of his heavy fourth quarter role. "I'm ready to put everything into this team. I'm all in. They trust me and I'm putting forth everything I have to do whatever I can for this team."
In a methodical 52-yard drive that took 11 plays, Nixon carried the ball nine times, including the final four to score the go-ahead touchdown. The Cavaliers tried just two passes on the drive – one of which came on a halfback pass thrown by Nixon. His one-yard dive and Dylan Tracy's subsequent extra point gave Lake Travis a 28-27 lead with 4:17 left.
The defense, solid all year but feeling burned by allowing Westlake 27 points, made one final stand. With sophomore tackle Tevin Paul pressuring quarterback Jordan Severt on successive plays, the Chaps had to punt, giving Lake Travis the ball with 3:13 left. They never saw it again.
"The defense played an unbelievable fourth quarter," Payne said. "You have to give all the credit to them. That stop was huge."
Needing one, maybe two first downs to kill the clock, Nixon gave the Cavaliers exactly that. He carried the ball four more times, getting two first downs in the process. He finished with 130 yards on the ground, 124 of which came in the fourth quarter on 16 carries. Westlake's offense, by comparison, ran only nine plays in the final quarter.
Nixon said the offensive line stepped up after some halftime adjustments and made some holes for him to exploit.
"We came out and talked to the linemen," he said. "We told them we had to put the hats on 'em and get out there and get to work. We powered them downhill and it paid off for us."
The linemen, with Nixon running well, knew they didn't have to open too big of a hole. If they could just make a crease, Nixon would do the rest.
"Honestly, it's really nice blocking for Shaun Nixon," Tanner Volpe said a few weeks ago. "If we get our block for a couple of seconds, he's gone."
Carter knows there will be more games as competitive as Friday's win over Westlake. And now he knows his team can take another good team's best shot and still be standing at the end.
"It tells me a lot," he said. "We're a good football team and we have a chance to be a great football team if we can put it all together."
The experience, maybe even more than the result, will benefit the Cavaliers as the playoffs arrive.
"It's nice to see us battle back against a good football team," Carter said. "I think that gives our team confidence. I also think that's going to be valuable. There's no substitute for experience in this type of thing. I guess in the real world they can say experience is overrated, but in football it's not. Those situations, when we have to communicate and it's a loud crowd playing against a team that was doing some of the things they were doing, those are the type of things we haven't seen in a while and it's hard to replicate that in practice. So that was a great experience for us. I think we're going to learn and grow from it."