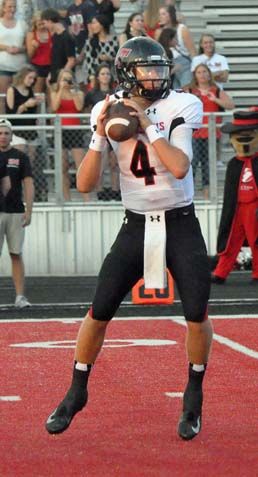 De Lira's fast start leaves Cougars seeing red, literally
Lake Travis made three first half touchdowns stand up in a 20-6 win over New Braunfels Canyon.
Shaun Nixon caught two scoring passes from Dominic De Lira and rushed for a third for all of the Lake Travis scoring, and the Cavaliers' defense withstood drive after Canyon drive to preserve the win.
"We got pumped up early and wanted to come out fast," Nixon said. "We caught them in a defense where the middle of the field was open, and [Dom] delivered some touchdown passes."
Canyon dominated possession of the ball but couldn't convert that into touchdowns. In the end, the Cougars ran 68 plays to just 45 for Lake Travis. The Cavalier defense was on the field for 40 second-half snaps but stood firm despite letting Canyon convert some key third and fourth down tries.
"We try to stay positive and tell our guys that we're going to get the ball just as many times as they will, but they just kept it a lot longer," Lake Travis coach Hank Carter said afterwards. "We let them convert some key fourth downs, especially early, and if we had stopped some of those we would have had a chance to put the game away in the first half."
Lake Travis thwarted two long drives by forcing fumbles at the end of drives that had lasted nine and 17 plays, respectively. Chaynce Pannell stopped a Canyon march that started at its own 1-yard line in the first half. Hunter Greer recovered a fumble at the Lake Travis 4-yard line after Canyon marched 82 yards to the Cavalier 5-yard line.
Until a final possession that saw the Cavaliers gain two first downs to run out the clock, Lake Travis managed only one first down in four possessions that ended in punts.
De Lira and Lake Travis got off to a fast start. The quarterback completed 9 of 10 passes in the first half for 147 yards and two scores. Nixon finished with 100 yards rushing and receiving and added a 55-yard kickoff return. Dominic Packer helped key the first half with 86 yards on four receptions and a carry.
Lake Travis improves to 1-1 and faces Westwood next Friday.