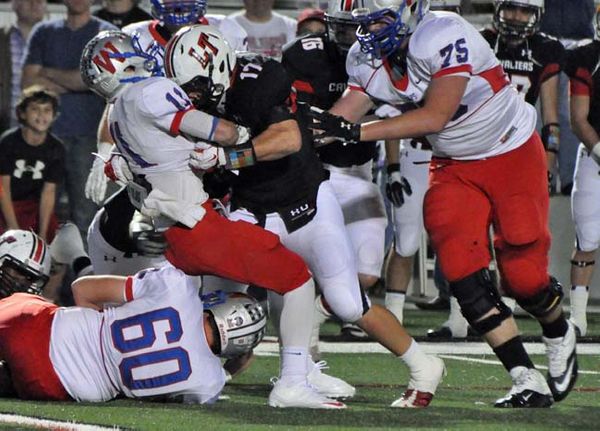 Despite slip against Westlake, defense still a plus for Cavaliers
The saying has existed for the longest time. Offense sells tickets, but defense wins championships.
As has been its custom during its championship years, Lake Travis has been selling lots of tickets with its offense. The Cavaliers average better than 42 points per game. But this team also subscribes fully to defense, and when Lake Travis begins what it hopes is a long playoff run against Westwood Friday night, the Cavaliers hope to prove the old adage true again.
Lake Travis allows just 13.4 points per game and its first team defense has allowed just four touchdowns in its last six and a half games dating back to the second half of a 53-16 win over Westwood in September. The Cavaliers know they are playing solid defense, but they also know they can improve.
"I think we're doing pretty well," senior defensive tackle Zach Davies said. "I'm pretty happy with where we are. I don't want to say we're farther along than we were last year but we're different."
Lake Travis' defense struggled against Westlake, allowing 27 points. But when the Cavaliers had to have stops, they got them. Lake Travis' defense blanked Westlake in the fourth quarter.
"The defense played an unbelievable fourth quarter," said senior receiver Tyler Payne.
Westlake, Cavaliers' coach Hank Carter said, did plenty right for three quarters. Lake Travis obliged with some unexpected mistakes that kept Westlake moving. With time to watch tape following the game, Carter looked at the result in the scope of the big picture rather than the excitement of the moment.
"There was plenty going on that we needed to shore up and fix," Carter said. "We did, eventually. Our kids believe that they should never give up more than two touchdowns. For them to look up and see that they'd given up 27 points…Obviously I love the outcome but we don't need to be beating our chests too much about how the defense played. At the end of the game we played well. We got after it and played with more energy. We just want to see more of it."
If the Westlake game served as the Cavaliers' first high-stakes game: the District 15-5A title lay in the balance with – Carter pointed out – inside tracks to some of the district's individual honors, Lake Travis passed its first test. While the players understand that some of them might win individual awards – Nixon should be the district's outstanding offensive player and Davies or senior safety Luke Hutton should be among the favorites for top defensive player -- they aren't concerned with accolades or honors. They have bigger goals in mind.
"I could care less about any personal accolades or what anyone really thinks about our defense," senior linebacker Hagen Patterson said. "I just want to win state. It's really all I care about."
The Cavaliers celebrated the district title following their sixth straight win over the rival Chaps, but they see it more as the first step to a bigger prize than a crowning achievement.
"Don't get me wrong," senior safety Luke Hutton said. "We'd love to win a district championship and a state championship, but the goal is definitely the state championship. "Our season isn't justified if we don't do that. Last year we won the district championship and it was our worst year in a long time."
Hutton refers to last year's bi-district playoff loss to Pflugerville. Prior to that loss, the Cavaliers had won 30 straight playoff games over five consecutive state championship seasons. The seniors who started for the first time last year and saw the streak end want to get back and experience what only two of them – Hutton and running back Shaun Nixon – truly have.
"I played on one special team my sophomore year when we won state," Patterson said. "I think I went on the field four times during the state game, and that was like putting my toe in the water of what it felt like to win a state championship. I saw everyone around me. I saw Luke get the game-ending interception. Ever since that moment, it's been my dream in football."
Davies echoed Patterson's sentiment. The entire team hungers to return Lake Travis to its place of prominence in the Texas high school football hierarchy. Doubters said Lake Travis couldn't continue its run after moving up from 4A to 5A. The first round playoff loss didn't do anything to counter those doubters.
"On this year's defense, there's no one who's really done anything," he said. "Luke is the only one who's won a state championship. Last year there were a lot of guys who had come back, and they had been there and done that. This year, all of us are really hungry. Me, personally, I'm hungry to do something to prove everybody wrong, to put my name in the record books [as a state champion]."
If Lake Travis does embark on a long playoff run, the defense will have a great deal to say about it. Lake Travis has scored points in bunches of late, but even more impressively, the defense is preventing points in bunches.
"We're playing our best ball," Hutton said prior to the Westlake game. "I feel like it's the best defense I've been a part of. When I look around, we don't really have a weak point. That's what our whole goal is. When offenses look at our defense, they don't see a weak point to attack. They just see a solid defense that whatever way they go…if they go to the strong side, the weak side, up the middle, to a certain safety or corner, that we'll just all do our job and that it's going to be a tough game for them to come out and try to get points on us."
The numbers make the case that this could be the stingiest Lake Travis defense yet. Lake Travis' 2009 defense allowed 227 points in 16 games for an average of 14.2, the best mark in school history. This year's defense has allowed only 121 points in nine games, an average of 13.4. Carter said it's a defense without a shining star, a group of 11 players working together, executing a plan.
"There's not one superstar on this defense," he said. "Our whole defense has been playing well and there are lots of guys who are good players."
Hutton leads the team with 77 tackles. Patterson and John Brewer have combined for 136 tackles, including 13 in the backfield. Davies and Michael Islava have six sacks each. James Bailey has an interception, two fumble recoveries, a blocked punt and a touchdown. Chris Roller has two interceptions, one of which he returned for a score.
Hutton, a student of Lake Travis' past teams, wants history to remember this year's team as a champion and the best defense the school has seen.
"As long as we do our job, I think we'll be the best defense hopefully to ever come through here," he said. "That's our goal, to be the best that ever came through here."
But he'd be willing to trade that distinction for another championship in a heartbeat.
"It isn't even close," he said. "We all want to win a state championship whether we're the best or the worst defense to ever come through here. We just want to do what we need to do to win."
Patterson knows the defense has been playing very well of late, but he also knows they will need to play even better as the season continues and opponents get tougher.
"We're all so hungry," he said last week. "I can speak for the whole team. We all want to get better. We strive to get better every week. And we have a coaching staff that makes us better every week with watching film, lifting weights and practicing hard. We didn't have our best practice yesterday. We all realized that and we didn't get punished for it but we're expected to come out and practice better today. We all know that and we want to do that because we want to get better."