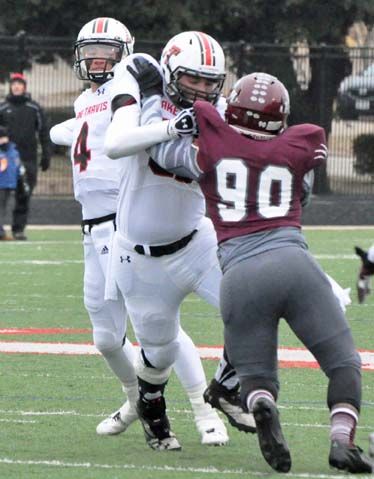 Game preview: Will Cavs ride Nixon's legs again or return to airways?
As you'd expect this late in the game, Saturday's semifinal against Cedar Park marks the biggest test of the season for Lake Travis.
The Cavaliers and Longhorns will meet for the first time ever with a berth in the 5A, Division II championship game in the offing. Both teams are comfortable playing this late in the season. Lake Travis won five consecutive 4A state championships from 2007-2011. Cedar Hill won a state championship as recently as 2006 and played in the 5A, Division II title game last year. The Longhorns advanced to last year's title game by beating Lake Travis' District 15-5A rival Westlake on a last second field goal.
"They won a state championship a few years ago," Lake Travis coach Hank Carter said. "They went to the state championship game last year and played Katy and played well. But we also know they played Westlake and Westlake was a play away from beating them a year ago."
While the Cavaliers can take some confidence in comparing Cedar Hill to Westlake – Lake Travis has beaten Westlake six straight times though it needed fourth-quarter comebacks to win the last two – coaches know preparing for the Longhorns isn't nearly that simple.
The Cavaliers know they're quickest path to success lies in the legs of senior running back Shaun Nixon, who's rushed for 751 yards and eight touchdowns in four playoff games. It hasn't been all Nixon, though it seems like that in the last two games as he rushed for 523 and seven scores in wins over Dallas Jesuit and A&M Consolidated.
Lake Travis has had success through the air as well, even if the last two weeks have turned into the Shaun Nixon show. Dominic De Lira has thrown eight touchdown passes and just one interception in the playoffs. He's been efficient and timely with his scoring passes. He blitzed Atascocita with four first-half scores and got Lake Travis on the board with a strike to Grant Foster in last week's frigid conditions against A&M Consolidated. Foster and Tyler Payne have been De Lira's primary targets. Payne's caught six of De Lira's playoff scoring passes.
Carter loves that his team can play with balance.
"We're able to play a couple of different ways," he said. "We can throw the football. We've shown that. But if we need to grind it out, we've been able to do that. That's a tribute to our offensive line and the way our backs are blocking and running. That's neat."
If Cedar Hill coach Joey McGuire's staff shares Lake Travis defensive coordinator Randall Edwards' philosophy, the Longhorns must try and keep Nixon from continuing his run. That means loading up near the line of scrimmage and effectively daring De Lira to throw the ball. If the junior quarterback continues to make good decisions, there are points to be scored. Though athletic and talented, the Longhorns have allowed about a touchdown more per game than Lake Travis has. In the playoffs, each Cedar Hill opponent has scored at least 21 points.
Special teams
Both Cedar Hill and Lake Travis have dynamic return games. Expect Hodge to handle most of the kicks for Cedar Hill, and Nixon handles them for Lake Travis. But he's not alone. Nixon is one of three Cavaliers who have scored on a kick return this year. He's returned a pair of punts for scores, as has Dominic Packer. And Pannell brought a kickoff back 87 yards for a score against Jesuit when the Rangers decided to kick away from Nixon and Packer.
"They present a challenge," Carter said. "Cedar Hill's defense can really run. We've heard a lot about their defense. Cedar Hill has quite a few players committed to Division I schools. I imagine that Cedar Hill looks a lot like Longview: Fast, athletic, tough."