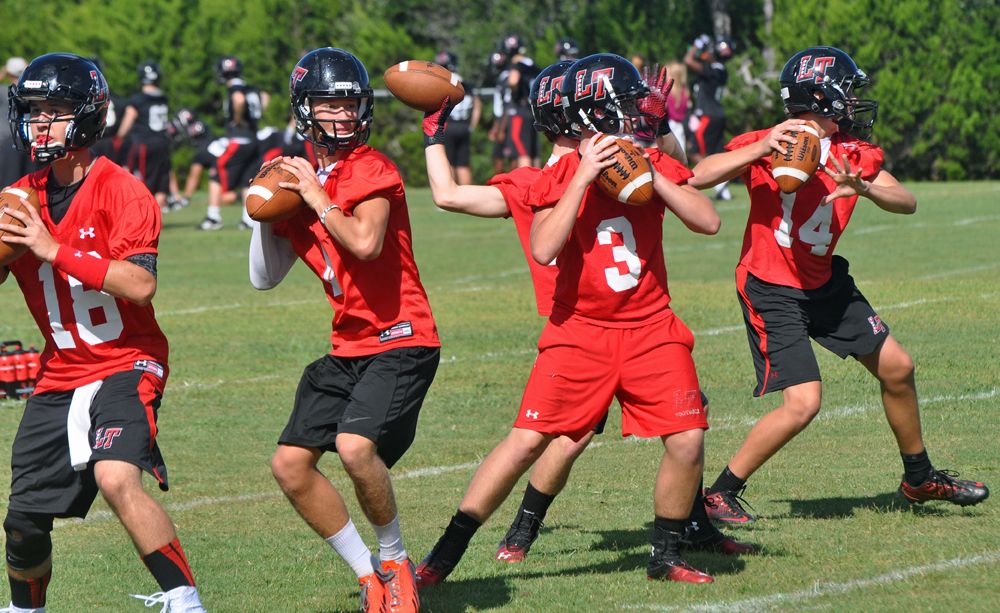 Opening practices sail along smoothly
Lake Travis' football players got back to business Monday, taking the first steps toward a fall they hope will return them to the realm of the state's elite teams.
By all accounts – the few that measure a team's initial workout prior to putting on pads – the Cavaliers' opening practice went well.
"Nobody got hurt," head coach Hank Carter said with a smile Monday morning following the varsity's first workout. Lake Travis' coach, heading into his fourth season with a 39-4 overall record, came away even more pleased with how the team practiced.
"Nobody got a royal butt-chewing, which means the kids were locked in," he said. "They understood where they were supposed to be."
Players felt good about getting back to practice as well, once they got over the fatigue of the workouts.
"Sore," said senior receiver Tyler Payne.
"That's the answer from all of us, I guess," said senior running back Shaun Nixon.
Both offense and defense picked up where they left off following the spring.
"On the offensive side, we're picking things up fast," Nixon said.
Defensively, the team's leaders like the early progress as well.
"We're just going over the basics right now," said Luke Hutton, who'll move to safety from linebacker for his senior season. "I think everyone knows what they need to do."
"We're still solid," said senior Zach Davies, an all-state pick at defensive tackle last season.
Under offensive coordinator David Collins' watchful eyes, the offense sprinted through its paces as juniors Dominic De Lira and Nic Nezami rotated series taking snaps. The starting offense and defense squared off in 7-on-7 work, where Dominic Packer and Bear Christianson made several nice catches both in space and traffic, and Chayce Pannell continued to hold his own at cornerback after moving over from receiver in the spring, knocking down several passes including one intended for Payne in the end zone.
Offensive coaches preached not only execution but speed and efficiency in getting from one play to the next, the staple of Lake Travis' no-huddle offense. The defensive players worked on technique, pass rush and closing on the ball while in coverage.
"The kids look different," Carter said. "They've grown over the summer. They look good. I think that we have the potential to be a heck of a football team when it's all said and done."
The Cavaliers move into pads on Friday, where the new University Interscholastic League practice guidelines on tackling come into play. The new rule limits the time teams can practice full contact – or tackling players all the way to the ground. Carter emphasized that the rule won't really impact how the Cavaliers practice.
"That really doesn't affect us because we rarely go full contact, which means tackle all the way to the ground," he said. "And once we get out of fall camp, we won't do it at all. We'll do it a little bit when we put the pads on this Friday and Saturday for that scrimmage, but after that we won't tackle."
Not tackling in practice has always been a staple of Carter's philosophy. He doesn't preach that it's the right way to coach. He just says it's the way he's done it at Lake Travis.
"I'm not saying that we've got the right answer and always have, but we don't tackle our kids all the way to the ground during the season," he said. "I know that there is a mindset and a thought out there that [tackling] makes them aggressive and makes them tougher and teaches them to tackle, and that's true, but anytime there are kids on the ground, there's the potential to get hurt, and usually it's not the kid getting tackled. It's somebody getting tackled into somebody else, getting rolled up on. We just don't do it."
The Cavaliers practice in pads for the first time Friday, with the varsity starting at 7 a.m. All the teams will take part in scrimmages on Saturday prior to the annual Cavalier Open golf tournament at Falconhead beginning at 1 p.m.