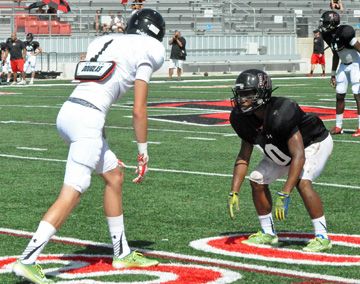 5 things about Waco Midway
Lake Travis vs Midway: Five things to watch
· Midway's Ben Hicks passing against a young but talented Lake Travis secondary.
Houston-bound Hicks passed for better than 3,700 yards and 36 touchdowns as a junior. Lake Travis' talented secondary includes Fresno State-bound James Bailey, who moves to free safety and Chris Roller. But cornerbacks D'Marcus Lacy and Aaron Brown-Nixon will make their first starts, and Midway's Devontre Stricklin and Joseph Ward won't let them ease into their first games. Lake Travis coach Hank Carter said Stricklin, with his 20-plus yard per catch average, reminds him somewhat of Cedar Hill's Damarkus Lodge.
· Midway's revenge
"I would think they've been thinking about this game for a long time," Carter said. The names and faces have all changed, but chances are Midway remembers the last time the two teams met. The Cavaliers rode their defense to a 22-7 win in the 2011 4A, Division I title game, claiming their fifth straight championship in the process. The current senior classes would have been freshmen in 2011, and none would have played in the game.
· Panthers more than a big offense
Lake Travis, potentially playing without quarterback Dominic DeLira, will rely on varsity newcomer Abe Willows to lead the rushing attack. The junior gives Lake Travis a bit more power in the backfield following change-of-direction artist Shaun Nixon, and Midway will rely on all-state linebacker Lenoy Jones, a 6-1, 215 pounder to keep Willows in check. Defensive backs Marcus Johnson and Kahlil Haughton provide experience in the secondary to challenge a young group of Cavalier receivers.
· Championship (game) makers
From 2010-2012, the Panthers won at least 12 games each year and posted an overall record of 37-5. In each of those seasons, the team that beat them in the playoffs played for the state championship. In 2010, Denton Ryan ended Midway's season in the third round. Ryan went on to lose to Lake Travis in the title game. In 2011, the Panthers reached the title game, falling to Lake Travis. In 2012, Midway won its first 13 games before losing to Cedar Hill in the regional championship game. Cedar Hill lost to Katy in the title game.
· Stepping stone
There are currently 17 Midway graduates playing college football, including five at nearby Baylor, two of whom would have played against Lake Travis in the 2011 championship game: Orion Stewart and Jamie Jacobs. Oregon State's Hunter Jarmon and SMU's Shakiel Randolph also played in the 2011 title game. Levi Norwood, a 2010 Midway graduate, should be one of the top receivers in the Big 12 playing at Baylor.