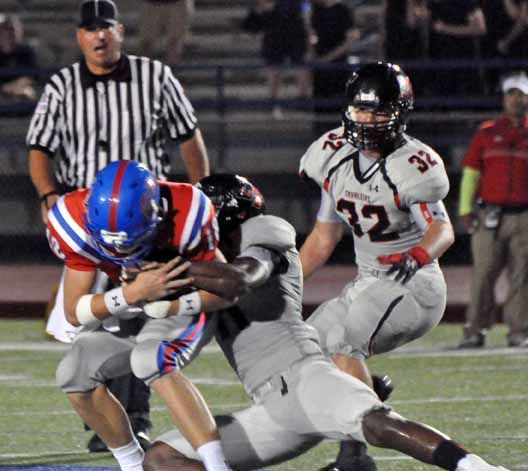 Cardinals provide speedy challenge to Lake Travis defense
Heading into the 2014 season, Lake Travis head coach Hank Carter believed his defense could build on the elite-level defense the Cavaliers displayed last year, when they allowed opponents just 14 points per game en route to the 5A, Division 2 semifinals.
Early on, however, the coach has been left scratching his head after the Cavaliers have struggled to meet his high standards, allowing 25 points per game thus far.
In a loss to Waco Midway, Lake Travis surrendered 38 points and 457 yards of offense. Midway's 38 points marked the most Lake Travis has allowed since Johnny Manziel's Kerrville Tivy team scored 42 on Nov. 19, 2010. Early on against Hays, the Cavaliers missed a handful of assignments and couldn't get key stops, allowing the Rebels to hold a lead into the second quarter.
"There have been two games where I've been disappointed in how our defense has played," Carter said following the win over Hays. "We've got some very talented kids, and we have to do better than that."
When evaluating his defense, Carter doesn't have a statistical output, or even a scoring output, in mind. He simply expects execution from a defense that's loaded with talent, depth and versatility. The play got better as the game against Hays wore on. Hays had scored 16 of its 23 points midway through the second quarter and got next to nothing offensively the rest of the night. Their final score came on an interception return.
Led by Tevin Paul, Feno Pearson, Garrett Womack and Sammy Ochoa, the Cavalier front disrupted anything Hays hoped to do in the second and third quarters. Carter said he expects the defensive line, which also includes Jayden Hutchings and Corbin Pierce, to continue to do that this week against Del Valle.
"Our front on defense needs to get better," he said. "That is an area where we have a lot of ability and depth, and I would like to see our front four make some strides this week on creating havoc, altering more plays."
Altering plays with early pressure will be key to equalizing Del Valle's speed. By keeping the Cardinals headed towards the sideline while pursuit arrives, the Cavaliers hope to minimize downfield opportunities.
"They want to get to the edge, try to outflank you with their speed," Carter said Tuesday. "They can run. If we don't get aligned correctly or we miss tackles and have miscues, they score, and they can score with big plays really quickly."
Emmanuel Grear leads the Cardinals rushing attack with 306 yards. Will Grear has 225 yards. Fred Wilson has 173. Each has scored a touchdown. David Gutierrez and Elijah Duran have combined to complete 57 percent of their passes with four scores and four interceptions. Altany Wilson provides a big play threat at receiver, where he's already taken one pass 96 yards for a score.
That means a back seven led by James Bailey, John Brewer and Chris Roller will have to take proper angles and communicate with the front four, something the Cavaliers worked on during the bye week practices.
"We really wanted to work on communication with everyone on the field, just making sure that everybody is on the same page when we align and get ready to run against a play," Carter said.
The recent past shows that the Cavaliers have been able to keep Del Valle away from the big play. The Cardinals have scored just once in each of the last two games between the schools. Carter hopes the defense can continue that trend Friday night.