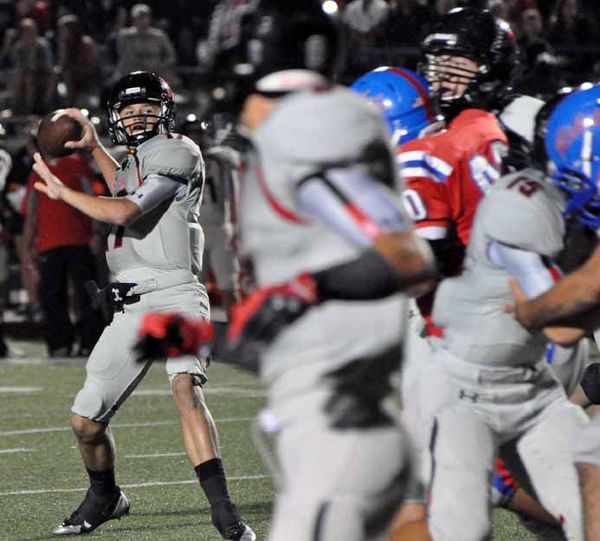 Cavaliers atone for mistakes against Hays, prep for Del Valle
Football coaches often wear many hats. Mentor. Disciplinarian. Motivator. Teacher. Spiritual advisor.
Friday night at Hays, Lake Travis head coach Hank Carter could have doubled as a minister dispensing penance for players confessing sins they committed during the game. The Cavaliers lost four turnovers and missed several key tackles, all of which could be overlooked in a convincing 62-23 win to open District 14-6A play. The coach noticed everything, the mistakes and the speed with which players made up for them.
"All those guys are in positions where they have lots of opportunities," Carter said. "When you have opportunities to make plays and you are a talented player like those guys are, there are going to be some good things that happen."
Sophomore receiver Maleek Barkley fumbled a kickoff that set up a Hays touchdown. Senior safety Chris Roller missed a tackle and gave up a fourth down catch that led to a Hays field goal. Sophomore quarterback Charlie Brewer threw a second quarter interception that set up another Rebel touchdown. Senior safety James Bailey had his hands in the wrong spot trying to block an early punt and missed it. And junior running back Abe Willows lost a fumble on the Cavaliers' first play of the third quarter.
"I thought we played fairly sloppy," Carter said. "I think our offense fairly well but we turned the ball over too much. We had an interception. We had two fumbles. It was sloppy in that regard, but we have some talented kids and when they get the ball in their hands they can make plays, and you saw some of that the other night."
While the players suffered those mistakes, in every case, they almost immediately made up for it, with big plays that resulted in Cavalier touchdowns. Make a mistake…score a touchdown…all is forgiven.
On Hays' opening drive, with the Cavaliers leading 7-0, Roller tried to defend a pass from Braeden Kent to Cody Gandy. Gandy came down with the ball for a big gain, converting on fourth down to set up a field goal that trimmed the Lake Travis lead to 7-3. Barkley's fumble came on the ensuing kickoff, and when Gandy rumbled in from 22 yards out, Hays led 10-7.
Roller's atonement came on Hays' kickoff. Inserted into Barkley's spot, Roller fielded the kick, cut across the field and raced 82 yards before getting caught at the Rebels' 15. Two plays later, Brewer hit Connor Oates for a touchdown to give the Cavaliers a 14-10 lead. Roller later returned a short punt for a 29-yard touchdown.
"Chris is a talented kid, man," Carter said of Roller. "He's a real savvy football player, and he had a rough start too. He's an extremely competitive guy and he probably wanted to atone for those."
Bailey's punt block miscue let Hays get out of a hole, and Brewer threw an interception on the Cavaliers' next possession. When Hays converted, Lake Travis found itself in a 16-14 hole. The deficit didn't last long, just 13 seconds to be exact.
Following the kickoff, during which the Rebels were flagged for hitting a receiver who made a fair catch, Brewer found Barkley for a 50-yard touchdown, pushing the Cavaliers back in front 21-16. Bailey made sure he didn't miss the next punt block opportunity, smothering Kent's kick on Hays' next possession and recovering the ball in the end zone for a score, pushing the lead to 28-16.
"On the first punt, I tipped it, and Coach Carter told me that if I put my hands down I can block the next one," Bailey explained later. "I was trying to get that second one. I got that one and thought, 'Okay.'"
Bailey wasn't done. Despite a 28-16 lead, the game was still too close for comfort, so he took matters into his own hands.
"I thought we needed to start making some turnovers and try to get our offense back on the field," he said.
He did just that on Hays' next play, when Jackson Effiom headed his way with the ball. Bailey put one arm around the runner and used the other to rip the ball out, getting the Cavalier offense back on the field.
"On the fumble recovery I was just trying to get the ball out," Bailey said. "I saw him coming. He tried to hit the hole. He got stood up by the offensive line and our defensive line, so I just tried to get the ball out."
Brewer converted the turnover into another quick score, finding Cade Green for a short touchdown and a 35-16 lead.
Early in the third quarter, Willows lost a fumble, but the Lake Travis defense forced and recovered a fumble on Hays' next play, allowing his Willows shot at atonement. And he did, taking a pitch from Brewer and throwing a 31-yard touchdown pass to Hudson Fife, extending the Lake Travis lead to 48-16 with 10:16 left in the third quarter, effectively ending the night for the Lake Travis starters.
"It was weird because I think our number one offense got about 28 snaps the other night," Carter said Monday. "That was strange when you look up and there were 62 points on the board."
While Carter can appreciate the players' ability to overcome their own mistakes, he'd just as soon not seem them make them in the first place. That will be part of the Cavaliers' plan during their bye week, he said.
"This week we're going to work on us," he said. "We'll spend a lot more time in small groups and really work on polishing our game up. We're going to use our time wisely this week and I think we're going to be a much better football team after we come out of our bye week."