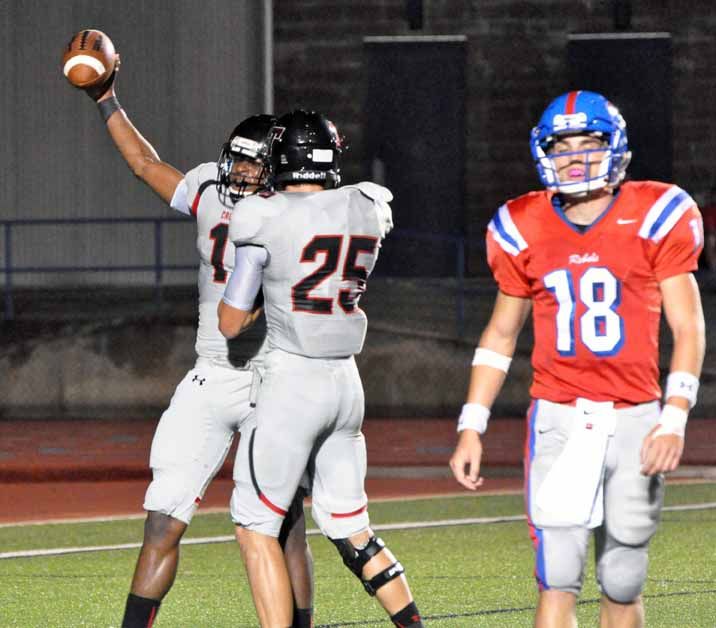 Cavaliers give Rebels hope early, then rip it away in 62-23 win
Lake Travis doesn't have a team policy that says offending players must immediately atone for their turnovers, but it looked that way in a 62-23 win over Hays Friday night.
Cavaliers Maleek Barkley fumbled a kickoff in the first quarter and Charlie Brewer tossed an interception early in the second, helping Hays to a 16-14 lead with 7:56 left in the first half. But the duo then erased the deficit on a 50-yard touchdown strike to give the Cavaliers a lead they'd never relinquish.
When Abe Willows fumbled on the Cavaliers' first play of the second half, he atoned for it immediately. The Lake Travis defense separated Hays quarterback Braeden Kent from the ball, and on the next play Willows hit Hudson Fife on a halfback pass to give the Cavaliers a 48-16 lead.
Those touchdowns came as part of a 41-point onslaught that broke open a highly competitive and entertaining game. James Bailey did his part to contribute to the blowout, too. He blocked a punt and recovered it for a touchdown and then stripped Hays' Jackson Effiom on the Rebels' next snap, setting up one of Brewer's three touchdown passes. So did Chris Roller, who had a big game on special teams. The senior safety returned a kickoff 82 yards to set up one touchdown and then returned a squibbed punt 22 yards for another.
In his third start in place of Dominic De Lira, still sidelined for disciplinary reasons, Brewer completed 13 of 17 passes for 114 yards and three scores, one each to Barkley, Cade Green and Connor Oates. He added a touchdown run. He's thrown eight touchdown passes on the season. Willows, usually Lake Travis' workhorse, carried the ball just eight times, but he gained 86 yards.
While Lake Travis' offensive numbers weren't staggering – Lake Travis gained just 335 yards on the night – quick strikes, big plays on special teams and a defense that settled down after two Rebels' possessions led to the domination.
Hays gained 108 yards on its first two possessions, which netted the Rebels a 10-7 lead. Led by Kent's accurate passing and Cody Gandy's running, the Rebels gained another 50 on the drive that put them ahead 16-14. On their other 12 possessions, the Rebels gained just 140 yards, 62 of which came on Kent's third down scamper early in the fourth quarter.
Lake Travis' defense sacked Kent six times, including several late in the first half, forcing the Rebels to punt from deep in their own territory into a stiff breeze. Bailey blocked one of those punts and tipped another. On the night Hays averaged just 20 yards per punt.