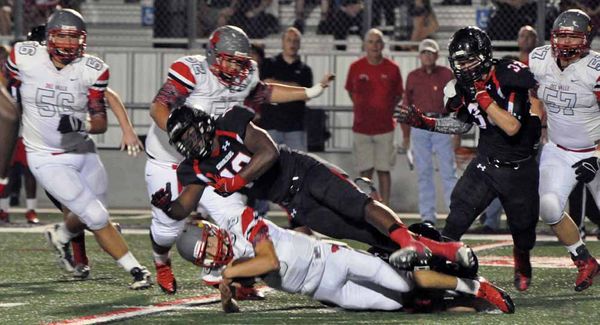 Cavaliers hope to make short work of Lobos, build depth
Lake Travis (3-1, 2-0 in District 14-6A) and Lehman (1-4, 1-2) meet for the first time Friday night in Kyle, and the Cavaliers are hoping to decide matters early.
The Cavaliers enter the game on a roll, having scored 117 points in their first two district games while allowing just 23, including seven in the last six quarters.
Like Lake Travis, Lehman hasn't had much trouble putting points up on the board. The Lobos average 28 points per game, and quarterback Jeremy Schilhab can test defenses with his arm and legs. He's passed for 872 yards and five scores thus far and ran for another 694 yards and nine scores. The high-powered offense relies on receivers Jay Sayles and John Herrera, who've combined for 26 catches and 468 yards.
"They haven't had a ton of success but they have scored some points," Lake Travis coach Hank Carter said.
The lack of success stems from the inability to stop opponents. Four of Lehman's five opponents have scored better than 40 points, and the defense gives up 43 points per game.
Carter said Monday that despite the apparent gap between the teams, the Cavaliers will prepare for Lehman with the same intensity that they would for, say, Westlake.
"Our practice and preparation is intense, no matter who we're playing," he said. "We're going to prepare for them and go out and play them as tough as we can, but it's a game where we feel like we're the more talented team."
Though the Cavaliers enter the game with some momentum, there's still plenty to work on, Carter said. Offensively, the coach wants to see some improvement in perimeter blocking, a weakness that didn't appear glaring as the Cavaliers rushed for better than 300 yards in last week's 55-0 win over Del Valle. Defensively, he'd like to see the secondary continue to improve and the front seven continue to dominate. And he'd like to see that happen early in the game so the Cavalier backups get plenty of reps to increase the team's depth.
"We kind of charge the starters to get in there and get your job done so these other guys can get in and get some reps," Carter said. "We did that the other night."
Carter's challenge is two-fold Friday night. While he and his staff have a list of things they want to see the starters do, he understands that if his team plays well and executes on both sides of the ball, the score might get lopsided quickly. Winning big is one thing. Appearing to run up the score is quite another, and Carter never wants to do that.
Lake Travis' first two district wins have come by an average score of 58-12, but Lake Travis' starters have yet to play a fourth quarter.
"I think it's important the manner in which we play," he said. "We never want to do anything to embarrass our opponent. That's not what it's about. This is high school sports. But at the same time we've got things we want to get done, too. It's difficult."