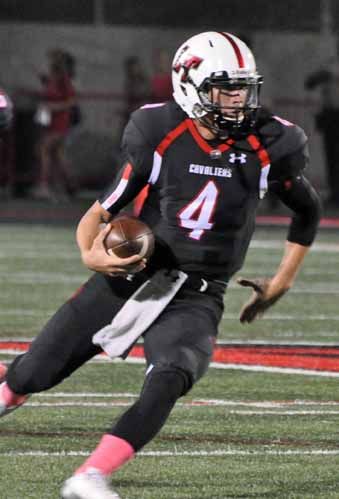 Cavaliers overcome key injuries to top Anderson
Lake Travis won a battle Friday night against Anderson. The Cavaliers just hope that some of the casualties suffered along in the process don't derail any potential post-season plans.
The Cavaliers used a suffocating defense to overcome the Trojans – and themselves – in a 50-17 win to improve to 5-1, 4-0 in District 14-6A. Anderson's offense managed just 75 total yards – including minus-2 rushing – on the night. Of Anderson's 38 offensive plays that weren't incomplete passes, Lake Travis' defense held the Trojans to no gain or a loss on 17 of them.
"It seems like we played pretty good [defensively]," head coach Hank Carter said after the game. "We had an unlucky blocked punt. I think we played better.'
Lake Travis' defensive effort helped ease the pain of a trio of injuries that knocked three key offensive players out of the game.
"We'll have to see what it looks like with the injuries," head coach Hank Carter said after the game. "I'm hopeful that a couple of them are nothing serious but we may have one that is fairly serious. We'll see."
Before the teams broke for halftime, Lake Travis found itself without running back Abe Willows, center Garrett Stotts and guard Aiden Rourke.
Without the three starters, the Cavaliers were hardly devoid of weapons. Senior quarterback Dominic De Lira stepped up and delivered his first career 300-yard game, completing 23 of 40 passes for 345 yards and three scores. Sophomore receiver Cade Green had 10 catches for 181 yards and two scores. Sophomore Maleek Barkley added nine catches for 80 yards.
When Willows left, Luke Laney and Ben Lacey took over at running back. Each added a touchdown on the ground, as did Barkley. When Stotts went down late in the first half, Will James stepped in at center and played well, De Lira said.
"The guys behind those players did a good job stepping up," the quarterback said. "Sometimes something happens and your number is called. You have to step up to the occasion. They did a good job. Will James. Blake Grant. Whoever else stepped in, they all did a great job."
Despite the 50-17 score, points didn't come easy for the Cavaliers. De Lira completed just five of his first 12 passes before heating up in the second quarter, when he completed eight of 10, one of which was a 67 yard score to Green. He threw two first-half interceptions, one of which bounced off Barkley's hands into Anderson's Eric Slatter, who returned it for a score.
Even with the injuries and interceptions, Lake Travis led 31-10 at the half. The Trojans closed to within 31-17 when Jacorey Nelson scored from five yards out after Tom Harrison ran 61 yards with a punt that James Bailey had blocked.
When the Cavaliers couldn't get a first down on their possession after Nelson's score, Anderson looked very much alive. Lake Travis regrouped, thanks to a bad Trojans snap on fourth down. De Lira found Green for 40 yards to convert a third down and the pair connected again two plays later for an 18-yard score to push the lead back to 37-17.
"Watching Cade grow up is pretty special," De Lira said of his sophomore receiver. "He was pretty quiet when he first came in and didn't really know what to do, but now he's becoming a Zach Austin-[type], stepping up."
While the Cavaliers had a hard time getting their running game going after halftime, Carter said Lake Travis decided not to press the issue.
"We had some other things we could do but we wanted to work on our passing game," he said. "We can do some things with Maleek [Barkley] and running the quarterback a little more, but we wanted to work on our throwing, and we need it."
Lake Travis also has to cut down on its penalties. The Cavaliers committed 11 for 100 yards Friday night, two of which negated long touchdown passes – one each to Green and Grant Foster. De Lira said that's job one – maybe job two after getting the injured players treated – for next week.
"We need to eliminate the penalties that are stopping our drives, because we're too good for that," he said. "Our offense is too polished and clean to be making those dumb mistakes. We need to fix that going into next week. The coaches will do a great job with that."