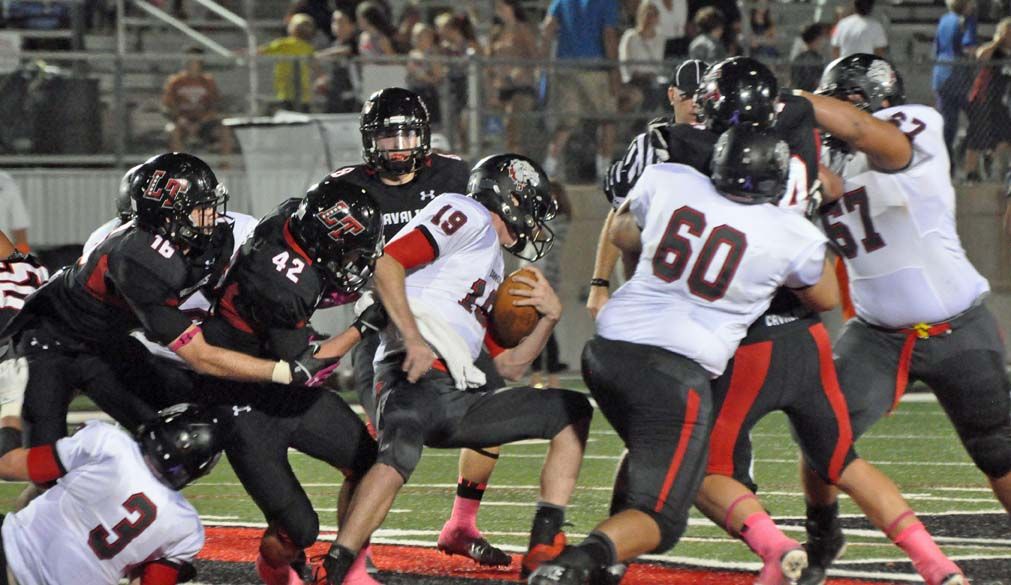 Cavs, Bowie set to battle for 14-6A supremacy
Fresh off one trophy-winning performance, the Lake Travis football team looks to grab another trophy this week.
Last Friday's 24-7 win over rival Westlake allowed the Cavaliers to keep the Battle of the Lakes trophy on display in head coach Hank Carter's office. Friday, Lake Travis travels to Burger Stadium to face Bowie with the District 14-6A title on the line.
"We've never played Bowie when the district championship is on the line the way that it is right now," Carter said. "It's a challenge for us. I think it's going to be a big, rowdy crowd over there. I think it will an atmosphere similar to what we had Friday night. I love that. Those are the games that you are excited to play in and coach in."
Both the Cavaliers and Dawgs are 7-1 on the season, 6-0 in district play. Westlake, in third place, has lost to both Lake Travis and Bowie. Austin High, Hays and Del Valle are battling for the fourth playoff spot.
Lake Travis players and coaches alike are doing what they can to make sure the Cavaliers have put last week's emotional win over Westlake behind them. Playing for the district title helps.
"I think we're playing for the district championship this week and we're not going to take them lightly at all," said senior linebacker Jason York, who had one of Lake Travis' 13 sacks against the Chaps. "It's what we've been looking forward to the whole entire year. This next [game] is going to be absolutely fun."
Bowie hopes this year's battle with Lake Travis goes much differently than last year's. In 2013, Bowie rode into Lake Travis unbeaten, fresh off a big win over Westlake. The Dawgs didn't leave Lake Travis unbeaten, instead coming out on the wrong end of a 43-0 whitewashing.
"They are a really good team," Carter said Monday. "They are different than they were a year ago."
Like Lake Travis, Bowie enters the game on a seven-game winning streak after dropping the opener. Jeff Ables' squad gains confidence from a defensive unit that has allowed only two opponents to top the 20-point plateau. Bowie held Westlake without an offensive touchdown in a 19-13 win earlier this season.
"Defensively, this is probably the best Bowie defense that we've seen," Carter said. "They are giving up 15 points or so a game, which is outstanding. They slant, they change fronts, and their pass coverage is pretty tough. They gave Westlake a hard time throwing the football."
Whereas Carter felt Lake Travis had the advantage against Westlake's secondary, Bowie may be stronger in the secondary than it is up front. While Westlake worked to take away Lake Travis' running game, Dominic De Lira sparked Lake Travis with a 235-yard, two-touchdown performance that saw him complete 10 consecutive passes in the second half. Lake Travis expects junior running back Abe Willows to bounce back against Bowie after gaining just eight yards on 11 carries against Westlake.
"Abe may not like hearing this, but I was glad to see that when one of our great players doesn't play at his best we were still able to get a win," Carter said. "I know the type of pride that young man has and I think he's going to come out this week and have a phenomenal game. I really do."
In seven games this season, Willows has rushed for 740 yards and eight scores.
Offensively, Bowie has been consistent and balanced, mixing the run and pass to great success. Quarterback Preston Wheeler will face the stingy Lake Travis defense coming off his best game, a five touchdown performance against Hays in a 41-7 win. Four different receivers caught scoring passes. On the season he's completing 65 percent of his passes for 1,512 yards and 18 scores against just four interceptions.
While the Dawgs lost top rusher Cole Myers early in the season, the running game has been successful thanks to the work of Quirin Laracuente, Steve Johnson and Andre Washington, all of whom have rushed for better than 200 yards. Receiver Ben Setterquist is also a rushing threat, scoring three times on just 13 carries. He's also averaging 25 yards per catch and has five receiving touchdowns.
Despite Bowie's improvement and their win streak, the Cavaliers remain confident that doing what they expect of themselves will let them handle the challenge. Carter said it's about sticking with the process, putting the Westlake win behind them and focusing on the task at hand.
"Our kids are obviously excited about how we played Friday [against Westlake], but they are now excited again to go do that against a new opponent," the coach said. "The mode we're trying to preach is that every week is a new challenge. We've got to code the crack, and the code this week is Bowie. So, for the next four days let's plan, watch film and execute the things we need to do to do beat them. It will be tough."
Tough, but not impossible.
"I think we can go in there and get our job done like we have every week," York said.