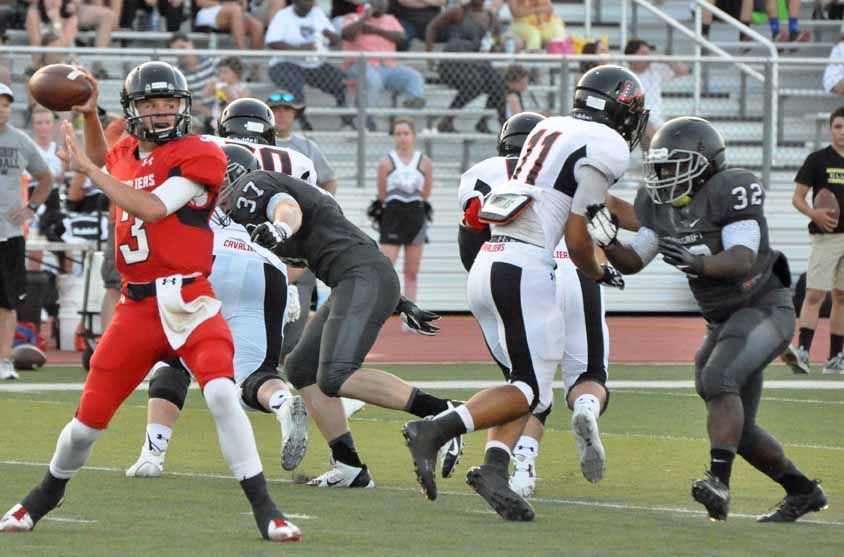 Cavs scrimmage without several starters
Lake Travis' scrimmage with Vandegrift Friday night will likely be remembered more for who didn't play than who did.
The Cavaliers scrimmaged without a number projected starters. Head coach Hank Carter said Monday that several players did not participate due to an off-field situation but would not comment further.
Of those who did play, Carter said the scrimmage showed him exactly where the Cavaliers stand entering the opening week. He liked what the offense accomplished but said the defense's performance left room for improvement.
"Defensively, we've got to come on," he said. "We need to see a big jump by Friday. I was a little bit disappointed in how we executed defensively and how we tackled. But that's why we practice."
Sophomore Charlie Brewer quarterbacked Lake Travis' starting offense. He threw a pair of touchdown passes to sophomore Mac Humble and led three scoring drives. Carter said Humble's performance likely caught those outside the program by surprise.
"They aren't surprises to us because we see them every day, but I think a lot of people are trying to find out who Mac Humble is today," Carter said Monday. "Maleek Barkley, Cade Green, Abe Willows, all those guys are fairly new to the general public but they are great young players."
Unofficially, Brewer completed 14 of 22 passes for 140 yards and two scores. Kevin Hathaway completed nine of 18 passes for 162 yards and a score, an 88 yarder to Barkley, who had a team-high six catches for 116 yards. Willows rushed 12 times for 74 yards and a score.
Carter said the plan had been to start Humble off with the junior varsity to maximize his playing time, but after Friday, he might figure more prominently in the varsity lineup, possibly as a defensive back.
"What he did Friday wasn't a revelation to us," Carter said. "We know he can do that. He does that every day in practice. With our depth at DB right now, Mac may work a little bit there because he has the speed and athleticism to do that."