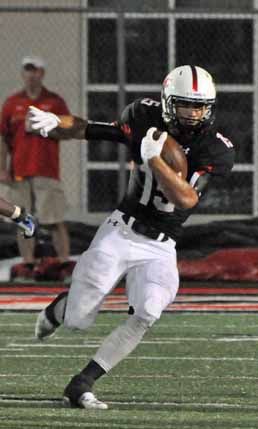 Late rally falls short as Midway avenges 2011 title game defeat
Waco Midway scored on five of six second half possessions and held on to beat Lake Travis 38-30 Friday night.
Ben Hicks connected with Devontre Stricklin for two second-half scores, including a 71-yarder with 1:39 left to provide the final margin. Lake Travis had pulled within 31-30 on Abe Willows' 2-yard run with 2:02 left, but the PAT failed when Colton Bailey couldn't hold the snap.
"You have to give them the credit," Lake Travis coach Hank Carter told his team after the game. "They made the plays tonight and we didn't."
With all three of its timeouts left, Lake Travis elected to kick deep and try for the stop. Hicks' pass to Stricklin came on third down. Oddly, the score worked in Lake Travis' favor, giving the Cavaliers another possession and a chance to tie with a touchdown and two-point conversion. Had Stricklin not scored, Midway would have been able to run out the clock.
Lake Travis mounted one final drive, moving from its 30 to the Midway 33 using completions from both Charlie Brewer and Kevin Hathaway, but time expired when Hudson Fife couldn't get out of bounds after a short catch-and-run in the closing seconds.
"It hurts," Carter said after the game. "The offense did enough for us to win the game. Our offensive line did a tremendous job. I'm proud of the way Charlie and Kevin played. Our young receivers made plays and Abe was phenomenal.
"But our defense wasn't ready to play and I take full responsibility for that," he said. "We had too many mental mistakes, and we're not good enough – no one is – to overcome that. And that's on me because I'm a defensive guy and I need to have them ready."
Lake Travis also had two special teams gaffes. A short field goal try late in the first half never came off due to a bad snap, and the potential tying extra point also never got set.
Midway's Ben Hicks completed 20 of 29 passes for 302 yards. Stricklin, a Baylor commit, didn't catch a pass in the first half but had three catches for 95 yards and the two scores after the break. Eric Clayburn rushed for two second-half scores and finished with 96 yards rushing.
The win gave Waco Midway a small sense of revenge. Lake Travis defeated the Panthers 22-7 to win the 2011 4A, Division I state championship.
Brewer started at quarterback for Lake Travis in place of senior Dominic De Lira, an Iowa State commit. Carter wouldn't comment on De Lira's absence. Projected starters Chris Roller and Grant Foster also missed the game and were not on the sideline.
"The athletic department and myself made a decision that those players would not participate in the game due to a circumstance that happened off the field that I cannot talk about," Carter said after the game. He would not comment on when any players who missed the game would play.
Brewer, a sophomore making his first varsity appearance, completed 24 of 42 passes for 306 yards and a score before succumbing to cramps after being hit on the final drive. He also rushed 14 times for 40 yards. Willows rushed 28 times for 158 yards and three scores in his first game for Lake Travis. He also caught five passes for 110 yards. Sophomore Maleek Barkley caught six passes for 109 yards, and Cade Green had six catches for 51 yards.
It's the second straight year Lake Travis lost its opener. The Cavaliers will travel to Copperas Cove Friday.