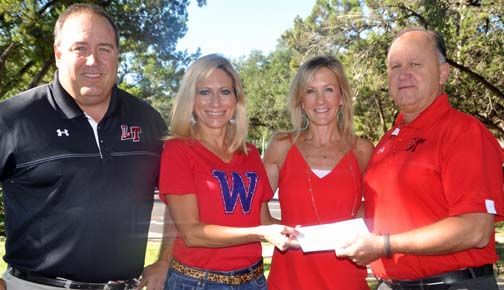 LT boosters donate to American Heart Association in honor of Westlake QB's late father
As Lake Travis and Westlake prepare for the ninth Battle of the Lakes, the Cavalier football booster club took a step back to honor a member of the Westlake football family.
On Friday, the Lake Travis football booster club made a $1,000 donation to the American Heart Association in memory of Ross Ehlinger, the father of Westlake sophomore quarterback Sam Ehlinger. While participating in the 2013 Escape from Alcatraz Triathlon, Ross Ehlinger died suddenly from cardiac arrest.
Kerry Hall, whose son Hudson plays linebacker for Westlake, began raising money for the AHA in the Ehlinger family's honor, and when Lake Travis Football Booster Club President Roger Stotts learned of her efforts, he wanted his organization to offer support as well. While the Cavaliers and Chaparrals are rivals, fighting heart disease is something both communities can do together.
"As many families in our LT community have been affected by heart disease, the decision to contribute to the fight against heart disease was an easy one and the right thing to do," Stotts said.
Stotts and Lake Travis Athletic Booster Club president Bob Brewer made the presentation to Hall and Jenna Ehlinger, Ross' widow and Sam's mother, Friday morning.
Though he couldn't attend the presentation, Westlake coach Todd Dodge praised the donation.
"There is always a reason behind a championship culture," he wrote in a letter to the LT Football Boosters. "Your combined kindness and consideration for Sam, Jenna and the Ehlinger family is very classy and appreciated. The Westlake/Lake Travis rivalry is one of the things that make high school football in our great state so special. However, when the day begins and when it ends it's about supporting and caring for others that is most important. It's not an accident that you are successful."
Lake Travis coach Hank Carter echoed Dodge's sentiment.
"We are very much aware of Sam's and the Ehlinger family's tragic loss and wanted to support the effort to raise money for the American Heart Association," Carter said. "While the Battle of the Lakes is always a great annual competition, the Battle against Heart Disease is an everyday fight that we all need team together to win."