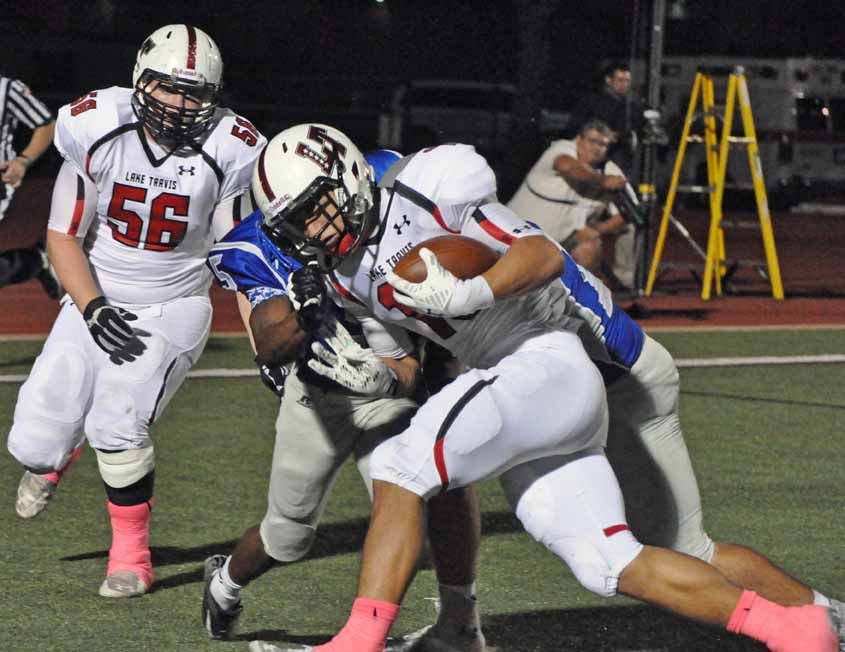 Playoff picture unclear as regular season draws to a close
Lake Travis' bracketologists will have to wait just a little longer for the 2014 football playoff picture to clear up.
The Cavaliers (8-1, 7-0), the District 14-6A champions no matter what happens Friday night against Akins (2-7, 0-7), won't know who they'll face in the 6A, Division 2 Bi-District playoffs the following week until as many as three District 13-6A games wrap up.
"We're really not any further along than we were at the start of the season about knowing who we'll play in the first round of the playoffs," Lake Travis coach Hank Carter said Tuesday.
Winning in the playoffs is far from a given, but dating back to 2007 Lake Travis has won 35 of its last 37 playoff games, and players and coach alike expect another lengthy run again this season.
"We're ready," said senior receiver Colton Bailey, who's caught a touchdown pass in each of Lake Travis' last three games. "We're excited for the playoffs. I think we can ultimately win a state championship this year. That's our main goal."
Winning a championship means Lake Travis is looking for seven more wins: Friday over Akins and then the six necessary to navigate the playoffs. It's a tall ask, but not a daunting one for a team used to winning titles – five straight from 2007-2011 – and one that enters the playoffs on a roll.
"We feel like we're playing at our best and we want to keep making that gradual climb to playing better," Carter said.
Quarterback Dominic De Lira has shaken off a suspension that forced him to miss the season's first three games and looks every bit the part of the future Big 12 quarterback Iowa State hopes he'll become. He's completing 62 percent of his passes, averaging 246 yards per game since his return. He's thrown 17 touchdown passes and just three interceptions. He's topped the 300-yard passing mark in two of his last three games.
"I think Dom played his best football game Friday night," Carter said of his team's 64-7 win over Bowie. "We had a couple of little things in the first quarter that we didn't connect on, but other than that he played well and made really good decisions."
In addition to his passing prowess, De Lira has used his legs to score four more times as well as running to avoid pressure before hitting a big pass to any number of targets. Six different receivers who'll see playing time in the post-season have made at least 10 catches, and nine different Cavaliers have touchdown catches.
"I think there's always more you can accomplish, but I think we are definitely coming together offensively at the right time," Bailey said. "We need to keep working hard at practice, keep studying film."
On the whiteboard in his office Tuesday, Carter had written out the Cavaliers' most likely opponents by round, should they continue to win. Some potential match-ups look familiar. Others look intriguing. Carter's projections point to a potential rematches with 2013 playoff foes Atascocita, Dallas Jesuit and Cedar Hill, providing all teams concerned do their part. Potential third round opponents include familiar faces Waco Midway, who beat Lake Travis 38-30 to open the season, and Highland Park, who Lake Travis beat for its first title in 2007, 36-34.
But any run starts next weekend with a bi-district game against either Stony Point, Hendrickson or Rouse. Round Rock has already won the 13-6A regular season title, and the Dragons will face Westlake in the Division I bracket. Hendrickson has also qualified for the playoffs, though the Hawks' placement depends on Friday's results.
Lake Travis coaches are watching three games: Pflugerville at Stony Point on Thursday and Rouse at Hendrickson and Cedar Ridge at Westwood on Friday. Westwood is the only team in these games who has been eliminated already.
The scenarios vary. Experts call going with favorites "chalk." If this week's District 13-6A games see expected favorites win, Lake Travis will face Rouse.
"If Stony Point beats Pflugerville, Hendrickson beats Rouse and Cedar Ridge beats Westwood – which is kind of what I would equate to chalk – then we would get Rouse," Carter surmised.
But…
"If Stony Point beats Pflugerville and Rouse beats Hendrickson, then we would end up getting Stony Point," Carter continued. "And if we turn everything upside down, if Pflugerville won against Stony Point and Rouse beat Hendrickson, then we would get Hendrickson."
Then there's this to ponder, courtesy of Greg Tepper `at Texas Football magazine.
"The doomsday scenario is a Pflugerville win over Stony Point, a Cedar Ridge win over Westwood and a Hendrickson win over Rouse," he wrote on www.texasfootball.com. "In that situation, Rouse, Pflugerville and Cedar Ridge would be tied for the final two playoff spots both in record (4-3) and in the first tiebreaker (point differential, 12-point cap). That'd send it to a yet-unknown second tiebreaker."
Carter had heard Tuesday that the District 13-6A executive committee planned to meet to develop subsequent tiebreakers. They could also break the tie "Friday Night Lights"-style. Have all three coaches meet at a secret location, pull out their favorite coins and flip them. Odd team out loses.