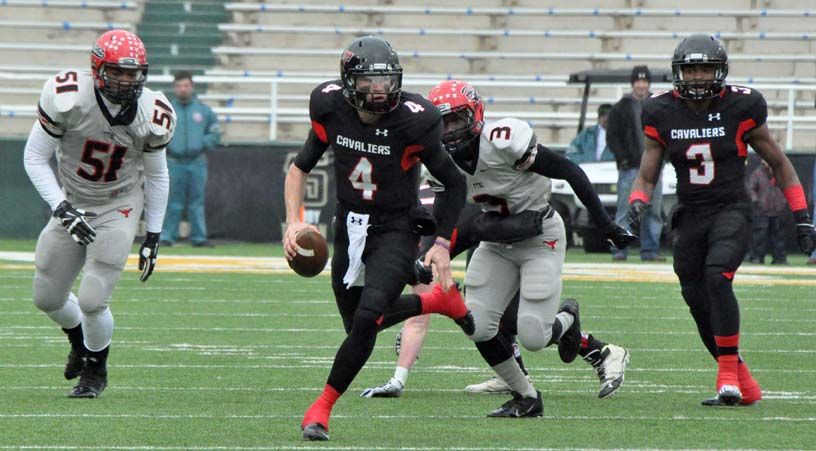 Preview: De Lira next to fulfill LT quarterback legacy
Ask any high school football coach to define his team's success, especially long-term success, and chances are he'll rank good quarterback play as the main factor.
Since Jeff Dicus began building the Lake Travis program in 2003, the Cavaliers have enjoyed quite the run of quarterback play. Since 2004, the Cavaliers have had five regular starting quarterbacks. When the latest – senior Dominic De Lira – committed to attend Iowa State University this summer, all five will have earned spots – if not scholarships -- at Big XII schools.
Head coach Hank Carter said De Lira has rightfully taken his place with his predecessors.
"He's right in line," Carter said. "Dom is an extremely talented kid. He throws the ball as good as any of the guys who have come through here."
Todd Reesing, Garrett Gilbert and Michael Brewer got scholarships to attend Kansas, Texas and Texas Tech, respectively. Reesing became the Jayhawks' all-time leading passer. Gilbert transferred to Southern Methodist and became Lake Travis' first NFL draft pick when the St. Louis Rams selected him in the sixth round this year. After an injury-plagued sophomore season, Brewer transferred from Texas Tech to Virginia Tech this year, where he hopes to earn the starting job for the Hokies this fall.
Baker Mayfield didn't get a scholarship offer he wanted so he walked on at Texas Tech last year. He promptly won the starting job, becoming the first walk-on quarterback to start as a true freshman for a major college program. After the season he transferred to Oklahoma, where he expects to be put on scholarship as soon as this season.
Heading into his second season as the starter, De Lira knows the legacy he's know a part of.
"It's a fraternity of quarterbacks," he said as fall practice began. "Ever since Todd, Garrett, Michael and Baker, it was all motivating to me. Growing up I wasn't handed anything. Just learning from them, watching them, taking in the tradition every Friday night motivated me to try and be like them."
In earning a Big XII scholarship offer, De Lira has emulated his predecessors. He earned the offer with a stellar performance at Iowa State's summer camp, where Carter said the ISU coaches lined up all of the quarterbacks they had recruited and watched them perform.
"When he went up to Iowa State for their camp, they loved him," Carter said. "They had all the kids they were looking at as quarterbacks standing side by side throwing the ball and Dom blew them away with the way he can throw the ball and also with the way he can move."
When Cyclones coach Paul Rhodes made the offer, De Lira committed immediately.
"De Lira was one of several quarterbacks that Iowa State evaluated at its summer camps with plans to offer one," said Paul Clark of Cyclonereport.com, a Rivals website that covers Iowa State. "I thought he was the most accurate passer of the bunch and also showed the best feet and potential to be a viable dual threat at the Big 12 level."
From the moment the Cyclones first contacted him, De Lira liked everything he experienced with Ames.
"The coaches really took me in," he said. "The first one I met, Tommy [Mangino], [offensive coordinator] Mark Mangino's son, took me under his wing and showed me what it was like, took me around school and let me meet some of the players and coaches. And they were already welcoming me like I was part of the team. They are very honest with their words and that means a lot to me. They've always been there [for me] and it's kind of a family atmosphere."
De Lira won't put up the gaudy career statistics his Lake Travis predecessors have, but that won't bother the quarterback if he can lead Lake Travis on another deep playoff run. As a junior, De Lira helped guide Lake Travis to the state semifinals. He sees no reason his team can't do that again, and then some.
"I think we can do exactly what we did last year," De Lira said. "We might start a little slow, sluggish in the first game, but our goal is always to win state and I firmly believe we can do it again this year. That semifinal game against Cedar Hill again, we're going to be ready for them this time."
If the Cavaliers are true to De Lira's words, the quarterback will play a vital role. Carter said De Lira grew more comfortable as the 2013 season went along, learning from a rough debut, a 25-19 loss to Converse Judson.
"It started a little rough with Judson but that definitely wasn't all him even though he shouldered a lot of the blame, probably unfairly," Carter said. "He got a lot better and we played a lot better."
After that loss, Lake Travis won 12 straight games en route to a state semifinal appearance. While Shaun Nixon – deservedly – got most of the accolades, De Lira's performance down the stretch proved vital as well.
"Even in that last game, for much of the game we definitely had a chance to accomplish our goal last year," Carter said. "We just didn't get it done. A lot of the reason we made that run was Dom."
De Lira's total of 2,356 passing yards represents the fewest a Lake Travis quarterback has totaled in a decade. Though not prolific, De Lira took care of the ball, registering 25 touchdown passes against just six interceptions, three of which came in the season's first two weeks. In the playoffs, De Lira threw eight touchdown passes – four against Atascocita – and just one interception.
De Lira added three rushing touchdowns but gained just 132 yards on the ground, a number Carter calls misleading. All of his predecessors had single games that outpaced De Lira's season total.
"A lot of that had to do with who was standing back there by him," the coach said. "I think that we will utilize the quarterback run more. Some of it will be the scheme that Coach [Mike] Wall believes in and some of it will be the fact that we don't have an all-American running back. The ability for him to make plays with his feet after things break down is a tremendous advantage. Me, as a defensive guy, those are the guys I hate to defend and I am glad that we have one who can do that on our side."
With a big, accurate arm and running skills he's yet to show off, Carter expects big things from his quarterback.
"Dom is a very talented guy," Carter said. "We expect him to come out and have a great senior year. I think we're very fortunate. I think 99 percent of the teams in the state would love to have a guy like Dom as their quarterback. We expect everything to slow down for him even more this year and we expect him to have a great year."
With his football future – and place in Lake Travis' legacy of quarterbacks – settled, De Lira wants to concentrate on finishing what the Cavaliers couldn't a year ago. To come so close to a goal and fail, then see the team that beat them win it all proved frustrating, but De Lira said the Cavaliers know what they need to do.
"It was a bittersweet feeling," he said of the loss to Cedar Hill. "It said that we had what it takes. Obviously it's about executing. We were leading them the whole game. We didn't finish. But the way the coaches have us going the direction they do, I think we can do it this year."