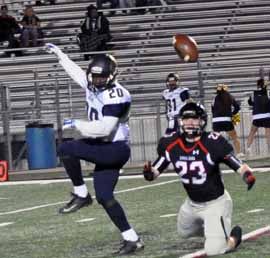 Quest for sixth state title begins with Rouse
Lake Travis begins its quest for another state championship Thursday night against Rouse.
The Cavaliers won't have to wait quite as long as they normally might, or go as far. This year's playoff opener kicks off Thursday at Cavalier Stadium, giving the team a bonus home game that the players want to make the most of.
"It's going to be awesome," said junior defensive tackle Tevin Paul, who returned to the lineup last week after missing two weeks with a broken foot. "It means another home game for the seniors, of course, but it's just a better atmosphere when you're at home. We're definitely going be playing way better."
Better may be a scary thought for the Raiders. The Cavaliers enter the playoffs rolling, having won nine straight games after a season-opening loss to Waco Midway. Since senior quarterback Dominic De Lira re-joined the lineup seven games ago against Del Valle, the Cavaliers have outscored their opponents by an average of 53-8.
The dominating wins have them thinking big.
"I think that we have a good enough football team where if we play our best, we can win a championship this year," said head coach Hank Carter. "We have a team with the ability. Every year there are three or four teams that can actually say they have a chance to go win it, and I think we're one of them. That being said, nothing is guaranteed and we will have to go play at our best six more times."
While hoisting a trophy in AT&T Stadium next month remains the ultimate goal, the Cavaliers understand they can't snap their collective fingers and take the field in Arlington. The road starts against Rouse, and the Cavaliers can't look past the Raiders.
"We definitely need to focus on each game instead of looking out into the future," Paul said.
All it takes is one slip – one game where the Cavaliers don't play their best game – for hopes, dreams and expectations to come crashing back to earth. Take 2012, when Pflugerville ousted the Cavaliers in the opening round.
"Every game is a serious game," said senior receiver Grant Foster. "This is the playoffs. If you mess up one game, that's it. The coaches tell us we need to focus every day and we do."
Though bigger prizes may be out there, the Cavaliers are squarely focused on Rouse, which finished 5-5 and earned a playoff spot in District 13-6A. The Raiders started the season 1-3 but won four of its last six games to reach the playoffs. The Raiders may not be flashy, but they are plenty dangerous, Carter said.
"They are a dangerous team and we need to make sure we're prepared for them," he said.
Preparing means gearing up to stop athletic quarterback Billy Ray McCrary, who leads the Raiders with 866 yards rushing and another 799 passing. Three other Raiders have rushed for better than 300 yards in a run-heavy attack led by a sizeable offensive line.
"They want to establish the run," Carter said. "For them to be successful they want to run the ball, and that helps them in their passing game. It's all predicated on the run and the quarterback run."
Carter said the Cavaliers will key on McCrary, who's bound for Southern Methodist to play in college, but they won't lose sight of the rest of the Raiders.
"On any given play, the fact that we know they want to run the quarterback a bunch doesn't mean we're not going to go cover the fullback out in the flat," Carter said. "We understand the players who can really hurt us, but when we get out there we just have to defend whatever they're going to do."
The Cavaliers haven't had much trouble defending anyone lately. It's been more than a month since Lake Travis has allowed more than seven points, a stretch that includes all three of the other District 14-6A playoff teams – Austin High, Westlake and Bowie. Lake Travis hopes to continue that streak Thursday.
"Mainly we just want to keep our momentum, keep our defense playing well," Foster said. "It's like coach says. We're peaking at the right time, it seems like."
Notes:
Lake Travis and Rouse have met twice before, as 4A district opponents in 2010 and 2011. Lake Travis won both games, scoring 62 points in each.

This is Lake Travis' fourth home playoff game and first since 2011. Each season that's seen the Cavaliers open the playoffs at home has ended with them winning the state championship. "Coach Carter mentioned that this morning," Paul said Monday. "The last time we had this, we won the state championship in 2011."