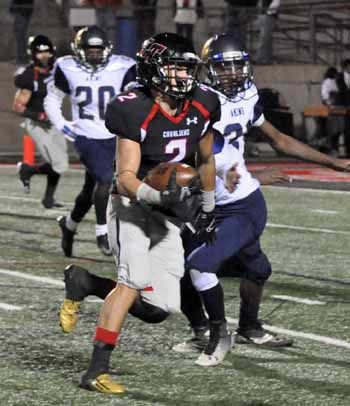 Special teams, big plays key rout of Akins
Lake Travis (9-1, 8-0) led 14-0 before its offense took the field and then used a bevy of big plays to roll past Akins (2-8, 0-8) Friday night 69-6 in Lakeway.
Chris Roller returned Akins' first punt 60 yards for a Lake Travis touchdown. Austin Hiller blocked the Eagles' second punt and recovered it in the end zone for a touchdown. The pair of scores marked the second time this season the Cavaliers have scored two different ways in the punt game. Roller also returned a punt for a score against Hays, when James Bailey blocked a punt and recovered it for a touchdown.
"The way our special teams has performed has been fantastic and I want to keep building on that," Lake Travis head coach Hank Carter said Monday.
Since taking over as the Cavaliers' primary returner, Roller has averaged 20.7 yards per punt return and 50.2 per kickoff return. The Cavaliers blocked two punts against Akins and have four on the season.
Leading 14-0, Lake Travis' offense went to work. Quarterback Dominic De Lira raced 52 yards for a touchdown and the rout was on.
Lake Travis exploded for 11 plays of 20 yards or more while racking up 621 yards of offense. De Lira, Abe Willows, Luke Laney, Ben Lacey and Maleek Barkley all scored touchdowns on plays longer than 50 yards. Three of Grant Foster's receptions went for 39 yards or more.
The big plays came as no surprise to the players who made them.
"We're all pretty confident in what we can do," Foster said.
Carter liked most of what he saw against the Eagles, but the effort still needed some work.
"I saw a lot of good on Friday night," Carter said Monday. "But I also saw some things we've got to get better at."
Akins' touchdown also came on a big play. Mike Gonzales hit Jermaine Thomas for a 73-yard touchdown in the first quarter, but Akins struggled otherwise against Lake Travis' defense, gaining just 86 yards outside of that one play. Mateo Lopez led the way with 10 tackles, and Tevin Paul returned to the lineup after a two-game absence to block a punt and record a sack in limited action.
Willows rushed for 121 yards and two touchdowns and threw a touchdown pass to De Lira. Lacey also rushed for 100 yards for the Cavaliers, hitting the mark on just two fourth-quarter carries. De Lira completed 11 of 16 passes for 278 yards and a score. Foster caught four passes for 130 yards.
Lake Travis opens the playoffs Thursday night, hosting a 6A, Division II Bi-District game against Rouse.