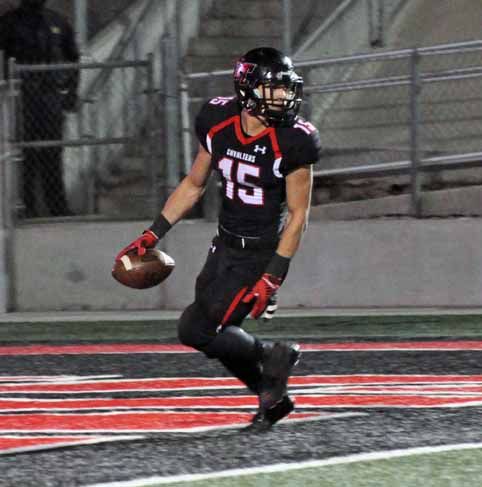 Third quarter explosion gives Cavaliers playoff rout
On a frigid night in Lake Travis, the Cavaliers were far from perfect but still plenty good enough to cruise past Rouse 54-7 in a Bi-District playoff game.
Lake Travis overcame three turnovers with a third-quarter explosion and a stifling defense that kept Rouse from mounting any real threat while the outcome remained in the balance. The Cavaliers led just 17-0 at the half but exploded for 34 third-quarter points to blow out the Raiders.
Offensively, Lake Travis suffered three turnovers, including one on its opening possession when Abe Willows fumbled. But throughout the night, the Cavaliers' defense answered each challenge, keeping Rouse's running game in check by containing athletic quarterback Billy Ray McCrary.
"We knew Billy Ray was the go-daddy, he was the player for them," said Lake Travis safety Chris Roller, who also starred on special teams. "We had honestly just worked on containing him. We knew coming into the game that their passing game was so-so, we were just trying to protect that run game. I was just trying not to let him get in the open field."
Roller, James Bailey, John Brewer and the rest of the Lake Travis defense kept McCrary from making any big plays. Though he finished with 74 yards on 21 carries, only four of his carries gained more than five yards, and two of those came late in the fourth quarter against Lake Travis' backups.
"[Lake Travis defensive backs] Coach [Ryan] Luedecke preached tackle his legs, tackle his legs, and it worked out today," Roller said after the game.
McCrary completed just six of 15 passes for 49 yards with an interception and also fumbled twice. Rouse managed just 259 yards of offense against Lake Travis, 102 of which came in the fourth quarter after the Cavalier starters had called it a night. The Raiders lost five turnovers.
Lake Travis, meanwhile, had no such offensive struggles, at least when they didn't turn the ball over. Led by quarterback Dominic De Lira's 298 yards passing with four touchdowns, the Cavaliers racked up 450 yards of offense and added another score when Roller returned a punt for a touchdown in the third quarter.
The Cavaliers started quickly despite some self-inflicted bumps in the road. Roller returned the opening kickoff 92 yards for a score only to see it brought back for a penalty, and the drive ended when Willows lost a fumble.
After Rouse punted for the first of 10 times, the Cavaliers struck quickly. De Lira threw a short pass to Maleek Barkley, who did more of the work on a 65-yard touchdown. The Cavaliers committed a second turnover when De Lira tossed the first of his two interceptions, but he and Willows connected on a 35-yard scoring pass late in the quarter for a 14-0 lead.
In the second quarter Lake Travis turned a Rouse fumble into a 60-yard drive capped by Brannon Satterfield's 38-yard field goal and led 17-0 at the half.
De Lira threw two third-quarter touchdown passes, one each to Colton Bailey and Grant Foster, and Willows scored on runs of one and 37 yards. When Roller returned a punt 52 yards for another score, Lake Travis led 51-0. The quarter's only drama came when Rouse's Brandon Wells intercepted a pass from De Lira and then fumbled on the ensuing return. Patrick Medina recovered for Lake Travis, setting up Willows' short touchdown.
Lake Travis advances to play the winner of Saturday's Bi-District playoff between Spring and Atascocita. The Cavaliers will meet the winner Saturday, Nov. 22 at Merrill Green Stadium in Bryan. Kickoff has been set for 2 p.m.
The Cavaliers met Atascocita there last year and won 41-16.