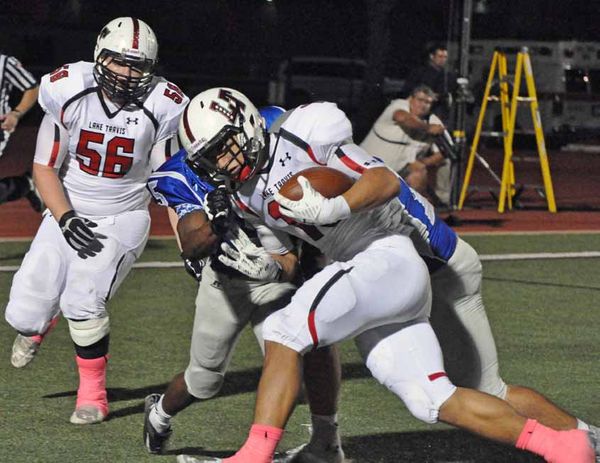 Willows, De Lira power Lake Travis to 51-14 win
Abe Willows scored four touchdowns to lead Lake Travis to a 51-14 win over Lehman Friday night.
Led by Willows and quarterback Dominic De Lira, Lake Travis (4-1, 3-0 in District 14-6A) racked up 507 yards of offense to win their fourth straight game. Lehman (1-5, 1-3), who played without starting quarterback Jeremy Schilhab, managed just 208 yards, 75 of which came on a scoring drive after the Cavaliers had pulled their starters. Schilhab injured a calf in last week's loss to Hays.
Behind Willows' first three scores, Lake Travis opened up a 20-0 lead before Lehman got on the board late in the half on a rare foray into Lake Travis territory. Receiver Jaren Sayles completed a 33 yard pass to Brett Wagner to set up his own touchdown reception, a 27-yarder from JR Torres to cut the Lake Travis lead to 20-7.
"Defensively, we had a couple of plays in the secondary," head coach Hank Carter said. "We had an interference call, we let them complete the double pass and then they caught the touchdown pass on us, so those are things we're looking at. Overall we played pretty good defensively except for about two plays."
Lake Travis responded quickly with De Lira completing three passes to drive the Cavaliers 70 yards in 34 seconds. Grant Foster's diving catch in the end zone gave the Cavaliers a 27-7 lead at the half. De Lira added two more touchdown passes – to Willows and Colton Bailey -- after halftime as the lead grew to 48-7.
It took Lake Travis a little while to get rolling, but Carter liked that the Cavaliers found their groove despite some clock operations that made it tough to find a rhythm especially defensively.
"The game went so fast we didn't get as many reps because they were running the clock [on clock stop situatons]," he said. "I think our front four regressed a little bit, but all of the running [Lehman] did takes away some of our aggression because we're not able to go rush the passer, but we have to do better than that. There's a lot we can learn from."
Willows rushed for 135 yards on 10 carries with two touchdowns and caught two passes for 76 yards. Both of his catches went for touchdowns. His 23-yard catch after a De Lira scramble gave the Cavaliers a 13-0 lead, and he took a screen pass 53 yards for a score early in the third quarter. De Lira completed 15 of 20 passes for 279 yards and four scores. He added another on the ground. Foster had five catches for 94 yards.
"Offensively, not bad," Carter said. "Our completion percentage was high and we ran the ball well."