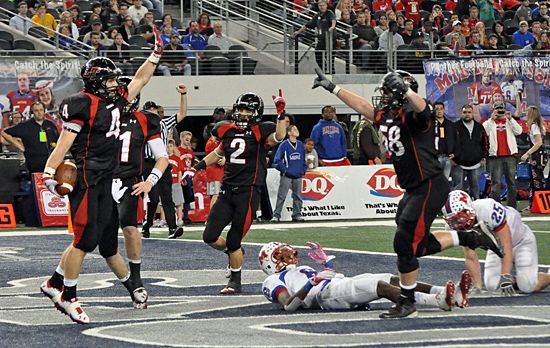 Football preview: Lake Travis' last five seasons in review
Lake Travis enters the 2014 season coming off a five-year run that most schools would leave most schools giddy. But the Cavaliers themselves aren't giddy…or at least they haven't been following the last two seasons. After winning five consecutive state championships from 2007-2011, the Cavaliers long to hoist another trophy, though the last two seasons have ended short of that goal.
The last five years:
Overall Record: 67-6
District titles: 4
Playoff appearances: 5
2009, 2010, 2011: 4A, Division I State Champions
2012: 15-5A District Champions
2013: 5A, Division 2, Region II Champions, State Semifinalist
2009: State Championship #3
Coming off consecutive state championships, the Cavaliers made it a dominating third straight title, a 16-0 run that survived its biggest scare in the Area Playoff round. The Cavaliers made two big defensive plays to overcome Cibolo Steele. Sophomore Colin Lagasse caught Steele running back Malcolm Brown from behind on a breakaway and forced a fumble that prevented a touchdown. Then, protecting a 27-20 lead in the closing minutes, the entire Lake Travis defense stopped Brown on fourth-and-goal to seal the win.
The Cavaliers lifted the championship trophy following a 24-17 win over Longview in a rematch of the 2008 title game. Michael Brewer hit Andy Erickson with a long touchdown pass early to give the Cavaliers a lead they'd never relinquish, but it took a heady completion from Brewer to Tanner Gillette to seal the win.
Lake Travis outscored opponents by 33.4 points per game. Brewer completed 69.8 percent of his passes for 4,450 yards with 43 scores and rushed for 615 yards and 23 more scores. Erickson proved one of the most dangerous players in Central Texas, rushing for 1,063 yards and 23 touchdowns and catching 60 passes for 1,325 yards and 15 more scores.
2010: Overcoming Adversity
Compared to the relative ease of the 2009 team's march to the state championship, Lake Travis' 2010 season brought unprecedented hurdles. Defensive coordinator Hank Carter took over the head coaching role after Chad Morris entered the college ranks and quickly wondered what he'd gotten himself into. Senior receiver Conner Floyd broke his leg in the opener, Brewer separated his shoulder in the second game and center Casey Laney broke his foot in the third. The Cavaliers (14-2) overcame the injuries, the ending of a 48-game winning streak, and their first district loss in six years to win their fourth straight title with a 27-7 win over Denton Ryan.
Not that a championship game can be anti-climactic, but by the time Lake Travis hoisted the trophy in AT&T Stadium, the Cavaliers had already won two tougher playoff games. In the Area playoffs, Lake Travis beat Johnny Manziell's Kerrville Tivy team for the second time, thanks to Brewer's 441 yard, four touchdown performance and a 100-yard kickoff return score from Cameron Wrinkle. Then, the Cavaliers avenged a regular season loss to Cedar Park by beating the Timberwolves 21-20 in the Region IV title game at Royal-Memorial Stadium. Zach Streuling's goal line interception stopped one potential Cedar Park score, and Dylan Bittles sacked Cedar Park's Ethan Fry on fourth down in the final minute.
Despite missing three games, Brewer passed for 2,865 yards and 26 scores and rushed for a team-high 743 yards and 12 scores. Griffin Gilbert emerged as the team's top receiver, catching 74 passes for 1,199 yards and 12 scores. Lagasse emerged as the Cavaliers' utility player deluxe. The junior started as safety, filled in at quarterback when Brewer went down and played running back and receiver when he returned. He went 2-1 as a starting quarterback, including a 37-33 win over Tivy in which he sealed the game by intercepting Manziell. Lagasse passed for 552 yards and seven scores, rushed for 480 yards and nine scores and caught 47 passes for 463 yards and nine more scores. He also had a sack, forced two fumbles and blocked two kicks.
2011: Drive to Five
Following his Jack-of-all-trades 2010 season, Lagasse figured he'd win the starting quarterback job and hopefully lead another loaded Cavaliers' team to back to Arlington for a record fifth-straight championship. Though he won the job, Lagasse fell victim to the injury bug as well, but still played a vital role in helping the Cavaliers to that fifth straight title when he returned.
Lagasse's run as starting quarterback ended almost as quickly as it began. He injured his shoulder on the fifth play of the opener, against Westlake in DKR. In stepped plucky junior Baker Mayfield, who never blinked -- not even on the road against two-time state champion Aledo and record-setting Johnathan Gray – to lead the Cavaliers back to Arlington. Against the Chaps, Mayfield sprinted onto the field and blitzed Westlake for 278 yards passing, 94 yards rushing and three touchdowns, an opening act for a season in which he'd pass for 3,788 yards and 45 scores with just five interceptions. Sophomore Shaun Nixon rushed for 1,250 yards and 15 scores. Griffin Gilbert and Zach Austin combined for 125 catches for 2,359 yards and 34 touchdowns. Lagasse shrugged off his injury to rush for 867 yards and 17 scores and catch 41 passes for 445 yards and three more scores.
The Cavaliers' two toughest games came against 25-4A rival Cedar Park, including a Region IV championship rematch at DKR. Nixon had a touchdown run, Mayfield hit Griffin Gilbert with a touchdown pass and the defense did the rest in the 14-9 win. After cruising past Pearland Dawson 45-14 in the Alamodome, the Cavaliers (16-0) used a suffocating defensive performance to stop Hewitt Midway to claim the title. Lagasse punctuated the win by celebrating his nail-in-the-coffin touchdown with five fingers held over his head.
2012: Welcome to 5A
Realignment ended Lake Travis' record run of five straight state championships by bumping the Cavaliers from 4A to 5A. Neither head coach Hank Carter nor anyone in or around the Cavalier Athletic Complex thought the jump would matter. "If you're a good football team, it doesn't matter how many 'A's' there are," Carter said. With the quarterback and top rusher returning along with a host of key defensive players, optimism for another Lake Travis title ran high despite the new world.
A season-opening 47-13 drubbing of San Antonio power Converse Judson did nothing to dampen expectations. With Mayfield finding Austin and Nixon, the Cavaliers scored on their first play from scrimmage in three straight games. Then the injuries started. Offensive linemen began falling by the wayside, and Austin and defensive tackle Spencer Staples were lost with torn knee ligaments. Even Nixon missed three games with a sprained knee. The Cavaliers limped through the regular season, still managing to post difficult win after difficult win.
The season essentially came down to two long throws from Mayfield to sophomore Grant Foster. The first, in the waning moments of the regular season finale at Westlake, gave the Cavaliers the District 15-5A title. Scrambling in his own end zone, Mayfield somehow saw Foster get behind the defense and launched a 60-yard throw that turned into a 96-yard, game-winning score. The second, another 60-yard throw, nearly gave the Cavaliers (9-2) a bi-district miracle win over Pflugerville. Foster ran under Mayfield's rainbow and cradled it as time expired, but his toe landed on the back line of the end zone, making it an incomplete pass and ending Lake Travis' 30-game playoff winning streak.
2013: Back among the elite
The frustrations of 2012 did nothing to weaken Lake Travis' resolve and desire for another state championship, and the Cavaliers went out and played to erase the 2012 season from their memory.
Led by Nixon, fully recovered from his sprained knee, the Cavaliers improved as the season progressed. Junior quarterback Dominic DeLira grew into the role as the season went on and peaked as the Cavaliers reached the playoffs. A dominating defense led by Luke Hutton and Zach Davies helped as well. Nixon set a school record by rushing for 1,747 yards and 24 scores. DeLira completed nearly 60 percent of his passes for 2,356 yards and 25 touchdowns with just six interceptions. Tyler Payne had 14 touchdown grabs among his 54 catches for 909 yards.
The Cavaliers overcame a 27-14 deficit to beat Westlake 28-27 and repeat as District 15-5A champions thanks to fourth quarter scores from Nixon and Tyler Payne and a defense that held the Chaps without a first down in the final quarter. DeLira threw for four first-half touchdowns in a playoff win over Humble Atascocita, and then Nixon rushed for a school-record 334 yards and five scores to beat Dallas Jesuit. The Cavaliers avenged a 2012 loss to A&M Consolidated with a dominating defensive performance led by Mike Islava, Davies, James Bailey and John Brewer to reach the state semifinals against Cedar Hill. Nixon's early run gave the Cavaliers (12-2) a lead, which they held into the fourth quarter, but the Longhorns scored a pair of fourth quarter touchdowns to claim a 19-10 win, ending the Cavaliers' season in the state semifinals. Cedar Hill went on to defeat Katy to win the 5A, Division 2 title.