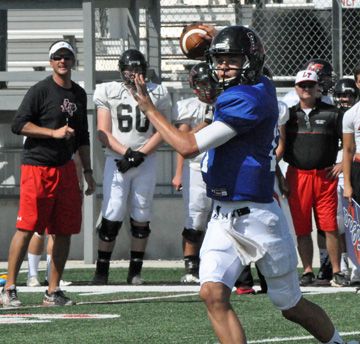 Under new coordinator, offense will have a different look
May 26, 2013
Something strange happened during one Lake Travis' first spring football practices.
James Bailey, a two-year starter and arguably the leader of the defense, saw what the offense was doing during a scrimmage and couldn't for the life of him figure out why. Quarterback Dominic DeLira checked with the coaches signaling in a play and moved from where he'd normally take a snap – four yards behind the line in the shotgun – and walked right up to center Garrett Stotts, reached down and started barking out signals.
"I remember James saying, 'Dom was underneath the center. What was that all about?'" said Mike Wall, the mad genius behind the confusion.
Wall began his second stint at Lake Travis earlier this spring, taking over as offensive coordinator for David Collins, who left to become Pine Tree's new head coach. Wall last coached at Lake Travis in 2009, the heyday of Lake Travis' high-scoring, championship winning attack. His hiring as offensive coordinator doesn't signal a return to the hurry-up, no-huddle days of Chad Morris, though the HUNH will remain a staple of the playbook. Wall brings some new ideas, and formations, back to Lake Travis, including one that hasn't been seen in more than a decade.
"There's going to be some under the center stuff and that's going to be different than what we've ever done here in my time [from earlier]," he said.
In fact, Kyle Reesing – older brother to former Lake Travis and University of Kansas star Todd -- may be the last Lake Travis quarterback to actually take the snap under center, in a winless 2002 season. Then Jeff Dicus arrived, put Nick Bird in the shotgun and never got the quarterback closer to the center. Even quarterback sneaks and victory formation knees took place in the shotgun.
"I think that's not only going to be good for us at the varsity level but I think it's going to be good for us at the younger levels [too]. That will be a little bit of a change too. I think it's going to help us grow."
If the initial results are any indication, Wall's under-the-center formation will be an effective one.
"The first time that we went under the center this spring our defense was caught off-guard and we ran the ball well that first day," he said as he prepped for the spring finale. "We didn't have very many passes out of it, but… Even though we told those [defensive] guys the day before we were going to be doing some under the center stuff, they had never seen it. They were like, 'this is Lake Travis and we're under the center?'"
Other teams are sure to have the same reaction, which is fine by Wall. Not that he plans to shelve the shotgun. Wall describes his offense as similar to what Lake Travis has run dating back to its first championship season, but with a few more formations that – when employed with his core group of players – force the defense into some uncomfortable situations.
"That's one of the things I've had success with," he said. "I've seen offenses here do really well, but I think I add the other element of being able to do even more formations with using more versatile kids."
It's all about putting pressure on the defense.
"Defenses try to stop you in a number of ways, but one of the things they do is look at your personnel groupings and your formations, and then they look often by down and distance and field position [as to what you might do]," he explained. "We take away their ability to say, 'they're in this personnel group so here's what their block of plays are that we are expecting.' And I think that makes us so much more diverse and gives us an added element."
It's also about eliminating the F word from Lake Travis' mindset. He wants to prove – to defenses mainly – that just because the Cavaliers often line up in a spread, they are not going to be a finesse team.
"Like I said, we run the hurry up no huddle, but it doesn't mean we're a finesse team," he said. "We spread it out sometimes, but we're not finesse. We want to be an attacking physical offense at that position, and even at our running back position."
A new look to Lake Travis' offense may be a different kind of running back. Shaun Nixon's best traits were the ability to make tacklers miss, cut on a dime, get to the edge and head for paydirt. There may not be another Nixon waiting in the wings, but Wall thinks he's uncovered a different type of back, one that can be just as effective.
"I just thought that in the upper levels, the H-back type of kid is a guy that's a heavily sought-after guy, whether you're talking about college or the pros, they are so valuable," he said. "Guys that can run, catch passes and be a great blocker. They are hard to come by."
That hybrid back – part runner, part receiver, part blocker – can be the glue to Wall's desired execution.
"Abe Willows is such a versatile kid," Wall said about the sophomore who figures to be his starting back come August. "He can line up wide and catch passes. He can grind out the hard yards. But also, he can be a lead blocker when we run the quarterback or when we run somebody else on a sweep or something like that. I think that it gives us an added element of toughness."
Wall hopes to force the defense's hand by employing an offense that can run up to 15 different formations – and a variety of plays for each – with the same group of players.
"I mean, you've got to defend five wide receivers and then in the next formation you have to defend two tight ends and two backs, and it's the same personnel group," he said. "So, they can't sub…they don't have time to sub as long as we're doing it fast enough. The defense has really got to know what they're doing because they've got to know how to defend multiple pass routes and then all of a sudden what gap do they have whenever we tighten everything down into two backs and stuff like that. It really puts pressure on the defense."
Wall likes Lake Travis' chances at success because of the multi-faceted players he finds in his huddle – not that the Cavaliers huddle during a game. He saw the same thing – fewer in number – when he helped coach Georgetown to the 4A championship game in 2012.
"It wasn't that we were adding that many more plays, but we had the type of kids up there, certainly as we do here, who are versatile," he said. "Not only are they a pass-catcher, but they can be a runner or they can be a blocker. With the type of kids we have here at a 6A, big, talented school, I certainly felt like we could implement the same style. I feel like, as an offensive coordinator, I want to be an attacking style of offense that's not predictable."
While the offense upholds some of the same tenets that Dicus and Chad Morris installed as offensive minded head coaches and Matt Green and Collins espoused as coordinators, Wall's version gives Lake Travis a fresh start, one that head coach Hank Carter enthusiastically embraced.
"We were going to have a change, anyway," Carter said earlier this month. "Coach Collins and I had talked about it. We had gotten to the point where we were going to have some terminology overhaul anyway and some [new] things, so with Coach Wall coming in, almost everything is new."
Wall understood the challenge and jumped in with both feet with Carter's blessing. Spring has been a crash course, and a successful one, the coordinator said.
"When we started out, I thought if we can get 70 percent of this installed and understood in the spring, [we'd be in good shape]," he said. "We got about 80 percent…. We've got enough on right now to win football games. There are a million great football plays out there. It comes down to what do your kids know and know how to execute based on a variety of defensive looks?"
Wall's especially pleased with the progress because the offense will be young, with the exception of DeLira, Stotts, offensive lineman Jeffrey Gibbs and receiver Grant Foster.
"We were watching the film from yesterday's scrimmage and we had six current freshmen running with the [first team], and we're moving the ball and doing good things," he said on May 21.
In fact, one of the players Wall refers to as one of his most experienced hasn't played on Friday night yet. Willows figures to start and play a key role in Wall's versatile offense. His next varsity carry will be his first.
Fans saw just a portion of that in Friday's spring jamboree. What they won't see as summer grinds on and fall practice finally arrives is the attention to detail that Wall hopes will carry the Cavaliers on another long run. Lake Travis may be relying on young players, but expectations remain the same.
"They have to come along quickly and mature quickly but they've done that," Wall said. "Our veterans have to be the bell-cows on this team and lead us to where we need to go. But our young guys have the talent. Now they have to master the position, understand the finer details. Because at this level, against the good teams, the playoff teams, you just don't beat them based off of the talent."