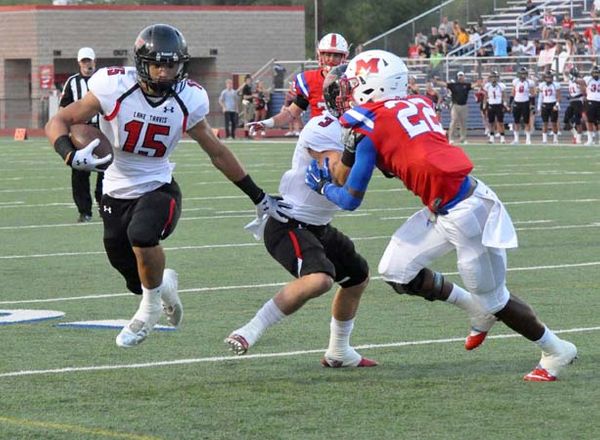 Adjustments key second half surge as Cavs pull away from Midway
Some key halftime adjustments – and a healthy dose of Abe Willows – carried Lake Travis to a 48-24 win over Waco Midway in Friday's season opener.
Midway's Korey Chatman bulled in from a yard out midway through the third quarter, capping a 14-play, 76-yard drive and trimming the Cavaliers' lead to 20-17. But the Panthers, who'd stymied the Cavaliers' offense early, ran out of answers and Lake Travis pulled away with three straight touchdowns.
The Cavaliers relied on Willows early. The senior running back had 117 of his 140 yards in the first half as Lake Travis led 17-10. Charlie Brewer struggled early, completing just seven of 14 for 49 yards in the opening half, but he found his rhythm after the break. He completed 14 of 17 passes after halftime for 247 yards and two scores. Brewer also added a 33-yard touchdown run.
"We just had to figure out where they were and how we needed to attack," he said after the game. "When we did, we played a pretty good second half."
The Cavaliers scored on their first five possessions of the second half. They ran out the clock on their sixth.
Lake Travis coach Hank Carter agreed, crediting the offensive staff for making the right adjustments.
"It's tougher for the offense early in the season because it's all about timing and rhythm," he said. "Our offensive staff made some adjustments at halftime and put things together to give the kids a chance to succeed."
Brewer lofted a 41-yard strike to Maleek Barkley for one score and hit Cade Green for 77 yards to ice the game. Green's touchdown came after Midway had pulled within 41-24 on Eric Clayburn's leap into the end zone. He beat press coverage, caught Brewer's pass in stride and iced the game, giving the Cavaliers a measure of revenge following last season's 38-30 defeat.
"I think everybody just wanted to get that revenge game and just play well," Green said.
Brewer finished with three touchdown passes. Willows shook off some stomach issues to score three times, rushing for 140 yards and two scores and catching five passes for 64 yards and another. Green (115 yards) and Barkley (63 yards) caught five passes each as well.
Clayburn rushed 23 times for 76 yards and two scores for Midway. Joseph Ward caught eight passes for 93 yards. Midway quarterback Sam Glaesmann suffered three turnovers, interceptions by Tanner Bush and Robert-Lee Rayos and a fumble. The Cavaliers scored off all three miscues.
"I'm proud of our kids," Carter said. "Midway's a good team. They have success every year for a reason. They are well-coached, they have good athletes, and they have a good plan."
The win snapped Lake Travis' two-year streak of losing season openers. They lost to Judson in 2013 and Midway last year, both at home.