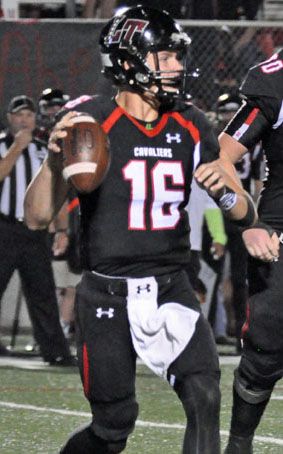 Another fast start takes sting out of Jackets
By now Lake Travis has had plenty of practice playing without a key performer.
Despite leading receiver Cade Green's absence in Saturday's 6A, Division II, Region 2 championship game, the Lake Travis offense didn't miss a beat in topping Rockwall 45-24 at Kyle Field.
Cavaliers quarterback Charlie Brewer completed 12 of his first 13 passes and the Cavaliers used a bevy of quick strikes to take the sting out of the Yellow Jackets.
"We've been playing at a really high level offensively," Cavaliers coach Hank Carter said Monday. "Getting off to a fast start is really important for us."
After Rockwall drove for a field goal on its opening possession, Lake Travis responded with the first of two long kickoff returns from Hudson Fife. Two plays later, Charlie Brewer hit Cade Brewer for a 41-yard touchdown and the Cavaliers were off and running. After an Austin Hiller interception, Maleek Barkley turned a swing pass into an 18-yard touchdown. By the time Charlie Brewer scored from three yards out, the Cavaliers led 21-3 and for all intents and purposes it was game over.
"When it's a close game, we have that pressure to not let them score," said defensive tackle Tevin Paul, part of a unit energized by the offense's success. "When we see that we're up, it just gives us confidence."
The Cavaliers opened up a 35-10 halftime lead despite playing without Green, a pregame scratch after straining a leg in practice. Green's the Cavaliers' leading receiver with 55 catches for 888 yards.
"We think he's going to be fine," Carter said. "He just needed a little rest. He felt okay in pregame so we felt like we'd see how it goes but planned on not playing him."
Green's far from the Cavaliers' only weapon. Both Barkley and Cade Brewer posted 100-yard receiving games against Rockwall, and the Yellow Jackets had fits trying to figure out how to cover both. Brewer hard 117 yards receiving on four catches in the first half, and Barkley finished with 101 yards and two scores.
"Mike [Wall] and the offensive coaches are putting together a plan to go out and take advantage of matchups or formation looks," Carter said. "You saw some different looks, especially on the first touchdown. [Cade's] a tough matchup. He also plays in an area where it's harder to get help on him. When Maleek's on the outside, it's easy to put a couple of guys on him. You can't do that with a tight end."
While Barkley and Cade Brewer stepped up – they've combined for 33 catches and 538 yards receiving in four playoff games – Carter praised Mac Humble and Carson Pepe for stepping up in Green's absence.
"Mac played a different position and performed well outside of losing a ball," Carter said. "I think Pepe did a lot of really good things. I was happy for him. He's been chomping at the bit to get in there and have an opportunity. He made some plays and executed pretty well. That's a testament to our depth. I hate that we sustained a little injury with Cade [Green] but that's a position where we can handle it a little better than others."
Rockwall controlled the ball for much of the game – Lake Travis' 45 points came on just 45 offensive plays – but never wavered from their ground-based attack to try and cut into the Cavaliers' lead. Caleb Broach rushed for 245 yards on 34 carries and Will Reed passed for 247 yards, but three turnovers – including two interceptions by Austin Hiller – put the Yellow Jackets in a hole they couldn't fly out of.
"Their running back's made big plays for them all season," Paul said. "He made big plays against us. They had been a fourth quarter team all year. They thought they'd do it again."
While Carter wasn't thrilled with the rushing success Rockwall found late, the time-consuming drives limited its comeback chance..
"We were wondering if they were going to try to speed things up but they didn't," he said.
Lake Travis advances to play Mansfield in the state semifinals. The game will be played at 2 p.m. at Waco ISD Stadium on Saturday.