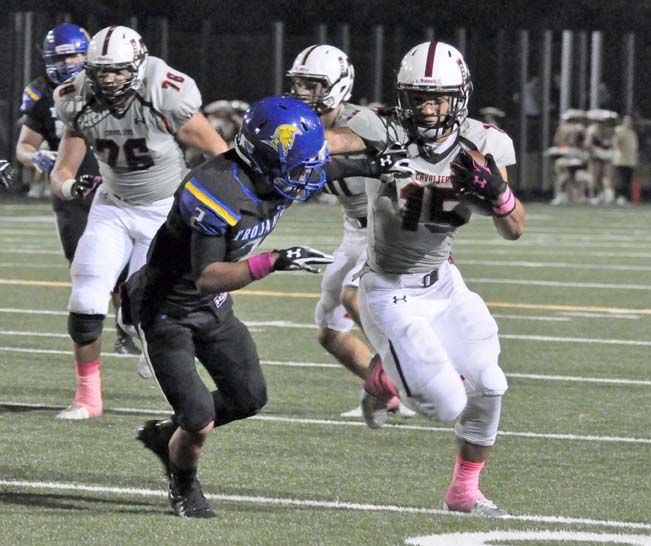 Another Friday, another convincing win for Lake Travis
Sixth-ranked Lake Travis took any hopes Anderson had of an upset out of play in just 13 seconds Friday night at Burger Stadium.
Aaron Brown-Nixon returned the opening kickoff 63 yards, setting up Charlie Brewer's 27-yard touchdown pass to Cade Brewer on the next snap. The early lead sent Lake Travis (6-0, 4-0) to a 60-3 romp over Anderson (2-5, 0-5) at Burger Stadium Friday night.
The Cavaliers' junior quarterback finished with four touchdown passes – all in the first half – and both Abe Willows and Santiago Villegas rushed for more than 100 yards in the win. After the opening play score, Brewer hit Cade Green for two scores and Maleek Barkley for another as Lake Travis cruised to a 46-0 halftime lead.
Anderson ended an 11-quarter shutout streak by the Lake Travis defense when Alfredo Estrada connected for a 30-yard field goal with 4:10 left in the game. The Cavaliers' second string defense played the bulk of the second half and kept the streak alive earlier with a goal-line stand.
"We wanted the shutout tonight and didn't get it," Lake Travis coach Hank Carter told his team after the game. "That's okay. It was still a great team win and it was a great goal line stand by the second team."
"I'm extremely happy with what we've done," said defensive tackle Tevin Paul. "We just need to keep getting better, but we're where we need to be at this point."
Brewer finished 14 of 21 for 167 yards and the four scores. Willows rushed for 118 yards and two scores on just eight first-half carries. Villegas gained 143 yards and a score on 11 carries. The Cavaliers racked up 535 yards of offense on the night.
Trey Lundquist led Anderson's offense. The quarterback passed for 174 yards on the night.