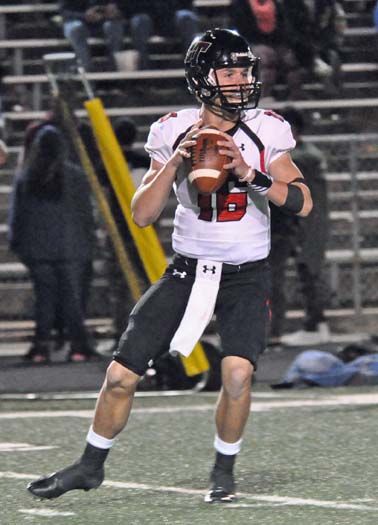 Avenging 2012 loss not on Cavs' mind as Panthers visit to open playoffs
Lake Travis opens the 2015 postseason with a rematch four years in the making.
The District 14-6A champion Cavaliers host Pflugerville, the fourth place qualifier (after a three way coin flip) from District 13-6A Thursday night at 7. The schools last met in 2012, when Pflugerville upset Lake Travis to end a 30-game playoff win streak and deny the Cavaliers a chance to make a run at a sixth consecutive state title.
While the Cavaliers acknowledge that bit of history, the current team leaders aren't looking to exact any revenge for their predecessors.
"Honestly, that was a different team," said Jeff Gibbs. "I think more so than anything we're trying to get back to the championship. We're not really thinking that they ended it four years ago. This is another team in the way of what we want to do, which is get to the state championship."
In 2012, the Panthers derailed that run before it could start. While the names have changed, the 2015 Panthers plan on using a familiar formula to pull another upset.
"Pflugerville does a lot of things that are very similar to what they did in 2012 schematically," Lake Travis coach Hank Carter said Monday. "From what I can tell so far, not a lot has changed. It's going to be very physical, smash-mouth football. They want to run it."
The Cavaliers plan to combat that by getting off to their familiar fast start – the Cavaliers have scored at least 21 points in the first quarter six times this season and have topped 40 by halftime five times.
"Our game plan is to get up on them early so they have to pass the ball," said defensive tackle Tevin Paul. "Their bread and butter is running the ball and if we get up early, they can't keep running it."
To score early, Lake Travis will have to win some match-ups against athletic defensive players, a challenge the offense welcomes, said quarterback Charlie Brewer.
"They will man you up most of the time," Brewer said. "It's a way of saying that 'our guy is more athletic than yours.' If we can protect well and do everything right, I think we'll be able to make some big plays."
In his first season as the starter, Brewer's completing 70 percent of his passes and has thrown for better than 2,000 yards with 28 touchdowns and just two interceptions – both of which came off tipped passes against Del Valle on Sept 25. Top targets Cade Green and Cade Brewer have combined for 21 touchdowns. Carter said Brewer his quarterback doesn't have to put the world on his shoulders to lead a post-season run. He's just got to keep being himself.
"We don't need him to play a lot better than the way he's been playing lately," Carter said. "We just need him to keep doing what he's doing. He's had a great year."
While his numbers don't jump off the stat sheet, the efficiency with which he's run the offense has produced staggering results. The Cavaliers average 53 points per game, four points better than last year's team, which set a school record for scoring average.
Efficiency will be key, not just against Pflugerville but moving forward throughout the playoffs. Thursday Pflugerville will try to keep Brewer and the offense on the sideline. Gibbs knows that makes each possession a bit more valuable, and key.
"They are going to try to win time of possession for sure," Gibbs said. "That's their thing. Offensively, every time we get the ball we need to go score and execute because we might only get four or five possessions in each half. We have to score on every possession, that's our mindset."
While the Cavaliers haven't dwelled on that 2012 loss to Pflugerville, they feel like they've learned a valuable lesson, one that was frustratingly reinforced last year. Losses to Pflugerville and Spring (2014) had more to do with their own play – and preparation – than the opponent.
"I feel like the last couple of years we've kind of looked past some of the opponents we've played," Gibbs said. "That's led to some losses, so we need to focus in and get better every single week. Last year against Spring, I feel like we kind of overlooked them. I think we figured it was an easy win and they gave it to us."
While revenge isn't on his mind, Paul remembers where the frustrating lesson began.
"I remember as a freshman we played Pflugerville," he said. "I was on the sideline and watching that sucked. Obviously we were a better team than them in 2012 but we ended up losing to them in the first round. We don't want a repeat of that."